A quick holiday fund-raising campaign for Behind the Black!
Scroll down to read this post.
In past years I have managed to avoid asking for donations for Behind the Black during the holiday season. My finances however now compel me to do a short one-week fund-raiser, from November 11 to November 17.
I do not use Twitter for ethical reasons, which I have been told cuts down on traffic to the website. So be it. Furthermore, Facebook has clearly acted in the past two years to limit traffic to Behind the Black, almost certainly for political reasons. So be this as well. Finally, I do not post outside ads, as I have found them annoying to my readers and not that profitable to me.
Therefore, I need to ask for the direct support from my readers. If you like what I do here, please consider contributing, either by making a one-time donation or a monthly subscription, as indicated in the tip jar below.
Regular readers can support Behind The Black with a contribution via paypal:
If Paypal doesn't work for you, you can support Behind The Black directly by sending your donation by check, payable to Robert Zimmerman, to

Behind The Black
c/o Robert Zimmerman
P.O.Box 1262
Cortaro, AZ 85652

Or you could consider purchasing one of my books, as indicated in the boxes scattered throughout the website. My histories of space exploration are award-winning and are aimed for the general public. All are page-turners, and all not only tell the story of the beginning of the human exploration of space, they also help explain why we are where we are today. And I also have a science fiction book available,
Pioneer
, which tells its own exciting story while trying to predict what life in space will be like two hundred years in the future.
Note that for this week only I am also having a sale on the purchase of the last 20 hardbacks of
Leaving Earth
. (Click on the link for more information about the book, which was endorsed by Arthur C. Clarke himself!) This award-winning out-of-print book is now only available as an ebook, but I still have a handful of hardbacks available, normally for sale for $70 plus $5 shipping. For this week only you can buy them, personally autographed by me, for $50 plus $5 shipping! Just send me a check, payable to Robert Zimmerman, to the address above, with a note saying that the money is for the
Leaving Earth
hardback.
Please consider donating. Your help will make it possible for me to continue to be an independent reporter in the field of space, science, technology, and culture.
Time for the monthly solar cycle update! NOAA today posted its monthly update of the solar cycle, covering sunspot activity for December 2018. As I do every month, I am posting it below, annotated to give it some context.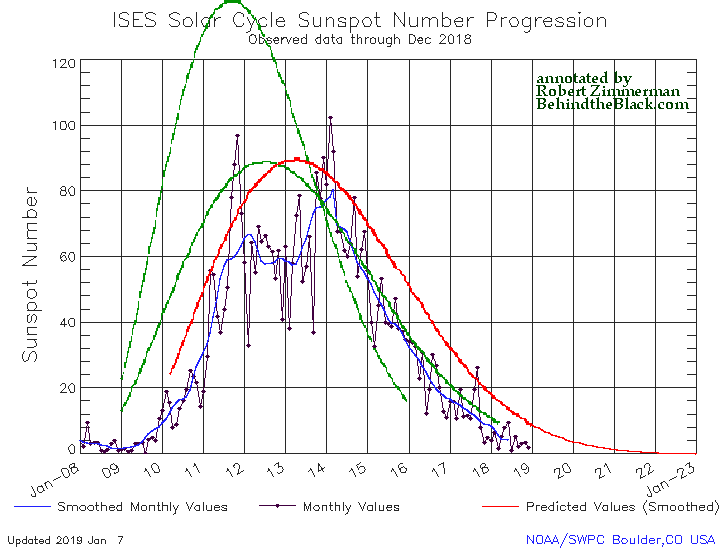 The graph above has been modified to show the predictions of the solar science community. The green curves show the community's two original predictions from April 2007, with half the scientists predicting a very strong maximum and half predicting a weak one. The red curve is their revised May 2009 prediction.
There really isn't much to say about the sunspot activity in December. It continued to show a steady decline to solar minimum, exhibiting activity very comparable to what we saw in mid-2008 when the previous unusually long and extended solar minimum began.
One interested detail however: When NOAA issued this graph last month, it finally extended it out beyond the end of 2019 to the end of 2022. In doing so, it also extended out the 2009 prediction of the solar science community, as indicated by the red curve. I hadn't commented on this last month, but if you look at that curve it drops to zero and then flatlines for the entire year of 2022.
If this is what the solar science community now expects for this upcoming minimum, it means that community is now expecting a record-breaking minimum, lasting far longer than any previous minimum, two to three years at least. It also means that they have not dismissed the possibility that the Sun is about to enter a Grand Minimum, where no significant sunspot activity is seen for literally decades.
Should such a grand minimum occur, it bodes ill for global warming advocates. The track record of the Earth's climate consistently shows that when sunspot activity declines, the global climate gets colder. Why this happens is not clearly understood, though there is at least one theory backed up by good experimental data. Should this happen, we shall discover that global cooling is a far worse thing to fear than global warming.