Week Three: Ninth Anniversary Fund-Raising Drive for Behind the Black
It is now the third week in my annual anniversary fund-raising campaign for Behind the Black.
Please consider donating. I am trying to avoid advertising on this website, but will be forced to add it if I do not get enough support from my readers. You can give a one-time contribution, from $5 to $100, or a regular subscription for as little as $2 per month. Your support will be deeply appreciated, and will allow me to continue to report on science and culture freely.
Regular readers can support Behind The Black with a contribution via paypal:
If Paypal doesn't work for you, you can support Behind The Black directly by sending your donation by check, payable to Robert Zimmerman, to

Behind The Black
c/o Robert Zimmerman
P.O.Box 1262
Cortaro, AZ 85652

On Sunday NOAA posted its monthly update of the solar cycle, covering sunspot activity for April 2018. Below is my annotated version of that graph.
While there was an uptick in sunspots in April, compared to the almost complete inactivity in March (the least active month for sunspots in a decade), the uptick did little to change the general trend. Sunspot activity is now comparable to what we saw in early 2008 (as indicated by the yellow line). This was just before the arrival of the previous solar minimum, which happened to also be one of the longest and deepest on record.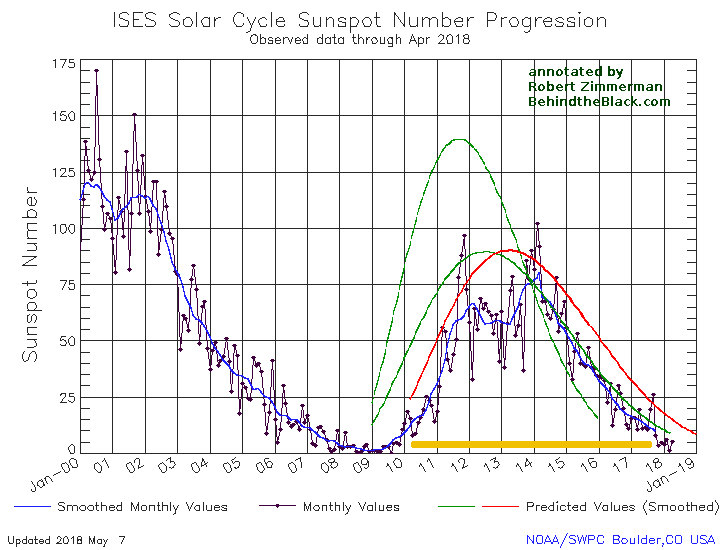 The graph above has been modified to show the predictions of the solar science community. The green curves show the community's two original predictions from April 2007, with half the scientists predicting a very strong maximum and half predicting a weak one. The red curve is their revised May 2009 prediction.
The lack of activity in April also reinforces the evidence that this cycle will only be ten years long. In the past, cycles that were shorter than eleven years were always more active cycles. This time, this short cycle is one that is far less active, a circumstance unprecedented since scientists began tracking the solar cycle since the last grand minimum in the 1600s.
Nor does the sunspot activity so far in May appear any different. The activity in the first week of May has been as weak as in April and the previous five months. While it would not be a surprise if we see a jump in sunspots in the coming months, the Sun does appear to be settling into solar minimum, at least one to two years earlier than predicted.
Whether we are about to see a new grand minimum, with no visible or strong sunspots for decades, remains unknown. Some solar scientists believe so, but their understanding of the solar cycle is still based on somewhat superficial knowledge. In truth, we really do not yet understand the magnetic processes in the Sun (and the Earth and other planets) that produce planetary magnetic fields. We have a basic understanding of this dynamo process, but when it comes to the details, we remain somewhat baffled.
But then, when it comes to many of the processes that effect the climate, the environment, and the nature of planets, we remain woefully ignorant. The space age only began a half century ago. Before then, we did not have the right tools to study such bodies. Since, we have only had a few decades to begin this research, looking at objects whose evolutionary history is measured in tens of thousands of centuries, not decades.
No one should be surprised if our understanding of the planets and the Sun at this time remains insufficient. It will take centuries and the observation of thousands of new planets, including exoplanets in other solar systems, before our understanding of planetary evolution and climate will even begin to make sense. Before then, all is mere guesswork.