Week Three: Ninth Anniversary Fund-Raising Drive for Behind the Black
It is now the third week in my annual anniversary fund-raising campaign for Behind the Black.
Please consider donating. I am trying to avoid advertising on this website, but will be forced to add it if I do not get enough support from my readers. You can give a one-time contribution, from $5 to $100, or a regular subscription for as little as $2 per month. Your support will be deeply appreciated, and will allow me to continue to report on science and culture freely.
Regular readers can support Behind The Black with a contribution via paypal:
If Paypal doesn't work for you, you can support Behind The Black directly by sending your donation by check, payable to Robert Zimmerman, to

Behind The Black
c/o Robert Zimmerman
P.O.Box 1262
Cortaro, AZ 85652

As it does the first Sunday of each month, yesterday NOAA posted its monthly update of the solar cycle, covering sunspot activity for August 2018. And as I do every month, I am posting it below, annotated to give it some context.
The Sun in August had a slight uptick in sunspot activity, but not a very significant one. As such, the slide to solar minimum continues. Right now the lack of sunspot activity in 2018 is heading to match or even exceed 2007, the year in which the previous solar minimum began.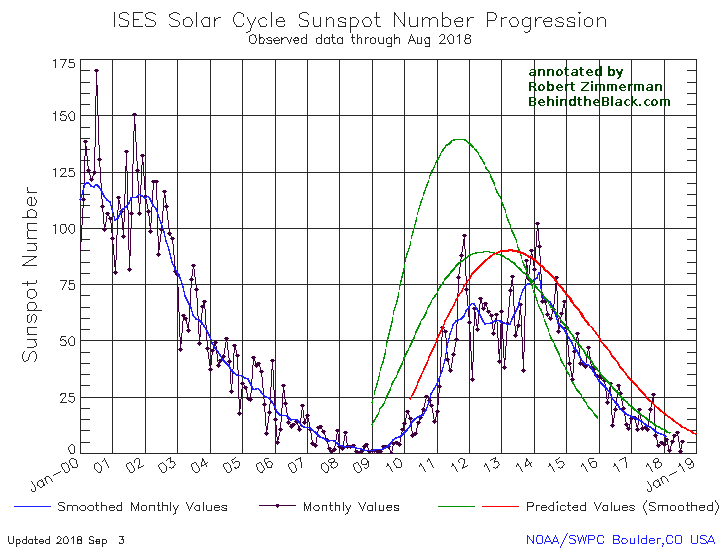 The graph above has been modified to show the predictions of the solar science community. The green curves show the community's two original predictions from April 2007, with half the scientists predicting a very strong maximum and half predicting a weak one. The red curve is their revised May 2009 prediction.
If you look at the original graph at NOAA, you will see that we are getting very close to the right edge of the graph. I expect that sometime in the next few months NOAA will update the graph, a necessary act that will in one sense be a shame, as they have been adding monthly updates to this graph since the beginning of the last solar minimum. This has allowed everyone to see a standard visual, month to month, for comparing solar activity. It has also allowed me to annotate the graph properly to show how the 2007 and 2009 predictions held up against actual activity. Once the graph changes it will be more difficult to do this.
Anyway, it is very clear we are entering solar minimum, and that the solar cycle we are now completing will be both a short and weak cycle. What happens next is really the big question. Will the Sun sunspot activity recover? Or will we enter the first grand minimum since the 1600s? Either way, for solar scientists the coming years are going to be very exciting.
Posted on interstate 10 going from Tucson to Phoenix, on the way to the wooded northern forests of Arizona, where Diane and I will spend a couple of days visiting friends at their upstate cabin/home.