In the month of December 2019 the Sun continued its longest stretch of overall sunspot inactivity ever recorded, reaching seven months in length. At no point since the last grand minimum in the 1600s have scientists ever seen so few sunspots over so long a time period.
Below is NOAA's December update of its graph showing the long term sunspot activity of the Sun. As I have done now every month since this webpage began in 2011, it is posted below, with annotations: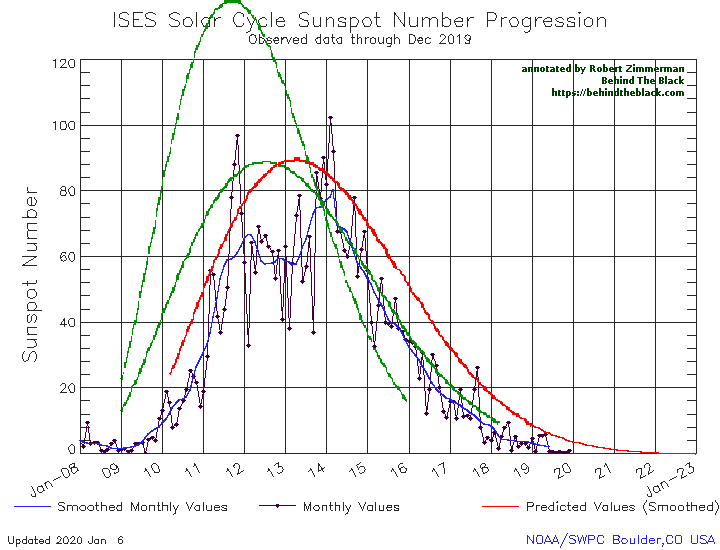 The graph above has been modified to show the predictions of the solar science community for the previous solar maximum. The green curves show the community's two original predictions from April 2007, with half the scientists predicting a very strong maximum and half predicting a weak one. The red curve is their revised May 2009 prediction, extended in November 2018 four years into the future.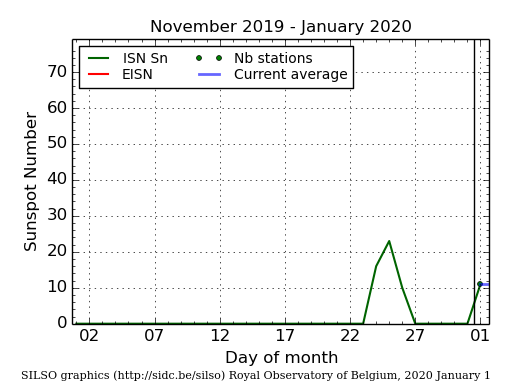 December saw only two sunspots, both becoming active on the same day, December 24. Both also had a polarity belonging to the next solar cycle, providing evidence that we will have another sunspot maximum sometime in the next five years, and that we are not heading to another grand minimum where there are no sunspots for decades.
The SILSO graph to the right gives a close-up look at the month, and provides further evidence that a new solar maximum is coming. Note the new sunspot that appeared on January 1st. That sunspot also has a polarity assigning it to the next solar maximum. While the sunspots in December were weak and decayed quickly, the January sunspot has been stronger, sticking around for at least a week.
Still, in 2019 the facing hemisphere of the Sun was blank 77% of the time, 281 days total, the most since 1913, when the Sun was blank 313 days. Even though the last solar minimum in 2008-2009 was considered unusually long and weak, the minimum now has been far weaker.
The unknowns remain. Though the detection of sunspots assigned to the next solar maximum strongly suggests that a grand minimum is not about to take place, we still might be surprised. When the last grand minimum occurred in the 1600s, the telescope had just been invented, and scientists really did not know what to look for on the Sun. They didn't even know that there had been a solar cycle up until that century. It could be that new cycle sunspots did occur, and then stopped appearing.
Or not. I am speculating wildly. All we can do is watch and wait to find out.
Meanwhile, the Sun's influence on climate change remains uncertain. Periods of weak sunspot activity have generally been associated with cold weather, for reasons that are not yet understood. If such things happen again, as appears to been the case with the lack of warming for the past two decades (during this period of weak sunspot cycles), then we might be able to pin down the Sun's exact contribution in determining the Earth's climate. And we need to know that exact contribution in order to better model the Earth's climate. Right now most climate computer models do not do a very good job, and that failure is partly because of a lack of understanding when it comes to the Sun.
Readers!
I must unfortunately ask you for your financial support because I do not depend on ads and rely entirely on the generosity of readers to keep Behind the Black running. You can either make a one time donation for whatever amount you wish, or you sign up for a monthly subscription ranging from $2 to $15 through Paypal or $3 to $50 through Patreon.
Your support will allow me to continue covering science and culture as I have for the past twenty years, independent and free from any outside influence.
Your support is even more essential to me because I not only keep this site free from advertisements, I do not use the corrupt social media companies like Google, Twitter, and Facebook to promote my work. I depend wholly on the direct support of my readers.
You can provide that support to Behind The Black with a contribution via Patreon or PayPal. To use Patreon, go to my website there and pick one of five monthly subscription amounts, or by making a one-time donation. For PayPal click one of the following buttons:

If Patreon or Paypal don't work for you, you can support Behind The Black directly by sending your donation by check, payable to Robert Zimmerman, to


Behind The Black
c/o Robert Zimmerman
P.O.Box 1262
Cortaro, AZ 85652


Or you can donate by using Zelle through your bank. You will need to give my name and email address (found at the bottom of the "About" page). The best part of this electronic option is that no fees will be deducted! What you donate will be what I receive.