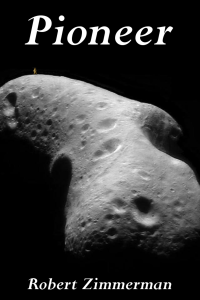 From the press release: From the moment he is handed a possibility of making the first alien contact, Saunders Maxwell decides he will do it, even if doing so takes him through hell and back.
Unfortunately, that is exactly where that journey takes him.
The vision that Zimmerman paints of vibrant human colonies on the Moon, Mars, the asteroids, and beyond, indomitably fighting the harsh lifeless environment of space to build new societies, captures perfectly the emerging space race we see today.
He also captures in Pioneer the heart of the human spirit, willing to push forward no matter the odds, no matter the cost. It is that spirit that will make the exploration of the heavens possible, forever, into the never-ending future.
Available everywhere for $3.99 (before discount) at
amazon
,
Barnes & Noble
, all ebook vendors, or direct from the ebook publisher,
ebookit
.
The uncertainty of modern climate science isn't merely because of the overall complexity of the data and the climate. Though there are numerous factors that contribute to the long term fluctuations of the climate that we do not yet completely understand or can quantify with any precision (the sun, dust, soot, volcanoes, carbon dioxide increase, to name just a few), there is a more tragic uncertainty that global warming scientists at NASA and NOAA have added to the mix, one that is entirely unjustified and harmful to the field of science and the questions that it is trying to answer.
In the case of this post, that tragic uncertainty has to do with sea level rise and the "adjustments," without explanation, that NASA is making to its sea level data. Below is a graph taken from the link, showing the changes that have been made to published data from 1982 in order to eliminate a long period of almost no sea level rise from the mid 1950s through 1980.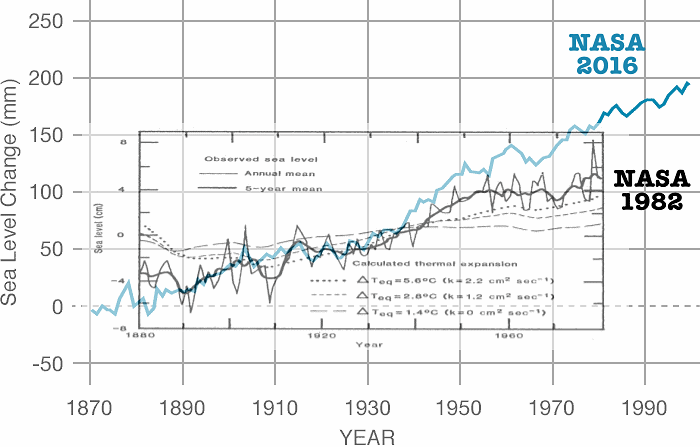 What's especially interesting to me is that back in the 2000s I had done an extensive review of the climate field, and found at that time that the generally accepted rate of sea level rise at the time was about 1 to 2mm per year. That number matches well with the 1982 graph, which shows a rise of slightly more than 100mm per year from 1875 to 1975.
In the last five years, however, for reasons I did not understand, climate scientists suddenly began saying that the sea had been rising for the past century at 3mm per year, not 1 to 2mm. Had new data explained the increase, such as a sudden acceleration of sea level rise after 1975, then I would willingly accept the increase, but I could find no data anywhere that justified this change. For the rate to have suddenly gone from 1 to 3mm per year would have required the 1982 data above to suddenly show after 1975 a sudden steep increase that would actually take the line off the top of the chart. Even the adjusted data here doesn't show that much increase.
What the 2016 NASA data above does show, indicated by the blue line, is a suspicious adjustment to the past data, from around 1940 through 1980, whereby the rate of sea level rise has been changed from almost flat to an increase of almost 50mm. The change also wipes out the long flat period from the 1950s on.
Has NASA provided a reasonable explanation for this change? Not that I am aware. However, this change is consistent with all the other adjustments that NOAA and NASA have made to old data. In every single case, their adjustments have either chilled the past or heated the present, or both, thus creating a graph that shows a much greater warming in the past century than showed by all previous studies. In the case above the adjustments increase sea level rise, which also fits the same pattern, since a warming climate and faster sea level rise are supposed to go hand and hand.
Once again, if there was a reasonable explanation for these adjustments I would be willing to accept them. That they always act to confirm the theory of human caused global warming though makes me very suspicious and skeptical. The kindest analysis suggests that these changes, all in one direction, are possibly because the scientists making them are subject to confirmation bias, whereby they allow their bias in favor of global warming to blind them to any data that might contradict that conclusion. A more cynical analysis suggests that some outright fraud is going on at these government agencies, fueled by a desire for funds from politicians who want results that prove human-caused global warming is happening.
The worst thing about these changes to past data, however, is how it has introduced a new uncertainty into this problem that is difficult to measure. In fact, it makes doing climate science almost impossible, because it leaves everyone completely uncertain about what the known facts really are. Did the sea level rise 1mm a year since 1875? Or did it rise 1.5mm? Or did it rise 3mm? Who knows? The data now appears corrupt, and untrustworthy. And making it reliable again will take decades of work and a whole new generation of scientists who are willing to come at the problem with open minds.
Sadly, I am not sure we will have such a generation in the coming years.
Readers!
Every July, to celebrate the anniversary of the start of Behind the Black in 2010, I hold a month-long fund-raising campaign to make it possible for me to continue my work here for another year.

This year's fund-raising drive however is more significant in that it is also the 10th anniversary of this website's founding. It is hard to believe, but I have been doing this for a full decade, during which I have written more than 22,000 posts, of which more than 1,000 were essays and almost 2,600 were evening pauses.

This year's fund drive is also more important because of the growing intolerance of free speech and dissent in American culture. Increasingly people who don't like what they read are blatantly acting to blackball sites like mine. I have tried to insulate myself from this tyrannical effort by not depending on Google advertising or cross-posts Facebook or Twitter. Though this prevents them from having a hold on me, it also acts to limit my exposure.

Therefore, I hope you will please consider donating to Behind the Black, by giving either a one-time contribution or a regular subscription, as outlined in the tip jar below. Your support will allow me to continue covering science and culture as I have for the past twenty years, independent and free from any outside influence.
Regular readers can support Behind The Black with a contribution via paypal:
If Paypal doesn't work for you, you can support Behind The Black directly by sending your donation by check, payable to Robert Zimmerman, to

Behind The Black
c/o Robert Zimmerman
P.O.Box 1262
Cortaro, AZ 85652