I don't have much to add to the numerous reports about yesterday's election by political pundits far more qualified than I. The Republicans won a big landslide victory yesterday, not only gaining control of the Senate, but winning more seats than expected. They also won more seats in the House than expected, widening their majority there to numbers not seen since the 1920s. In addition, they made it a grand slam by winning a plethora of governorships — many in Democratic stronghold states such as Massachusetts, Illinois, and Maryland — as well as taking control of more state legislatures than ever before.
What matters to me, however, is not the election but what this new Republican majority does with its majority. In the past, 1994 and 2000, they more or less squandered the opportunity to rein in government. In 1994, they allowed the government to grow but at a rate below the rate of inflation so that in a few years this resulted in a balanced budget and surpluses. But the government still grew in power and size. In 2000 they did not even do this, allowing government spending and yearly deficits to balloon, even though they had a Republican president who would have supported them if they had wanted to cut the size of government.
Thus, while I am hopeful, I also remain very skeptical about what will happen in the next few years. In order to prove to me and the conservative base that elected them that these Republicans mean what they say when they say they want to shrink the size of government, they are going to have to prove it with real action. They are going to have show us that they really do want to repeal Obamacare. They are going to have to show us that they really do want to gain some control over the border. And they are going to have to show us that they really do want to cut the budget and get it balanced.
I understand that the Democrats in the Senate and Obama can still block many of these initiatives, but too often Republicans have used this fact as an excuse to not try at all. This must stop! They must apply strong pressure on these left wing ideologues, make them reveal their politics for all to see by forcing them to veto or block these initiatives. Only by demonstrating a resolve to rein in government will anyone believe the Republicans when they claim that's what they want to do. And by doing so they will also simultaneously expose the Democrats as the left wing ideologues that they are.
Making these points can only be for the good, politically.
Two more points, often unstated but fundamental to what elections in the United States represent.

First, this election was a mid-term election. It is becoming increasingly obvious that the electorate that votes in the midterm elections is decidedly different than the electorate that votes when a president is on the ballot. Studies suggest that midterm voters are more conservative. They are also more informed about politics, more likely to be political junkies who follow what is going on. During presidential elections many more uneducated, low-information voters come out to vote. These also tend to be more liberal.
Thus. what happens during a midterm election does not necessarily illustrate a trend that will continue during the presidential election two years later. We have seen this pattern starkly in 2010, 2012, and now 2014.
However, what the Republicans do in the next two years could significantly change this pattern. If they push their agenda wisely, they will be in a better position to sell that agenda to those low information voters come 2016. This really is the Republicans' only option.
Second, most of the analysis about this election has focused on the details of these elections, the politics, the pragmatics, the campaign techniques, the strategies. Elections however are more than this.
In essence, elections are a broad statement of where our society and culture wishes to go politically. Without doubt no two voters, even those who self-identify as having the same political beliefs, will agree on every issue. Within both parties there are many political streams, some going in opposite directions.
Nonetheless, when the voters vote for Republicans they are generally voting for lower taxes, smaller government, and less regulation. They are voting for conservative/right wing principles. When they vote for Democrats, they are generally voting for higher taxes, bigger government, and more government services. They are voting for liberal/socialist/left wing principles.
Tuesday's election proved without doubt that, looking at it broadly, the American people want the former, and they said so at all levels of government, local, state, and federal, and in all regions, whether labeled red or blue. The public does not want more regulation. They do not want a bigger government. They want it to shrink and they want it to have less power over their lives.
Will the Republicans make an effort to give them this? We shall see.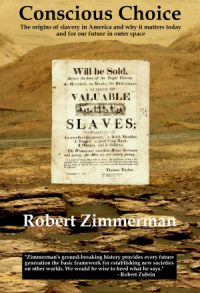 Now available in hardback and paperback as well as ebook!
From the press release: In this ground-breaking new history of early America, historian Robert Zimmerman not only exposes the lie behind The New York Times 1619 Project that falsely claims slavery is central to the history of the United States, he also provides profound lessons about the nature of human societies, lessons important for Americans today as well as for all future settlers on Mars and elsewhere in space.
Conscious Choice: The origins of slavery in America and why it matters today and for our future in outer space
, is a riveting page-turning story that documents how slavery slowly became pervasive in the southern British colonies of North America, colonies founded by a people and culture that not only did not allow slavery but in every way were hostile to the practice.
Conscious Choice
does more however. In telling the tragic history of the Virginia colony and the rise of slavery there, Zimmerman lays out the proper path for creating healthy societies in places like the Moon and Mars.
"Zimmerman's ground-breaking history provides every future generation the basic framework for establishing new societies on other worlds. We would be wise to heed what he says." —Robert Zubrin, founder of founder of the Mars Society.
All editions are available at Amazon, Barnes & Noble, and all book vendors, with the ebook priced at $5.99 before discount. The ebook can also be purchased direct from my ebook publisher, ebookit, in which case you don't support the big tech companies and I get a bigger cut much sooner.
Autographed printed copies are also available at discount directly from me (hardback $24.95; paperback $14.95; Shipping cost for either: $5.00). Just email me at zimmerman @ nasw dot org.