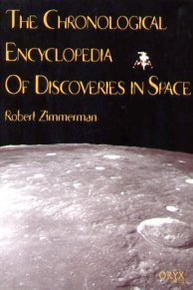 After being in print for twenty years, the Chronological Encyclopedia of Discoveries in Space, covering everything that was learned on every single space mission in the 20th century, has finally gone out of print.
I presently have my last four hardback copies available for sale. The book sold new for about $90. To get your own autographed copy of this now rare collector's item, please send a $120 check (which includes shipping) payable to Robert Zimmerman to
Behind The Black, c/o Robert Zimmerman
P.O.Box 1262
Cortaro, AZ 85652

"Useful to space buffs and generalists, comprehensive but readable, Bob Zimmerman's Encyclopedia belongs front and center on everyone's bookshelf." -- Mike Collins, Apollo 11 astronaut
"The Chronological Encylopedia of Discoveries in Space is no passionless compendium of information. Robert Zimmerman's fact-filled reports, which cover virtually every spacecraft or probe to have ventured into the heavens, relate the scientific and technical adventure of space exploration enthusiastically and with authority." -- American Scientist
Readers!
I want to thank everyone who contributed in the past month as part of my now-completed annual February birthday fund-raising drive. This was the best February campaign ever. For my readers to so generously give their hard-earned money for something that I offer for free humbles me greatly. Thank you! I will try to live up to your expectations.
For those who have not yet contributed, you can still do so, by checking out the options as outlined in the tip jar either in the right column (near the top) or at the bottom of the page (on mobile phones).
This thank you announcement will remain at the top of the page for the next week. Scroll down for today's newest posts.