I am on the road today, so posting will be light. Though I have many things to say about today's historic anniversary, fifty years after the first manned spaceflight by Yuri Gagarin, I simply won't be able to post them. However, I plan to express some of my thoughts on the John Batchelor Show at 11:30 pm (Eastern time) tomorrow. Listen in live, or on his podcast posted shortly after the live show.
The ironies, however, are amazing, and quite depressing. On the same day we celebrate the start of manned space exploration, NASA administrator Charles Bolden will announce where the United States's three retired shuttles will be put on display. Note also that he does this on the thirtieth anniversary of the first shuttle flight. It is almost as if the Obama administration's desire to kill the American government space program is so strong that they have to rub salt in the wound as they do it.
I say this not so much because I am in favor of a big government space program (which I am not) but because the timing of this announcement once again illustrates how astonishingly tone-deaf the Obama administration continues to be about political matters.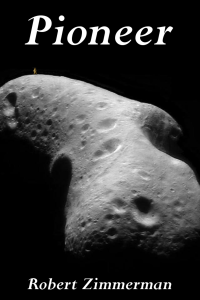 From the press release: From the moment he is handed a possibility of making the first alien contact, Saunders Maxwell decides he will do it, even if doing so takes him through hell and back.
Unfortunately, that is exactly where that journey takes him. The vision that Zimmerman paints of vibrant human colonies on the Moon, Mars, the asteroids, and beyond, indomitably fighting the harsh lifeless environment of space to build new societies, captures perfectly the emerging space race we see today. He also captures in Pioneer the heart of the human spirit, willing to push forward no matter the odds, no matter the cost. It is that spirit that will make the exploration of the heavens possible, forever, into the never-ending future. Available everywhere for $3.99 (before discount) at
amazon
,
Barnes & Noble
, all ebook vendors, or direct from the ebook publisher,
ebookit
. And if you buy it from
ebookit
you don't support the big tech companies and I get a bigger cut much sooner.