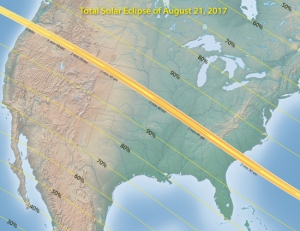 Time to start making your vacation plans. On August 21, 2017 a total eclipse of the sun is going to traverse the entire length of the continental United States, from Oregon to South Carolina. Kentucky will have the longest view, with totality as long as three minutes.
And astronomers are already thinking of ways to harness the help of the American people in observing this event. In a paper published today on the Los Alamos astro-ph website, a team of astronomers are proposing organizing something they have dubbed the U.S. Eclipse MegaMovie, whereby they gather together as many images of the totality as possible and assemble them into a single film, showing the evolution of the sun's corona as it crosses the continent.

The basic idea of the Megamovie is to incorporate as many images as possible, provided by a diverse range of observers using standard photographic techniques, into an overview movie. This would show the dynamics of the corona and associated prominence systems at high resolution for an extended period of time. If 10,000 observers each obtained 100 frames, then we would have a million-frame movie; at standard frame rate this would take 12 hours to show, and would thus be a slow-motion representation of coronal evolution. Each participating observer would be able to point with pride to the exact moment of his or her contribution. Of course, with an uncontrollably heterogeneous database, with images acquired by any number of camera types and formats, a substantial effort would be required even to produce a crude product.
All I can say is that — regardless of this worthwhile effort by astronomers — this eclipse is going to produce one wild party, a media feeding frenzy unmatched in decades. It has all the right ingredients: a single spectacular event whose occurrence can be predicted precisely, taking place in one of the most populated and developed places on the Earth. Moreover, it has been decades since a solar eclipse has crossed the continental United States. I can imagine literally millions of Americans driving north and south to gather along this thin line to see totality.
Start making your plans now!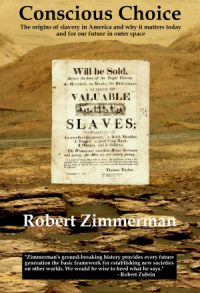 From the press release: In this ground-breaking new history of early America, historian Robert Zimmerman not only exposes the lie behind The New York Times 1619 Project that falsely claims slavery is central to the history of the United States, he also provides profound lessons about the nature of human societies, lessons important for Americans today as well as for all future settlers on Mars and elsewhere in space.
Conscious Choice: The origins of slavery in America and why it matters today and for our future in outer space
, is a riveting page-turning story that documents how slavery slowly became pervasive in the southern British colonies of North America, colonies founded by a people and culture that not only did not allow slavery but in every way were hostile to the practice.
Conscious Choice
does more however. In telling the tragic history of the Virginia colony and the rise of slavery there, Zimmerman lays out the proper path for creating healthy societies in places like the Moon and Mars.
"Zimmerman's ground-breaking history provides every future generation the basic framework for establishing new societies on other worlds. We would be wise to heed what he says." —Robert Zubrin, founder of founder of the Mars Society.
Available everywhere for $3.99 (before discount) at Amazon, Barnes & Noble, and all ebook vendors, or direct from the ebook publisher, ebookit. And if you buy it from ebookit you don't support the big tech companies and I get a bigger cut much sooner.