Capitalism in space: The Trump administration yesterday released the guidelines it will require any international or private partner to follow if they wish to participate in its Artemis lunar and planetary manned program.
The guidelines, which you can download here [pdf], list ten very broad and vague principles. Most reiterate support for the most successful requirements of the 1967 Outer Space Treaty, such as:
the requirement that all activities be conducted for peaceful purposes
the requirement that everyone design equipment for interoperability and to international standards
the requirement that everyone take reasonable steps possible to render assistance to astronauts in distress
the requirement that everyone publicly register anything they launch
the requirement that everyone release their scientific data publicly
the requirement that all parties take actions to mitigate space junk
The remaining four principles appear designed to bend the Outer Space Treaty in the direction of allowing countries and companies to have some control over the territories they occupy in space.

First, there is the demand that all partners respect the location and operations of any nation or company, and agree to delineate these into 'Safety Zones', which all other partners will then honor. In a sense, this is the Trump administration's attempt to bypass the Outer Space Treaty's second article, which outlaws the claiming of any territory in space. "We aren't claiming anything, but if we establish a base we expect others to honor the territory we occupy."
Second the accords reiterate in a very vague way the right of future nations and companies to own the resources they extract and utilize, though here the accords seem to back away from the early April Trump administration executive order, stating that any resources mined by U.S. citizens would be considered their private property. Instead, this new principle will be based on articles 2, 6, and 11 of the Outer Space Treaty, suggesting that U.S. law will not apply, and that private ownership of those resources will remain ill-defined.
Third, the accords demand that all partners commit to protecting the historic sites on other worlds, such as the Apollo landing sites.
Finally, the accords expect all partners to publicly outline in detail their own space policies and plans in a transparent manner. This principle, while appearing to align with the general sense of the Outer Space Treaty, puts far more pressure than required by the treaty on authoritarian regimes like Russia and China, who are not transparent and try to keep as much of what they plan to do and eventually accomplish as secret as possible.
Overall these accords appear at first glance to be somewhat disappointing, especially the principle on resource extraction. It seems the Trump administration with its April executive order had been trying, as have every past administration and numerous treaty signatories, to find a way around the treaty's restriction against claiming sovereignty and establishing our laws on any territory in space. They have apparently discovered, as have every past administration and numerous treaty signatories, that they can't get around it.
A closer look however suggests that the Trump administration is attempting a very subtle end-around of these restrictions. First, they are advocating that the territory of any established base be declared a "safety zone", which is just a different way of saying the base-operator will own it. Second, they reiterate that resource extraction will in accordance with the Outer Space Treaty clauses that require each nation to regulate the actions of its citizens in space (Article 6). Under this article, the U.S. can now tell its citizens you will, according to our laws, own what you mine.
The result? U.S. citizens and companies will know that U.S. law will apply to their efforts in space, which will likely make it easier for them to obtain investment capital and later make real profits by what they achieve.
I am not sure this end-around will work, but I give the Trump administration kudos for trying it. They are definitely putting pressure on other nations with their demand that safety zones be respected. This requirement is really plain common sense, but by bluntly declaring it the administration is forcing other nations to face its reality.
If it does work I expect space exploration will be begin to blossom, as the administration is laying the legal groundwork for protecting private investment.
If it doesn't work, we will either have to accept the fact that private property law will not apply in space and that Americans in space will be second-class citizens with none of the rights and legal protections that Americans expect, or we will have to get out of the Outer Space Treaty or force a major revision.
I have been advocating the latter for years. Few in our generally incompetent governing class has been willing to face that reality.
The Trump administration at least appears to be making an effort to deal with it.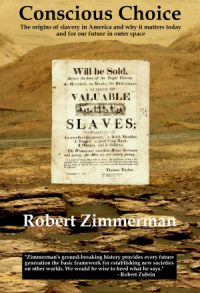 Now available in hardback and paperback as well as ebook!
From the press release: In this ground-breaking new history of early America, historian Robert Zimmerman not only exposes the lie behind The New York Times 1619 Project that falsely claims slavery is central to the history of the United States, he also provides profound lessons about the nature of human societies, lessons important for Americans today as well as for all future settlers on Mars and elsewhere in space.
Conscious Choice: The origins of slavery in America and why it matters today and for our future in outer space
, is a riveting page-turning story that documents how slavery slowly became pervasive in the southern British colonies of North America, colonies founded by a people and culture that not only did not allow slavery but in every way were hostile to the practice.
Conscious Choice
does more however. In telling the tragic history of the Virginia colony and the rise of slavery there, Zimmerman lays out the proper path for creating healthy societies in places like the Moon and Mars.
"Zimmerman's ground-breaking history provides every future generation the basic framework for establishing new societies on other worlds. We would be wise to heed what he says." —Robert Zubrin, founder of founder of the Mars Society.
All editions are available at Amazon, Barnes & Noble, and all book vendors, with the ebook priced at $5.99 before discount. The ebook can also be purchased direct from my ebook publisher, ebookit, in which case you don't support the big tech companies and I get a bigger cut much sooner.
Autographed printed copies are also available at discount directly from me (hardback $24.95; paperback $14.95; Shipping cost for either: $5.00). Just email me at zimmerman @ nasw dot org.