Please consider donating to Behind the Black, by giving either a one-time contribution or a regular subscription, as outlined in the tip jar below. Your support will allow me to continue covering science and culture as I have for the past twenty years, independent and free from any outside influence.
Regular readers can support Behind The Black with a contribution via paypal:
If Paypal doesn't work for you, you can support Behind The Black directly by sending your donation by check, payable to Robert Zimmerman, to

Behind The Black
c/o Robert Zimmerman
P.O.Box 1262
Cortaro, AZ 85652

Waking up is hard to do. Today NOAA's Space Weather Prediction Center once again published its monthly graph, showing the progress of the sun's sunspot cycle in comparison with the consensis prediction made by the solar science community in May 2009.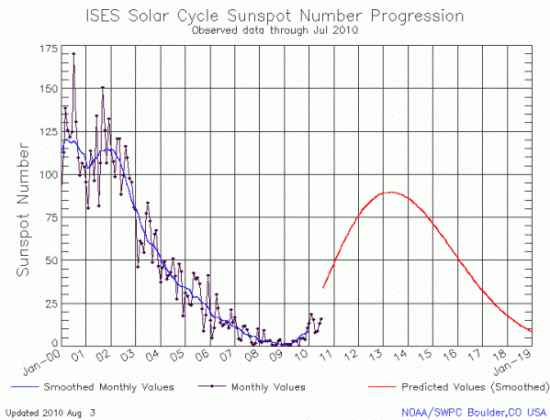 As I noted when I posted the July graph, the data continues to show that the Sun's ramp up to solar maximum is far slower and weaker than predicted, despite the stories this week about how Sunday's coronal mass ejection demonstrates that the sun is "waking up."