I have been collecting stories over the past two weeks that highlight the horrible spread of bigotry and prejudice, based merely on race, on many of today's college campuses. Here are a few of those stories.
This list includes colleges in numerous states, from ivy league institutions to public colleges and private universities. Worse, in every case it appears that the school administrations either actively support the bigotry, condone it, or passively do nothing to oppose it.
This list of course is hardly complete. However, I compiled it to illustrate that the daily stories coming from today's college campuses illustrate a frightening trend that can be seen across the entire country. What is horrifying is that I compiled it in just a little over a week. I have no doubt that should I continue compiling the list I will find that the list of colleges supporting this bigoted behavior, almost all of which is illegal under the Civil Rights Act (not to mention morally repugnant), will grow significantly. I expect that every college in the United States that takes federal dollars is dominated by this race-based hate. Worse, that hate is growing and becoming more violent and fearless in its blatant desire to oppress those it hates.
The time has come to cut off all tax dollars to these places. Donations from alumni should cease. Parents should refuse to send their children there.
If we do not stand up against this evil, it will soon consume us. The warning signs are there. And it has happened before. We will have no one to blame but ourselves if we do nothing.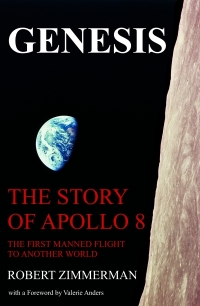 On Christmas Eve 1968 three Americans became the first humans to visit another world. What they did to celebrate was unexpected and profound, and will be remembered throughout all human history. Genesis: the Story of Apollo 8, Robert Zimmerman's classic history of humanity's first journey to another world, tells that story, and it is now available as both an ebook and an audiobook, both with a foreword by Valerie Anders and a new introduction by Robert Zimmerman.
The ebook is available everywhere for $5.99 (before discount) at
amazon
, or direct from my ebook publisher,
ebookit
. If you buy it from
ebookit
you don't support the big tech companies and the author gets a bigger cut much sooner.
The audiobook is also available at all these vendors, and is also
free with a 30-day trial membership to Audible.
"Not simply about one mission, [Genesis] is also the history of America's quest for the moon... Zimmerman has done a masterful job of tying disparate events together into a solid account of one of America's greatest human triumphs."--San Antonio Express-News