We've moved on from Mt. St. Helens to the Columbia River Gorge. Below is a shot of Vista House at Crown Point, looking east into the gorge. In the distance you can see Beacon Rock.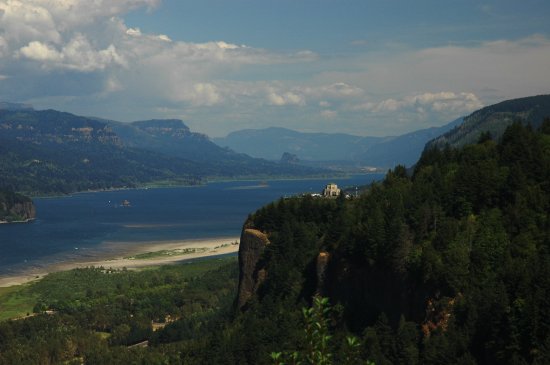 Today's hike was short, a six mile loop starting at Multnomah Falls (620 feet total).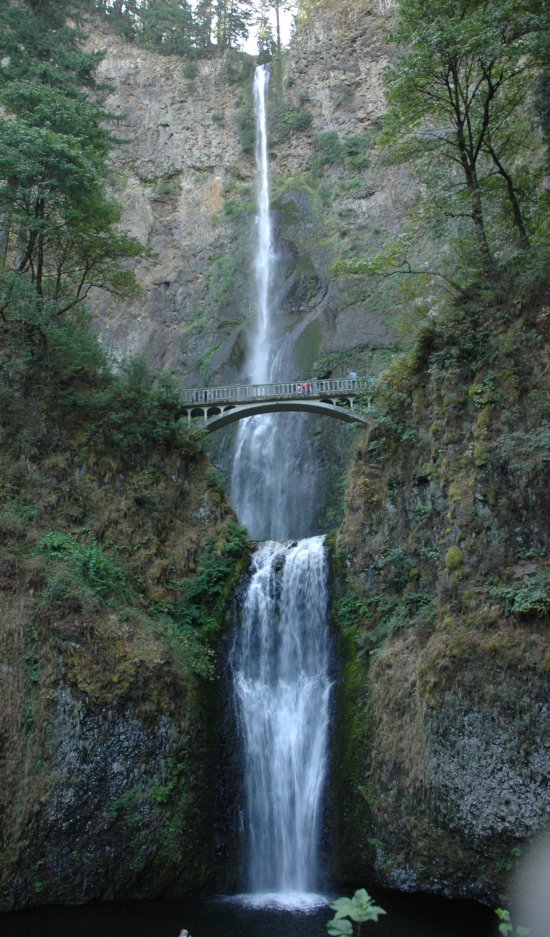 The falls and hike are probably among the most popular tourist attractions close to Portland. And since today was Saturday, there were a lot of people around. Nonetheless, the numbers quickly dropped as we worked our way up the trail, dropping to only a handful of people once we climbed past the top of the falls. The hike itself included a lot of waterfalls and babbling streams, but it also weaved its way through some impressive evergreen forests.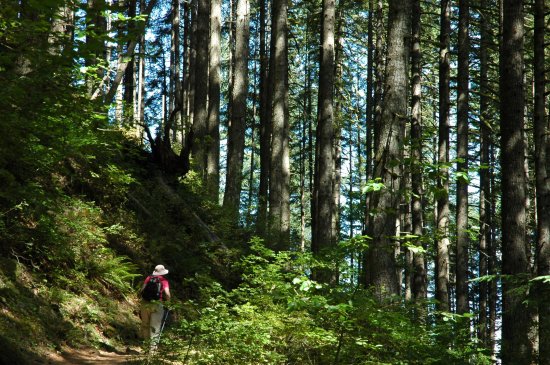 I find it sad how few people are willing to do the little extra work necessary to reach these beautiful places. At one point on our way down, we passed a family that was clearly discussing whether to continue. They had already climbed about 80 percent of the way up, but the father and mother were tired and seemed willing to stop. When the son (about 12) asked me how much farther it was to the top and I said it was only about 20 to 30 minutes, he was off like a shot, with the parents forced to follow, albeit reluctantly. My immediate thought was, "Go, kid, go!"
Readers!
I must unfortunately ask you for your financial support because I do not depend on ads and rely entirely on the generosity of readers to keep Behind the Black running. You can either make a one time donation for whatever amount you wish, or you sign up for a monthly subscription ranging from $2 to $15 through Paypal or $3 to $50 through Patreon.
Your support will allow me to continue covering science and culture as I have for the past twenty years, independent and free from any outside influence.
Your support is even more essential to me because I not only keep this site free from advertisements, I do not use the corrupt social media companies like Google, Twitter, and Facebook to promote my work. I depend wholly on the direct support of my readers.
You can provide that support to Behind The Black with a contribution via Patreon or PayPal. To use Patreon, go to my website there and pick one of five monthly subscription amounts, or by making a one-time donation. For PayPal click one of the following buttons:

If Patreon or Paypal don't work for you, you can support Behind The Black directly by sending your donation by check, payable to Robert Zimmerman, to


Behind The Black
c/o Robert Zimmerman
P.O.Box 1262
Cortaro, AZ 85652


Or you can donate by using Zelle through your bank. You will need to give my name and email address (found at the bottom of the "About" page). The best part of this electronic option is that no fees will be deducted! What you donate will be what I receive.