I decided today, after one of my readers, John Harman, sent me a link to a very blunt but accurate piece describing the sad state of modern American culture, that it was necessary to explain why I had posted nothing here on Behind the Black on Thursday, even though I was home all day doing what I usually do, scanning the web for interesting stuff.
To begin, you might want to read the essay that John sent me, entitled Wimp Nation: Poised to Fall. It sums up the cultural situation quite nicely.
The United States has become a nation of weak, pampered, easily frightened, helpless milquetoasts who have never caught a fish, fired a gun, chopped a log, hitchhiked across the country, or been in a schoolyard fight. If their cat dies, they call a grief therapist. Everything frightens Americans.
Read it all.
You then might want to read this story about Hillary Clinton's testimony and questioning on Thursday in front of the House Benghazi committee. Here too the author captures the sick intellectually dishonest nature of America's political culture.
What we discovered is this: The White House and Clinton apparently knew that the Benghazi attack was the premeditated work of Islamic terrorists before the bodies were cold. She and the administration nevertheless proceeded to propagate a falsehood that advanced the president's preferred political narrative just six weeks before a tightly-contested national election.
As I noted to John, Hillary Clinton's testimony wasn't news, it was a joke. What did we learn? She is a liar? That's news? What was worse, as the author of the article noted, were the reporters willing to make believe this wasn't so.
Then there are these two stories:

Both stories describe the culture on today's American campuses, where it is clear that a large numbers of students, a majority in some cases, do not support free speech and are quite willing to squelch the free speech rights of others if it bothers them even slightly.
So, why did I not post on Thursday? Sadly, everything depressed me to the point that I just did not want to pass it on to anyone. I am someone who is hopeful, who believes in freedom, who is willing to fight to the death for the right of someone I disagree with to speak their minds.
Unfortunately, I come from a different age. The age we are entering is a new dark age, where knowledge and truth are not the goal, and keeping people silent and oppressed is the number one ideal. I find that a conclusion difficult to post about.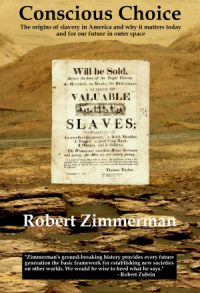 Now available in hardback and paperback as well as ebook!
From the press release: In this ground-breaking new history of early America, historian Robert Zimmerman not only exposes the lie behind The New York Times 1619 Project that falsely claims slavery is central to the history of the United States, he also provides profound lessons about the nature of human societies, lessons important for Americans today as well as for all future settlers on Mars and elsewhere in space.
Conscious Choice: The origins of slavery in America and why it matters today and for our future in outer space
, is a riveting page-turning story that documents how slavery slowly became pervasive in the southern British colonies of North America, colonies founded by a people and culture that not only did not allow slavery but in every way were hostile to the practice.
Conscious Choice
does more however. In telling the tragic history of the Virginia colony and the rise of slavery there, Zimmerman lays out the proper path for creating healthy societies in places like the Moon and Mars.
"Zimmerman's ground-breaking history provides every future generation the basic framework for establishing new societies on other worlds. We would be wise to heed what he says." —Robert Zubrin, founder of founder of the Mars Society.
All editions available at Amazon, Barnes & Noble, and all book vendors. The ebook can be purchased direct from my ebook publisher, ebookit, in which case you don't support the big tech companies and I get a bigger cut much sooner. Note that the price for the ebook, $3.99, goes up to $5.99 on September 1, 2022.
Autographed printed copies are also available at discount directly from me (hardback $24.95; paperback $14.95). Just email me at zimmerman @ nasw dot org.