I have been so appalled and horrified by the events of the past three months, culminating in the riots and brutal violence and looting this past week, that I have found myself unable to express myself. I stand for freedom, for justice, for equal protection under law, and for our Constitution and Bill of Rights, fundamental documents that more than any philosophical tract ever written outline the most just way to run a country.
That country however appears to be dying, fast. It strongly appears that a large plurality, maybe even a majority, no longer believes in these ideals. This fact has made me depressed beyond words.
The speech below by Tucker Carlson however does a very good job of summing things up, based on facts, while making it clear what we must do to change this madness. He pulls no punches. He attacks every politician from both parties who have stood by or even supported the rioting and the nullification of our most basic laws. He demands better from them, and he demands that we, the citizenry, demand it as well.
I beg my readers to watch it. Set the speed at 1.25 and you can see it faster.
I also pray that some of my readers, after watching it, will recognize how deadly the situation really is, far beyond rioting, and how necessary it is for us to require proper behavior from our leaders, without exception, based on law and justice. No more race-baiting. No more apologies for enforcing the law meant to protect the innocent. No more cowardice. If our political leaders can't protect everyone, then they must be fired. All of them.
And if we, the American people, still fail to recognize how bad things are and refuse to do something about it, then my headline above will simply be an accurate prediction. I weep to think I might be right.
I must also add that to understand what I mean, you must watch Carlson's speech first. Otherwise, you will be doing exactly what I rage against.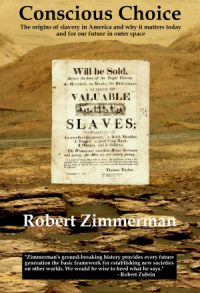 Now available in hardback and paperback as well as ebook!
From the press release: In this ground-breaking new history of early America, historian Robert Zimmerman not only exposes the lie behind The New York Times 1619 Project that falsely claims slavery is central to the history of the United States, he also provides profound lessons about the nature of human societies, lessons important for Americans today as well as for all future settlers on Mars and elsewhere in space.
Conscious Choice: The origins of slavery in America and why it matters today and for our future in outer space
, is a riveting page-turning story that documents how slavery slowly became pervasive in the southern British colonies of North America, colonies founded by a people and culture that not only did not allow slavery but in every way were hostile to the practice.
Conscious Choice
does more however. In telling the tragic history of the Virginia colony and the rise of slavery there, Zimmerman lays out the proper path for creating healthy societies in places like the Moon and Mars.
"Zimmerman's ground-breaking history provides every future generation the basic framework for establishing new societies on other worlds. We would be wise to heed what he says." —Robert Zubrin, founder of founder of the Mars Society.
All editions are available at Amazon, Barnes & Noble, and all book vendors, with the ebook priced at $5.99 before discount. All editions can also be purchased direct from the ebook publisher, ebookit, in which case you don't support the big tech companies and the author gets a bigger cut much sooner.
Autographed printed copies are also available at discount directly from me (hardback $24.95; paperback $14.95; Shipping cost for either: $5.00). Just email me at zimmerman @ nasw dot org.