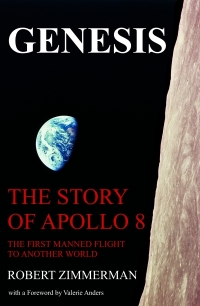 On Christmas Eve 1968 three Americans became the first humans to visit another world. What they did to celebrate was unexpected and profound, and will be remembered throughout all human history. Genesis: the Story of Apollo 8, Robert Zimmerman's classic history of humanity's first journey to another world, tells that story, and it is now available as both an ebook and an audiobook, both with a foreword by Valerie Anders and a new introduction by Robert Zimmerman.
The ebook is available everywhere for $5.99 (before discount) at
amazon
, or direct from my ebook publisher,
ebookit
.
The audiobook is also available at all these vendors, and is also
free with a 30-day trial membership to Audible.
"Not simply about one mission, [Genesis] is also the history of America's quest for the moon... Zimmerman has done a masterful job of tying disparate events together into a solid account of one of America's greatest human triumphs." --San Antonio Express-News
This post will be a very pessimistic one. In the last twenty-four hours I watched two different videos, both of which illustrated the growing close-mindedness in American society. On one hand we watch while a high school assistant principal does everything he can to not talk reasonably to two students holding signs opposed to abortion. First he tries to get them to leave, claiming they don't have the right to stand there (they do, as it is a public street and there is something called the first amendment protecting their right to speak). Then he accuses them of harassing people, which it is very clear from the video they are doing no such thing. Finally, he stands there trying to prevent others from seeing their signs, while yelling "La-la-la-la-la-la-la!" loudly to keep others (and himself) from hearing what they say. He really does this.
On the other we have a detailed video report from the Foundation for Individual Rights in Education (FIRE) about the alarming hostility to free speech at Tufts University. This quote from the video struck me as downright terrifying for our future:
The climate at Tufts embodies several trends FIRE has seen growing in recent years. There is a shift away from the heavy-handed administrators posing the biggest threat to free speech on campus. Now the loudest calls for censorship are coming from the students themselves. … And in some cases like we saw first hand at Tufts, students are equating offensive or uncomfortable speech with violence. [emphasis mine]
Both videos are embedded below the fold. Please spend the time to watch both. I think you will be equally terrified. The left not only can no longer tolerate listening to any dissenting opinions, they have created a culture and mindset among the younger generation that makes dissent and freedom of speech downright impossible. And both the adults and the students of this intolerant culture are moving with increasing aggressiveness to try to shut down any opposing speech, sometimes with outright violence.


Readers!
My July fund-raiser for Behind the Black is now over. The support from my readers was unprecedented, making this July campaign the best ever, twice over. What a marvelous way to celebrate the website's tenth anniversary!

Thank you! The number of donations in July, and continuing now at the beginning of August, is too many for me to thank you all personally. Please forgive me by accepting my thank you here, in public, on the website.

If you did not donate or subscribe in July and still wish to, note that the tip jar remains available year round.
Regular readers can support Behind The Black with a contribution via paypal:
If Paypal doesn't work for you, you can support Behind The Black directly by sending your donation by check, payable to Robert Zimmerman, to

Behind The Black
c/o Robert Zimmerman
P.O.Box 1262
Cortaro, AZ 85652