This post will be a very pessimistic one. In the last twenty-four hours I watched two different videos, both of which illustrated the growing close-mindedness in American society. On one hand we watch while a high school assistant principal does everything he can to not talk reasonably to two students holding signs opposed to abortion. First he tries to get them to leave, claiming they don't have the right to stand there (they do, as it is a public street and there is something called the first amendment protecting their right to speak). Then he accuses them of harassing people, which it is very clear from the video they are doing no such thing. Finally, he stands there trying to prevent others from seeing their signs, while yelling "La-la-la-la-la-la-la!" loudly to keep others (and himself) from hearing what they say. He really does this.
On the other we have a detailed video report from the Foundation for Individual Rights in Education (FIRE) about the alarming hostility to free speech at Tufts University. This quote from the video struck me as downright terrifying for our future:
The climate at Tufts embodies several trends FIRE has seen growing in recent years. There is a shift away from the heavy-handed administrators posing the biggest threat to free speech on campus. Now the loudest calls for censorship are coming from the students themselves. … And in some cases like we saw first hand at Tufts, students are equating offensive or uncomfortable speech with violence. [emphasis mine]
Both videos are embedded below the fold. Please spend the time to watch both. I think you will be equally terrified. The left not only can no longer tolerate listening to any dissenting opinions, they have created a culture and mindset among the younger generation that makes dissent and freedom of speech downright impossible. And both the adults and the students of this intolerant culture are moving with increasing aggressiveness to try to shut down any opposing speech, sometimes with outright violence.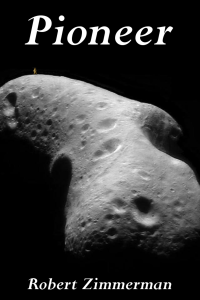 From the press release: From the moment he is handed a possibility of making the first alien contact, Saunders Maxwell decides he will do it, even if doing so takes him through hell and back.
Unfortunately, that is exactly where that journey takes him.
The vision that Zimmerman paints of vibrant human colonies on the Moon, Mars, the asteroids, and beyond, indomitably fighting the harsh lifeless environment of space to build new societies, captures perfectly the emerging space race we see today.
He also captures in Pioneer the heart of the human spirit, willing to push forward no matter the odds, no matter the cost. It is that spirit that will make the exploration of the heavens possible, forever, into the never-ending future.
Available everywhere for $3.99 (before discount) at
amazon
,
Barnes & Noble
, all ebook vendors, or direct from the ebook publisher,
ebookit
. And if you buy it from
ebookit
you don't support the big tech companies and I get a bigger cut much sooner.