Today I received a press release from the Universities Space Research Association (USRA), announcing a half-day symposium in Washington, D.C. on March 26, 2020 entitled ""The SmallSat Revolution: Doing More with Less." The announcement was an invitation for the working press to register and attend, noting that the speakers will include, among others, Thomas Zurbuchen, NASA's associate administrator science, Jeffrey Mamber, president of NanoRacks, and Patricia Cooper of SpaceX.
As interesting as this might sound at first glance, I will not attend. For one thing, it is on the other side of the continent, and I can't afford to fly cross country for such a short meeting. For another, I don't see the point. I attended a lot of these DC symposiums when I lived in Maryland, and though they were often very educational and the free food (paid for almost always by the taxpayer) was always enjoyable, I routinely found them somewhat lacking in newsworthy content.
Thirdly, and most important, yesterday I attended a much more newsworthy one day conference here in Tucson on exactly the same subject, dubbed the Arizona Academic CubeSat Symposium. Unlike the Washington event above — which will likely be a mostly superficial look at the burgeoning cubesat industry — yesterday's symposium was focused on letting students and scientists describe actual and very ambitious cubesat projects presently under construction or design.
In less than seven hours I saw the following:

a proposal to build a cubesat to act as a guide star for future optical space telescopes with large segmented mirrors. If successful, the cubesat would provide the telescope the information required to align the mirror segments to an accuracy as tight as less than the width of a hydrogen atom.
a planned technology cubesat for testing the deployment and operation of a large inflatable balloon antenna for providing high gain communications. The antenna would inflate, becoming many times larger than the cubesat itself.
an on-going undergraduate cubesat project that has repeatedly helped students learn the engineering and management of building satellites, by having them both fail and succeed.
a student-built cubesat, just deployed from ISS, designed to study the urban heat effect.
an astronomy cubesat that will monitor M class stars in ultraviolet wavelengths.
plans by one university to install a large thermal vacuum chamber for cubesat testing.
a proposal to use cubesats to provide ground-penetrating radar maps of the icecaps over Greenland and Antarctica.
a cubesat interferometry technology-test mission that would use 3D printing, in space, to build two 30-foot-long beams, creating in a single satellite a interferometer made of two mirrors 60 feet apart. If this works it will not only demonstrate the use of cubesats to create a swarm of space telescopes capable of producing high resolution images, it will show that automated 3D printing (designed by the company Made in Space) is practical.
a proposed cubesat space telescope designed to map out the warm and hot gas filaments surrounding galaxies. The cubesat would be designed to stare at one edge-on galaxy for weeks at a time. If it works many such cubesat telescopes could be launched to look at other galaxies, at relatively little cost.
the early design testing for a cubesat to study cirrus ice clouds in the Earth's atmosphere.
What struck me was not just the variety of proposals but the ambitiousness of them all. While each project might have been very focused on a very specific small task, the overall technical capabilities these missions would establish will make all future smallsats capable of doing most anything in space.
Some of these proposals will likely not fly. That is the nature of this game. Many that do fly will fail. That is also the nature of the game. The primary goal of all of these cubesat proposals is to test these new technologies. Even if they fail, they will provide valuable information for refining later cubesat designs that will make future successes possible. Even those projects that never get funded or built will serve the same purpose, as the designers will outline ideas that others can later pick up and push to success.
All of these proposals once again illustrate the growing bifurcation of the space industry. On one hand, the tasks that do not involve humans are increasingly being given over to smaller and smaller satellites and rockets. On the other hand, manned spaceflight is getting larger and more ambitious, even as it gets more efficient and less costly.
The former will not replace the latter. Instead, it will make manned space more doable, providing cheap and easily built technology for scouting out the targets for future human exploration and colonization.
Assuming society does not collapse from revolution, disease, or financial bankruptcy, all real threats, it looks like the 20s and 30s will be a very exciting time in the exploration of the solar system. For those just old enough to enter college now and who are smart enough to get a degree in engineering or the hard sciences, the future will be very bright indeed.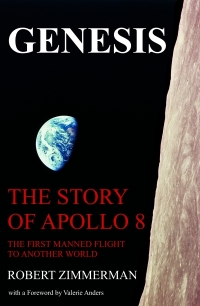 On Christmas Eve 1968 three Americans became the first humans to visit another world. What they did to celebrate was unexpected and profound, and will be remembered throughout all human history. Genesis: the Story of Apollo 8, Robert Zimmerman's classic history of humanity's first journey to another world, tells that story, and it is now available as both an ebook and an audiobook, both with a foreword by Valerie Anders and a new introduction by Robert Zimmerman.
The ebook is available everywhere for $5.99 (before discount) at
amazon
, or direct from my ebook publisher,
ebookit
. If you buy it from
ebookit
you don't support the big tech companies and the author gets a bigger cut much sooner.
The audiobook is also available at all these vendors, and is also
free with a 30-day trial membership to Audible.
"Not simply about one mission, [Genesis] is also the history of America's quest for the moon... Zimmerman has done a masterful job of tying disparate events together into a solid account of one of America's greatest human triumphs."--San Antonio Express-News