According to this story, China plans 30 launches for 2017, which would smash the record of launches, 22, the country set in 2016.
This website lists the known scheduled launches worldwide. As far as I can see, only 15 Chinese launches are listed. However, China's space program is modeled after the Soviet Union's, which means they are somewhat secretive. The first link above has been reporting on China quite reliably during the past year, so I have some faith that the goal of 30 launches seems reasonable.
In 2017 China however is not the only country, or company, that will be attempting smash records. Russia hopes to complete 29 launches, which would not be a record for that country but would be a significant recovery from the 17 they completed in 2016. India set a record of 9 launches in 2016, and hopes to top it in 2017, starting with a single launch in January that will place a record 103 satellites in orbit in one shot. Europe meanwhile shows 21 launches on its 2017 manifest, while Japan has 9, according to the second link above.
The list gets even more interesting when you look at the 2017 launches planned for each American company. SpaceX has 31 launches all by itself,. ULA has 14, while Orbital ATK plans 4.
Obviously, these predicted numbers are not what is really going to happen. SpaceX is not going to launch 31 rockets in 2017. Not a chance. However, if they can get through the year with no launch failures, they will likely complete more than half that number, since that was the pace they were aiming for in 2016 and were getting close to achieving until the September 1 launchpad explosion. Meanwhile, ULA's prediction of 14 launches for 2017 seems wholly reasonable since ULA completed 12 launches in 2016.
What this data suggests overall is that the total number of launches in 2017 will go up, significantly. Moreover, the increase in pace will be linked to an revived commercial satellite market, as well as a newly competitive launch industry aimed at reducing costs while making its increased launch pace more routine. These factors suggest that the increases will not be a one time thing, but will instead be heralding a new standard that signals a new age in space travel.
Hold onto your hats. The next few years in space should be quite exciting.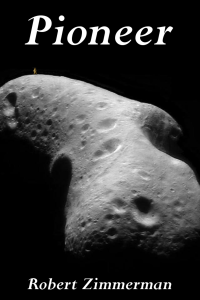 From the press release: From the moment he is handed a possibility of making the first alien contact, Saunders Maxwell decides he will do it, even if doing so takes him through hell and back.
Unfortunately, that is exactly where that journey takes him. The vision that Zimmerman paints of vibrant human colonies on the Moon, Mars, the asteroids, and beyond, indomitably fighting the harsh lifeless environment of space to build new societies, captures perfectly the emerging space race we see today. He also captures in Pioneer the heart of the human spirit, willing to push forward no matter the odds, no matter the cost. It is that spirit that will make the exploration of the heavens possible, forever, into the never-ending future. Available everywhere for $3.99 (before discount) at
amazon
,
Barnes & Noble
, all ebook vendors, or direct from the ebook publisher,
ebookit
. And if you buy it from
ebookit
you don't support the big tech companies and I get a bigger cut much sooner.