Please consider donating to Behind the Black, by giving either a one-time contribution or a regular subscription, as outlined in the tip jar to the right or below. Your support will allow me to continue covering science and culture as I have for the past twenty years, independent and free from any outside influence.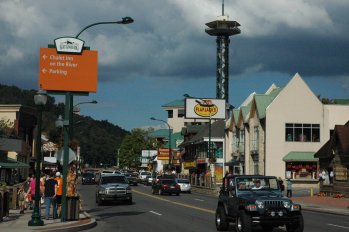 I must admit I did not expect this. When we made our reservations to stay in a timeshare motel in Gatlinburg, Tennessee, I imagined the town would resemble the small West Virginia towns I am very familiar with from my many years of caving in that state. There would be a relatively quiet main street, with some restaurants, a supermarket, one or two gas stations, and some basic shopping.
What I found instead is a wonderfully energetic example of American capitalism, a carnival amusement area reminiscent of the amusement spots of the past and most epitomized by Brooklyn's Coney Island.
When I was growing up in Brooklyn in the late 1950s and 1960s, Coney Island was a shadow of its grand past, but it still carried with it much of its old glory. You could stroll along the boardwalk or Surf Avenue and visit hundreds of shops, stores, and amusement rides, most of which were independently owned. In addition, the island also had several larger private amusement parks, such as Steeplechase Park, Astroland, and Luna Park (which unfortunately had closed before I ever saw it), each of which had a collection of their own rides and amusements. With some, like Steeplechase and Luna, you had to pay a separate admission price to get in.
This is exactly what I discovered here in Gatlinburg and the adjacent towns of Pigeon Forge and Sevierville.

As you drive on the main road from I-40 south to Great Smoky Mountain National Park, you go through all three towns, passing literally hundreds of amusement venues, including many small private operations as well as several large amusement parks, the most famous of which is Dollywood. The lights and signs are boisterous, bold, noisy, and exciting. The only thing lacking is a boardwalk, beach, and ocean. Instead, you have the Smoky Mountains a few miles away.
The picture of the main drag in Gatlinburg on the right at the start of this post only gives a hint of this place. The street was packed with people, checking out the stores and amusements and having a grand old time. Some venues literally had the equivalent of carnival barkers, calling out to passersby about the wonders of their amusement in an effort to draw them in. Several candy stories had taffy making operations in their front windows. You could stand there and watch taffy being made, and then go in and buy it. In the evening the performers came out, some singing inside the bars and moonshine stores (which is exactly what they are selling), others setting up on the street and singing for tips to the crowds walking by. Rising from the center of town was the Gatlinburg Space Needle, over 400 feet tall where for a small fee you could ride an elevator to the top and look down upon it all as well as the nearby Smoky Mountains.
All in all, this is a wonderful place, and it is wonderful because Tennessee has allowed freedom, private enterprise, and capitalism to prosper. No one stepped in to stop it because it might look "crass" or not fit with the tone of nature and the park. Instead, the state government stayed out of the way, and let freedom ring instead.
One final note to underline this point: When we rode over to the National Park's visitor center today to find out what their policy will be should the federal government shut down on October 1, the park rangers were decidedly unhelpful. All they would say is that there will be no services, and that except for the one main road that goes over the mountains, the roads into the park will be closed. I asked if we would still be able to park at the trailheads along the main road and go hiking. The Ranger shrugged and refused to answer. Essentially, the National Park Service and the Obama administration has decided they are going to make life as miserable as they can for the American citizens, even when it is not necessary.
We then saw the film presentation, which of course celebrated the park's natural wonders. It was also very clear from this presentation that if the park and government had its way, the exuberant amusements of Gatlinburg, Pigeon Forge, and Sevierville would be shut down also, and forever.
I will also say that if the government does shut down and the park puts up closed signs at trailheads, that will not stop me from visiting the park. Since the main road will still be open, and since there are many major trailheads along this road, if we can drive into any trailhead parking area and park our car, I intend to do so and to go hiking, even if I have to drive around a closed sign. The pioneers who first settled this area didn't need the permission of any park ranger to do it. We today certainly shouldn't either.