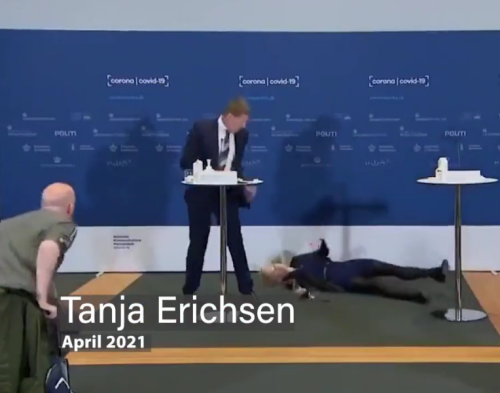 One of many sudden collapses. Click for full video.
While from the beginning it appeared that the various COVID shots from different pharmaceutical companies were relatively safe to take, time is proving this assumption to be very false, with the data increasingly suggesting that the jab not only poses a significant, dangerous, and immediate health risk to young people, its long term effects on everyone who either chose to get it or was forced to by government mandate could very well be disastrous.
First the immediate risks. The numbers of individuals who have died suddenly and abruptly after getting the jab has been horrifying and shocking. Never in my life have I seen so many young and healthy people suddenly keeling over in public situations and dying. This story underlines the horror of the situation:
Such occurrences were unheard of prior to 2021. As noted at the link, "In fact, 500% more soccer players in the EU are dropping dead from heart attacks than just one year ago." To capture the real horror of these events you need only watch the short video at this link. The thread that follows provides further documentation of this epidemic of "sudden death" and its apparent connection to the COVID shots.
Still, the actual medical link of these sudden heart failures to the COVID shots remains somewhat tentative, though more and more research is tying the two together.
From the last link:

A recently published scientific study found that incidents of heart inflammation after a COVID-19 vaccination is twice as high in the Moderna (mRNA-1273) vaccine as it is in the Pfizer (BNT162b2) vaccine and that on average, Moderna's second-dose vaccine caused 269 cases of heart inflammation for every one million doses in males aged 18 to 29, while Pfizer's rate was 58 per one million second doses in the same age group.

Young men as a demographic were by far the most adversely affected by a second dosage Pfizer or Moderna mRNA vaccine.
Though, the numbers show only a small number of individuals with heart damage, in the past far smaller numbers would have caused governments to immediately pull such a "vaccine." With COVID however the general reaction is "Move along! Get your shots! Nothing to see here!"
These stories however only deal with the immediate harm. More research is beginning to suggest far more serious longer term damage that I fear will reveal itself in more and more in jabbed individuals as the years pass.
In the last story I put quotes around "temporary mild" because the lead scientist who wrote the paper seems desperate to minimize his own findings, even though there is absolutely no reason to do so. No damage to the heart is ever "mild," nor can it ever be considered "temporary," even if the symptoms appear to disappear in a few days. As he himself admits, "the cardiac muscle can't regenerate, or only to a very limited degree at best."
In fact, this last story illustrates the overall refusal to face facts by the medical and scientific community. These were the people who foisted these COVID jabs upon us — often by force and against our will — and now they seem terrified that their advice might actually be leading to real harm. Thus, they rationalize the facts to make believe the jab might not be as damaging as it is, despite the facts before their very eyes.
Nor is this intellectual dishonesty from the pro-COVID-jab community a new phenomenon. For example, for years several doctors on Twitter for years pushed masking aggessively. We now discover that these same doctors never existed, their accounts fully faked. We have also learned recently how the Biden administration and Facebook coordinated a COVID shot propaganda campaign in anticipation of new studies linking blood clots to the jab.
Nor has the dishonesty ended. In December, even as New York Democratic Party Mayor Eric Adams began pushing masks again on his citizens, the White House's top Covid Advisor, Dr. Jha, admitted on a recent zoom call that there's "no study in the world that show that masks work".
And once again, the science journals, this time Nature, were pushing panic computer models that said millions would die in China when that country finally abandoned its failed "Zero COVID" policy. Those models were released in mid-December, and now, only a month later, they are already being proven wrong.
This dishonest pattern from the medical and health community is also contributing to other problems. The public no longer trusts them, and has begun refusing medical treatments that we know from long experience actually work.
There is some hope, however, as not all doctors have been so dishonest. A large number in the field are now beginning to push back against the government health monolith that forced these bad COVID policies on everyone. For example, 17,000 physicians and scientists have signed a statement demanding an end to use of the COVID jabs, accusing the companies that produce them of fraud. From their statement, which is titled "Restore Scientific Integrity":
17,000 physicians and medical scientists declare that the state of medical emergency must be lifted, scientific integrity restored, and crimes against humanity addressed.

We, the physicians and medical scientists of the world, united through our loyalty to the Hippocratic Oath, recognize that the disastrous COVID-19 public health policies imposed on doctors and our patients are the culmination of a corrupt medical alliance of pharmaceutical, insurance, and healthcare institutions, along with the financial trusts which control them. They have infiltrated our medical system at every level, and are protected and supported by a parallel alliance of big tech, media, academics and government agencies who profited from this orchestrated catastrophe.

This corrupt alliance has compromised the integrity of our most prestigious medical societies to which we belong, generating an illusion of scientific consensus by substituting truth with propaganda. This alliance continues to advance unscientific claims by censoring data, and intimidating and firing doctors and scientists for simply publishing actual clinical results or treating their patients with proven, life-saving medicine. These catastrophic decisions came at the expense of the innocent, who are forced to suffer health damage and death caused by intentionally withholding critical and time-sensitive treatments, or as a result of coerced genetic therapy injections, which are neither safe nor effective. [emphasis in original]
In Sweden a group of five senior doctors have issued their own statement: COVID vaccines are "obviously dangerous" and should be halted immediately.
And when the FDA tried to gaslight the world by falsely claiming it never tried to prohibit the use of ivermectin by doctors during the worst of the Wuhan epidemic, the outcry against this lie from doctors and health care workers was deafening.
"The FDA was the key creator of these hurdles when it launched a social media campaign stating that ivermectin is dangerous and only for horses. When faced with a lawsuit, the FDA now claims it was merely making suggestions—suggestions that have threatened my ability to practice medicine and more importantly, interfered with life-saving early treatment of COVID patients," [Dr. Mary] Bowden said.
Bowden is one of many doctors now suing the FDA over its dishonest policy.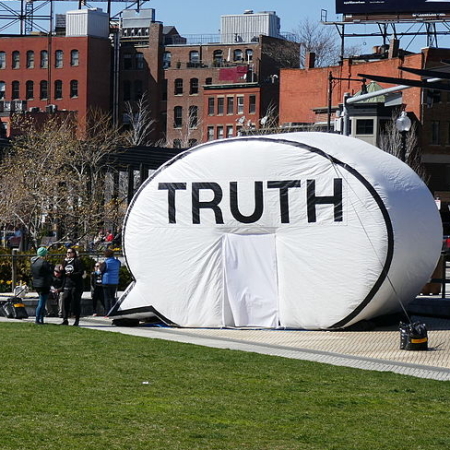 When will our leaders finally enter the truth booth?
This pushback by many doctors is a good thing, but it can't change one reality, a reality that I fear is going to punch us in the face again and again in the coming years. The COVID jab was experimental, untested, and risky. It also now appears that the jab does real long term harm to the human body.
This is the reality we now face. It is one that is beyond terrifying.
That reality however is made worse by its history. The jab was mandated by a leadership ruled by their panicked fear of a virus that really is no more dangerous than the ordinary flu. They then forced those shots on billions of people, some against their will. The health consequences of tyrannical mandate is only now becoming clear, and they look quite terrible.
At what point will that leadership finally face this reality? Right now they continue to be ruled by their fear, once a fear of the virus but now a fear of the truth.
None of this can continue. Either the leadership will recognize the truth and admit wrong, or it will be replaced, either peaceable or in terrible violence.
Either way, the consequences of the COVID jab are going to be bad, in ways that cannot yet be measured fully and that have nothing to do with medical science.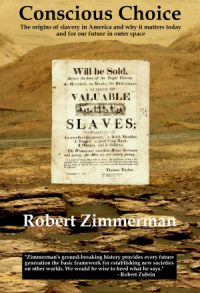 Now available in hardback and paperback as well as ebook!
From the press release: In this ground-breaking new history of early America, historian Robert Zimmerman not only exposes the lie behind The New York Times 1619 Project that falsely claims slavery is central to the history of the United States, he also provides profound lessons about the nature of human societies, lessons important for Americans today as well as for all future settlers on Mars and elsewhere in space.
Conscious Choice: The origins of slavery in America and why it matters today and for our future in outer space
, is a riveting page-turning story that documents how slavery slowly became pervasive in the southern British colonies of North America, colonies founded by a people and culture that not only did not allow slavery but in every way were hostile to the practice.
Conscious Choice
does more however. In telling the tragic history of the Virginia colony and the rise of slavery there, Zimmerman lays out the proper path for creating healthy societies in places like the Moon and Mars.
"Zimmerman's ground-breaking history provides every future generation the basic framework for establishing new societies on other worlds. We would be wise to heed what he says." —Robert Zubrin, founder of founder of the Mars Society.
All editions are available at Amazon, Barnes & Noble, and all book vendors, with the ebook priced at $5.99 before discount. All editions can also be purchased direct from the ebook publisher, ebookit, in which case you don't support the big tech companies and the author gets a bigger cut much sooner.
Autographed printed copies are also available at discount directly from me (hardback $24.95; paperback $14.95; Shipping cost for either: $5.00). Just email me at zimmerman @ nasw dot org.