Among the new images posted last week by the HiRise camera on Mars Reconnaissance Orbiter is a picture showing the layered and looping ridgelines within Galle Crater. A close-up of these ridgelines revealed the precarious nature of those crumbling cliff tops.
Below is a low resolution version of the image, with a high resolution cropped inset below that, showing a close-up of the most interesting looking area. In the inset you can see that the top of the cliff has separated away. It almost looks as if several large pieces are about to break off. You can also see that the top of the cliff to the north is made up of hanging rocks that appear to almost float in the air. They too look as if they are about to break off.
What makes this even more intriguing is that there are no boulder piles at the bottom of any cliff. All we can see on the valley floor is a pattern of polygonal fractures, possibly "due to ground ice, or regional tectonic stresses." If large pieces of these ridge lines are breaking off periodically, as they surely appear to be doing, where has the debris gone?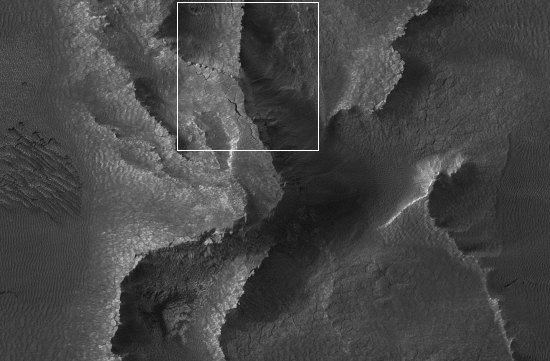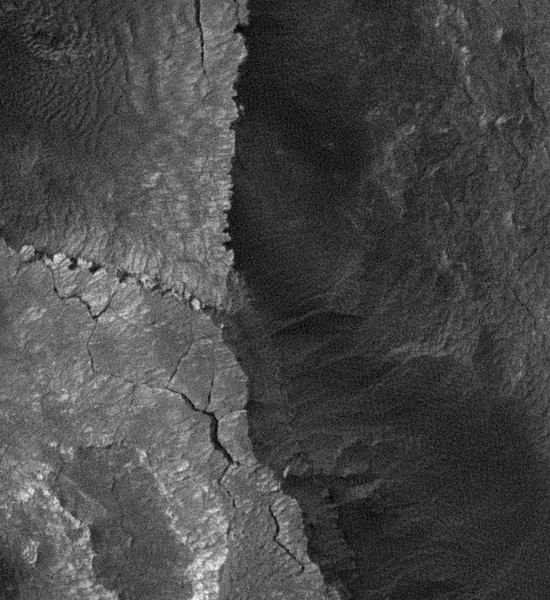 Readers!
I must unfortunately ask you for your financial support because I do not depend on ads and rely entirely on the generosity of readers to keep Behind the Black running. You can either make a one time donation for whatever amount you wish, or you sign up for a monthly subscription ranging from $2 to $15 through Paypal or $3 to $50 through Patreon.
Your support will allow me to continue covering science and culture as I have for the past twenty years, independent and free from any outside influence.
Your support is even more essential to me because I not only keep this site free from advertisements, I do not use the corrupt social media companies like Google, Twitter, and Facebook to promote my work. I depend wholly on the direct support of my readers.
You can provide that support to Behind The Black with a contribution via Patreon or PayPal. To use Patreon, go to my website there and pick one of five monthly subscription amounts, or by making a one-time donation. For PayPal click one of the following buttons:

If Patreon or Paypal don't work for you, you can support Behind The Black directly by sending your donation by check, payable to Robert Zimmerman, to


Behind The Black
c/o Robert Zimmerman
P.O.Box 1262
Cortaro, AZ 85652


Or you can donate by using Zelle through your bank. You will need to give my name and email address (found at the bottom of the "About" page). The best part of this electronic option is that no fees will be deducted! What you donate will be what I receive.