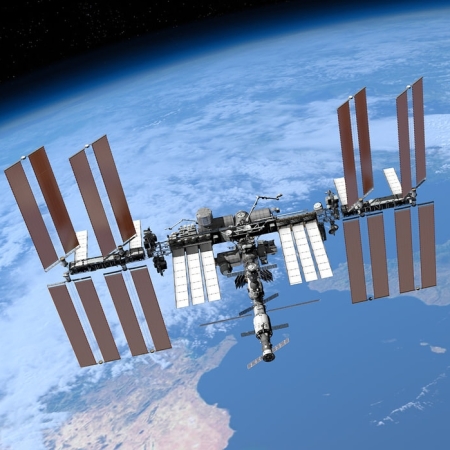 The Russian invasion might be signaling the end of the ISS partnership.
Though the international ramifications of the invasion of the Ukraine by Russia in the past week will be far reaching and hard to predict, we can get a hint by reviewing the impact on Russia's long-standing partnership on ISS as well as the effect the invasion will have on a number of commercial enterprises dependent on both Russian and Ukrainian space rocketry.
The International Space Station
All signs so far from the western partners on ISS indicate that they are guardedly hopeful that the cooperation with Russia will continue unimpeded. According to two stories (here and here) describing a panel discussion today at George Washington University Space Policy Institute, state department officials expressed complete confidence that the partnership at ISS will continue without interruption, as it did in 2014 when Russia invaded the Crimea, taking it from the Ukraine. From the first link:

Valda Vikmanis-Keller, Director of the State Department's Office of Space Affairs, said cooperation continues with Russia's State Space Corporation Roscosmos and the other ISS partners "to maintain safe and continuous operations." As planned, three Russian cosmonauts will launch to ISS on March 18, and two Russians and one American will return on March 30.

The United States and Russia have been negotiating a crew exchange agreement where Americans will fly to ISS on Soyuz spacecraft and Russians on the U.S. commercial crew vehicles on a no-exchange-of-funds basis, unlike the past decade-and-a-half where NASA paid Russia to transport its crew members.

Vikmanis-Keller confirmed that three Russian cosmonauts are in training right now at NASA's Johnson Space Center in Houston. She also said two American astronauts are "wrapping up" their training in Russia now and "up to five NASA astronauts are scheduled for training in Russia."
At the same time, Roscosmos' head, Dmitry Rogozin, made a statement that indicated that cracks could easily develop in the partnership, based on the west's generally hostile response to Russia's invasion.
"We value highly our professional relations with NASA, but as an (ethnic) Russian and a citizen of Russia I am very unhappy with the openly hostile policy of the USA toward my country," said the statement by Dmitry Rogozin, who heads Russian space policy and interfaces directly with NASA Administrator Bill Nelson.

What prompted the statement from Rogozin is not immediately clear. On Monday, he tweeted, "Glory to Russia" following Putin's speech on Ukraine and Russia's right to occupy territories of the former Soviet Union. Rogozin is a member of Putin's inner circle, having previously served as a deputy prime minister in the government before leading Roscosmos.
Rogozin also stated however that a break is not something he wishes to see happen.
"Neither Russia nor the United States have much to gain by withdrawing from their partnership in space," he told Ars. "An argument could be made that Russia has even more to lose, as Roscosmos' budget hinges more on the space station than does NASA's. If there is any change in the near term, it might be a delay to launching cosmonauts on US commercial vehicles and resuming flying NASA astronauts on Soyuz, but even that could carry disadvantages for both parties."
From all this evidence I suspect that the Biden administration will behave like the Obama administration in 2014 by throwing a meaningless public tantrum about the invasion, imposing somewhat inconsequential sanctions while specifically leaving the ISS partnerships untouched.
In the long run however I suspect this war is just one more nail in the coffin of the partnership. The U.S. is moving towards privately owned space stations after ISS, which will not require any partnership with Russia at all. The war will make it easier to end ISS, with or without Russia participation.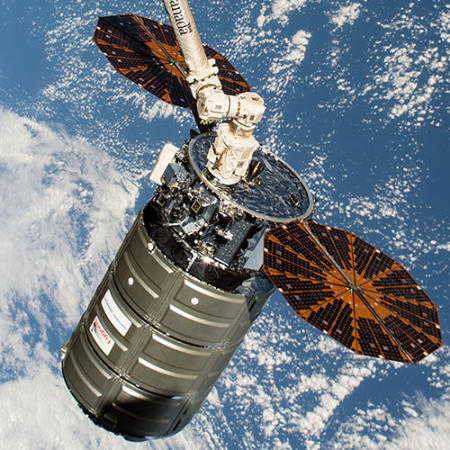 Northrop Grumman's Cygnus freighter, launched by Antares
Commercial Space
The conflict however could have much more serious consequences for at least one American rocket company. The first stage of Northrop Grumman's Antares rocket is built by a Ukrainian company and uses two Russian-built engines. Whether these deals can survive the invasion is very unknown.
Antares is used to launch Cygnus freighters to ISS. Russia might not want those supplies to be blocked, since doing so will hurt its own operations on ISS. At the same time, Putin might wish to use this as an opportunity to indirectly damage the long term American operations on the station. He certainly appeared willing to do so with the anti-sat test recently that put a lot of space debris in orbits that will increasingly threaten ISS over time.
At the moment Northrop Grumman says it has the hardware needed for its next two flights to ISS. Beyond that all is unknown. Once again, this Russian invasion could be signalling the eventual end of the partnership at ISS.
While another American company, ULA, presently still uses Russian rocket engines for its Atlas-5 rocket, it has already received delivery of all the engines it needs for the last few Atlas-5 launches. The company is planning in the next two years to transition to its new Vulcan rocket, which does not use Russian engines, though its dependence on Blue Origin's much delayed BE-4 engine has caused endless delays there as well.
Russia's own rocket industry presently has only one western commercial customer, the satellite company OneWeb, which is launching its satellites using Soyuz-2 rockets. As OneWeb is jointly owned by an Indian company and the government of the United Kingdom, it is unclear whether those entities will take action to break off its deal. If I was to make a bet, I would say not likely. There is too much money involved. To delay OneWeb launches would simply cost the company too much.
The invasion however has likely ended the chance of Russia getting itself any new non-Russian satellite customers. Essentially, Russia's market share for international commercial launches is now guaranteed to be zero, except for those remaining OneWeb launches. And once the OneWeb contract is completed, expect that company to look for launch alternatives outside of Russia.
The war will also likely impact negatively a new spaceport in Nova Scotia, which signed a deal with a Ukrainian rocket company to provide launch services at the spaceport. It is questionable whether those rockets will be delivered now.
As for western satellite companies, U.S. officials are warning that Russia could interfere with their operations as part of its military offensive, especially if those satellite provide any service to the Ukraine, such as American GPS satellites. From this second link:
As the Ukraine crisis escalates, U.S. National Reconnaissance Office Director Christopher Scolese warned that Russia's military could target satellites to disrupt communications and GPS services.

"I think we're seeing pretty clearly that Russia is committed to doing what they want to do in Ukraine, and they want to win," Scolese said Feb. 23 at the National Security Space Association's Defense and Intelligence Space Conference. "So I think it's fair to assume that, to the extent that they can, and to the extent that they feel it won't extend the conflict out of their control, that they will extend it into space," Scolese said.
The risk of escalating the war beyond the Ukraine by interfering with American satellites, both commercial or government (such as GPS satellites), will likely force Russia to hold back. However, in war it is difficult to predict what will happen, and unlike the Crimean invasion in 2014, this invasion of the Ukraine is much larger and more extensive. If the Ukraine fights back with any success, Russia might feel compelled to block U.S. GPS and communications satellites, even to the point of launching anti-satellite missiles to destroy them. The risk is real, though at present small.
Europe's partnership with Russia
Finally, the Russian-Ukrainian conflict could have a very harmful impact on the partnership between Russia and the European Space Agency on several on-going projects, with the project most threatened the Mars rover Rosalind Franklin, its launch scheduled for later this year. Russia is providing the rocket and the lander, and should either be delayed the launch will likely not happen.
Furthermore, Arianespace's partnership with Russia to use Soyuz-2 rockets is likely threatened as well. Other than the OneWeb launches, do not expect Arianespace to sign up any more customers for Soyuz-2. This war could accelerate what some sources have hinted, that the partnership was ending anyway.
Conclusion
Overall, the risks now are far more volatile than they were in 2014, when Russia annexed the Crimea. Not only is this war far larger, worldwide tensions are much higher because of the panic and governmental overreach and failure in the last two years because of COVID. Emotions are running high. Not only could the Russian invasion cause the end of its many international partnerships in space, the war could expand outward in ways that no one right now can predict.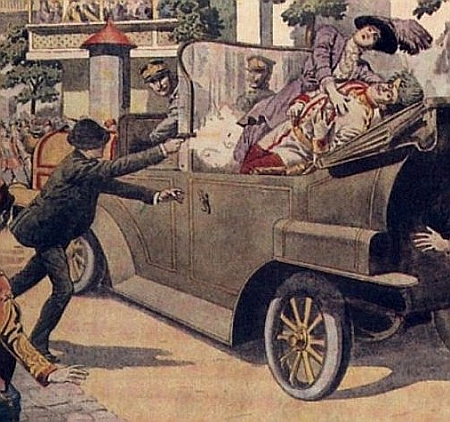 No one could have guessed that the assassination of an archduke would
start World War I
For example, Taiwan reported today that nine Chinese aircraft had entered its defensive zone without permission today. China might have decided to use the distraction created by Russia's action to move on Taiwan, and do its own invasion there. Both Russia and China see the Biden administration as weak and ineffective, and thus are eager to take advantage of this fact.
If the war widens, then all bets are off in space. While the partnership at ISS is expected to end before this decade is over, this conflict might accelerate that breakup significantly. Similarly, Europe's partnerships with Russia are seriously threatened. This conflict might finally force France and Germany to sign on to the Artemis Accords, realizing at last that Russia and China are not reliable partners..
Finally, all commercial partnerships in the Ukraine are likely damaged or dead. While this fact will hurt some western businesses somewhat, the real harm will be to the Ukrainian space industry, which has been struggling to rebuild itself since the separation from Russia. The resumption of Russian rule will likely not benefit those companies, as Russia has now developed its own resources to replace them and will act to keep that business for itself.
The bottom line remains: At this moment the situation is emotional and unpredictable. Past events in 2014 suggest things will calm down and the space industry will continue as before, No one however should take that conclusion nonchalantly.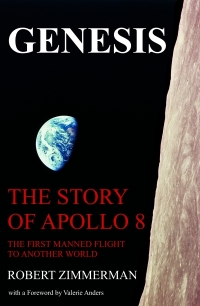 On Christmas Eve 1968 three Americans became the first humans to visit another world. What they did to celebrate was unexpected and profound, and will be remembered throughout all human history. Genesis: the Story of Apollo 8, Robert Zimmerman's classic history of humanity's first journey to another world, tells that story, and it is now available as both an ebook and an audiobook, both with a foreword by Valerie Anders and a new introduction by Robert Zimmerman.
The ebook is available everywhere for $5.99 (before discount) at
amazon
, or direct from my ebook publisher,
ebookit
. If you buy it from
ebookit
you don't support the big tech companies and the author gets a bigger cut much sooner.
The audiobook is also available at all these vendors, and is also
free with a 30-day trial membership to Audible.
"Not simply about one mission, [Genesis] is also the history of America's quest for the moon... Zimmerman has done a masterful job of tying disparate events together into a solid account of one of America's greatest human triumphs."--San Antonio Express-News