This past weekend we got to once again see the workings of the Democratic/Media smear machine, designed to not only destroy the reputation of anyone who opposes them, but to give that machine justification for removing all such individuals from any position of power.
All without any evidence. None.
First the New York Times published a new unsubstantiated smear against Supreme Court justice Brett Kavanaugh. The allegations were made by a Democratic Party operative who had acted as one of Bill Clinton's lawyers, and who claimed to have seen the incident.
Then Democratic politicians pile on, demanding the impeachment of Kavanaugh. They do this despite the fact that there are absolutely no other confirmed witnesses to that Democratic operative's accusations. Nor is there any record anywhere or evidence that the vile incident ever happened.
Then, when the damage has already been done, and this new Big Lie has been properly spread throughout the world, the New York Times finally corrects its initial report, adding two significant details that discredits the report entirely. First, the so-called victim had refused to be interviewed for the report, and second, according to her friends, has no recollection of the incident itself.
None of these corrections will matter. From now on Democrats, and their willing allies in the press, will repeatedly use this new smear as evidence that Kavanaugh is a bad person who must be removed from office.
This is the same pattern we have seen them use repeatedly for the past decade. First they make unsubstantiated accusations of racism (the Tea Party, some children from Kentucky), of murder (Trayvon Martin, Michael Brown), of encouraging violence (Sarah Palin), of treason (Trump), of sexual deviancy (Kavanaugh and Roy Moore), and then when those accusations are unequivocally proven to be lies and smears, ignore this fundamental evidence to continue spreading the lies and the slanders.
Yet, when it came time to vote in 2018, the American public shrugged its shoulders, ignored this vile behavior, and rewarded these Democrats with more power in Congress. It seems that a very large percentage of the American public — maybe even a majority — approves of this smear machine, likes what it is doing, and wants to use it to make sure all opposition to the Democratic Party is destroyed, by any means necessary.
Bad times are coming, unless something changes in the 2020 election.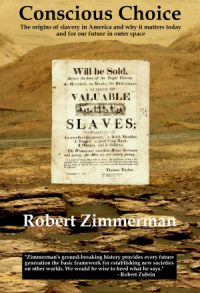 Now available in hardback and paperback as well as ebook!
From the press release: In this ground-breaking new history of early America, historian Robert Zimmerman not only exposes the lie behind The New York Times 1619 Project that falsely claims slavery is central to the history of the United States, he also provides profound lessons about the nature of human societies, lessons important for Americans today as well as for all future settlers on Mars and elsewhere in space.
Conscious Choice: The origins of slavery in America and why it matters today and for our future in outer space
, is a riveting page-turning story that documents how slavery slowly became pervasive in the southern British colonies of North America, colonies founded by a people and culture that not only did not allow slavery but in every way were hostile to the practice.
Conscious Choice
does more however. In telling the tragic history of the Virginia colony and the rise of slavery there, Zimmerman lays out the proper path for creating healthy societies in places like the Moon and Mars.
"Zimmerman's ground-breaking history provides every future generation the basic framework for establishing new societies on other worlds. We would be wise to heed what he says." —Robert Zubrin, founder of founder of the Mars Society.
All editions are available at Amazon, Barnes & Noble, and all book vendors, with the ebook priced at $5.99 before discount. The ebook can also be purchased direct from my ebook publisher, ebookit, in which case you don't support the big tech companies and I get a bigger cut much sooner.
Autographed printed copies are also available at discount directly from me (hardback $24.95; paperback $14.95; Shipping cost for either: $5.00). Just email me at zimmerman @ nasw dot org.