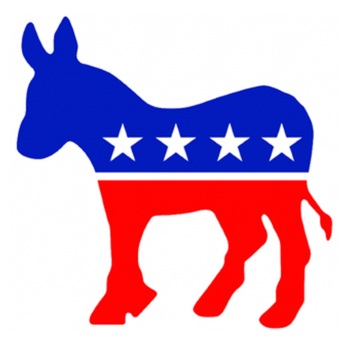 Democrats: The party of genocide and bigotry
My headline could not be more blunt, but it is also an honest appraisal. Today, when the House of Representatives voted 234-188 to censure congresswoman Rashida Tlaib (D-Michigan) for her support for Hamas and her public endorsement of its goal to kill all Israelis, 184 of those nay votes were Democrats. Only 22 were willing to condemn her actions.
What did these Democrats vote against? Here is what the House resolution [pdf] stated Tlaib was guilty of doing:
Whereas Representative Rashida Tlaib, within 24 hours of the October 7 barbaric attack on Jewish citizens of the State of Israel, representing the deadliest day for Jews since the Holocaust, defended the brutal rapes, murders, be-headings, and kidnapping – including of Americans – by Hamas as justified ''resistance'' to the ''apartheid state'';

Whereas Representative Tlaib's October 8 statement claimed that Hamas' October 7 attack on the Jewish people was partly attributable to United States security aid provided to Israel, which ignores the fact that the Iron Dome, a co-developed air defense system, saved lives that day by intercepting rockets launched from the Gaza Strip against Israeli civilian targets;

Whereas on October 18, 2023, Representative Tlaib continued to knowingly spread the false narrative that Israel intentionally bombed the Al-Ahli Arab Hospital on October 17 after United States intelligence, Israeli intelligence, and President Biden assessed with high confidence that Israel did not cause the explosion;

Whereas on November 3, 2023, Representative Tlaib published on social media a video containing the phrase ''from the river to the sea'', which is widely recognized as a genocidal call to violence to destroy the state of Israel and its people to replace it with a Palestinian state extending from the Jordan River to the Mediterranean Sea;

Whereas Representative Tlaib doubled down on this call to violence by falsely describing ''from the river to the sea'' as ''an aspirational call for freedom, human rights, and peaceful coexistence'' despite it clearly entailing Israel's destruction and denial of its fundamental right to exist;
Every single one of Tlaib's actions were inexcusable for an elected official. Every single one illustrates that Tlaib favors the genocidal murder of Jews by Hamas, and is even willing to spread lies to make it happen. Yet almost 90% of the Democrats in the House could not bring themselves to condemn Tlaib. In fact, many condemned the censure statement, led by the other members of the Democratic Party's squad of Marxist bigots, Ilhan Omar (D-Minnesota), Alexandria Ocasio-Cortez (D-New York), and Ayanna Pressley (D-Massachusetts), Pramila Jayapal (D-Washington), Jamaal Bowman (D-New York), Jamie Raskin (D-Maryland), and Corri Bush (D-Missouri).
Granted, 70 House Democrats voted for a competing statement [pdf] that expressed support for Israel as well as the ordinary citizens of Gaza while condemning the general use of the phrase "from the river to the sea," admitting its real meaning is a call for the murder of every Israeli Jew. Note however that even this mild statement was opposed by two thirds of the Democratic Party caucus in the House.
Thus, elected House Democrats have once again proven that their party either supports genocide against Israel, or is willing to look the other way.
What must be recognized above all is the reason these elected officials now feel emboldened to take such vile positions: They know their voters support them, and that expressing support for anti-Semitism and Hamas will do them no harm at the polls.
This is the Democratic Party today, both at the top and the bottom, filled with proud bigots and anti-Semites. While there are certainly a lot of Democrat voters who would never publicly or personally support such evil, those voters are still willing to support politicians who do. The Democratic Party election victories in Virginia, Kentucky, and Ohio yesterday illustrate this. So do the closeness of many other elections where Republicans managed to win.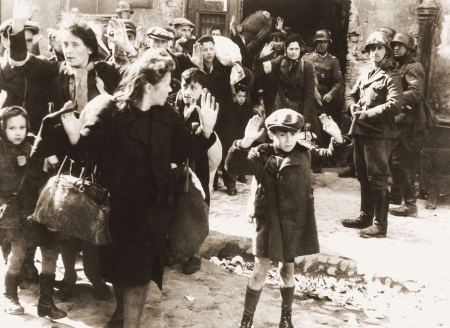 The eventual goal of the Democratic Party and
too many of its voters
This continuing wide support for the Democratic Party suggests that its voters are either ignorant, foolish, dishonest about their real desires, or are outright bigots and anti-Semites. Nor does it matter which. They stand behind the evil that now controls the Democratic Party, and that support gives this increasingly dangerous and totalitarian party enough political strength to even back genocide and bigotry.
I also know that saying this will change nothing, as I have been documenting the growing malevolence within the Democratic Party for more than three decades, all to no avail. Even now I fully expect a large number of secular Jews to still vote Democrat. They will not listen. Their minds are closed. They hate Republicans so much that they are willing to endorse a party of genocide rather than switch parties.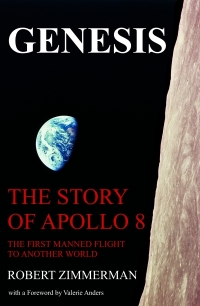 On Christmas Eve 1968 three Americans became the first humans to visit another world. What they did to celebrate was unexpected and profound, and will be remembered throughout all human history. Genesis: the Story of Apollo 8, Robert Zimmerman's classic history of humanity's first journey to another world, tells that story, and it is now available as both an ebook and an audiobook, both with a foreword by Valerie Anders and a new introduction by Robert Zimmerman.
The ebook is available everywhere for $5.99 (before discount) at
amazon
, or direct from my ebook publisher,
ebookit
. If you buy it from
ebookit
you don't support the big tech companies and the author gets a bigger cut much sooner.
The audiobook is also available at all these vendors, and is also
free with a 30-day trial membership to Audible.
"Not simply about one mission, [Genesis] is also the history of America's quest for the moon... Zimmerman has done a masterful job of tying disparate events together into a solid account of one of America's greatest human triumphs."--San Antonio Express-News