So, have you all been closely hooked to your televisions or computers, watching nonstop the impeachment trial against President Donald Trump going on in the Senate this week?
Yup, me neither. No one in their right mind and with the freedom to avoid it would spend eight-plus hours each day watching this obscene impeachment effort by the out-of-control and power-hungry Democratic Party. They have nothing to offer but lies and policy differences, hardly sufficient to justify their campaign to remove a duly elected president, merely because he has the audacity to oppose them. Better to read summaries and commentary afterward.
In fact, the ratings of the impeachment trail in the Senate bear this out. On the first day the ratings showed a 20% decline in viewership from the numbers seen during the House impeachment vote, from 13.8 million to 11 million. This trend continued on day two, when the ratings plunged another 19% to 8.9 million.
Nor is this drop in ratings surprising. Everyone knows that there no chance Trump will be convicted by a two-thirds majority of the Senate. Not only are the charges against him bogus, the Democratic managers appointed by the House to argue their case in the Senate have done a terrible job making their case. Instead, they have offended the few Republican senators who might have considered conviction. Both Senators Lisa Murkowski (R-Alaska) and Susan Collins (R-Maine) were considered unreliable Republicans, willing to listen to the Democrats' line of reasoning, with the possibility that they might even have voted against Trump.
Instead, manager and congressman Jerry Nadler (D-New York) offended both deeply with his accusations that anyone who voted for blocking the introduction of new witnesses was participating in a "cover-up."

Lisa Murkowski's response? "I took it as very offensive. As one who is listening attentively and working hard to get to a fair process, I was offended."
Susan Collins' response? She immediately wrote an objection of Nadler's language and submitted it to presiding Chief Justice Roberts, who then in his typically wishy washy manner chastised both sides for making rude and uncivil comments.
[Update: On the third day of the trial the Democratic managers did it again, offending these same moderate Republicans with new over-the-top statements that were essentially lies or misinformation.]
Meanwhile, the second House manager, congressman Adam Schiff (D-California), is a proven liar who has repeatedly spouted easily proven falsehoods about Trump for the past four years. He has no credibility, and only lowered that credibility further by mouthing off several more provable lies during his Senate arguments. His presentation was so weak that even a Washington Post columnist blasted it, calling it "disingenuous."
In fact, it is far more likely that several Democratic senators will vote against impeachment than any Republicans will switch sides. Six Democrats face tough elections in November. Four are in states that Trump won in 2016. Faced with these realities and the insulting and dishonest arguments of the Democratic House managers, these Democratic senators should find it very reasonable option to defy their party.
We should therefore not be surprised if the final vote against conviction is somewhat bipartisan, with several Democrats joining the Republicans to reject conviction.
The bottom line of this entire fiasco however was said by liar Adam Schiff in a rare moment of true honesty on his part. In his opening remarks on the trial's second day he openly revealed the Democrats tyrannical motives and bold desire to overturn any elections they lose.
If not remedied by his conviction in the Senate and removal from office, President Trump's abuse of his office and obstruction of Congress will permanently alter the balance of power among the branches of government. For precisely this reason, the president's misconduct cannot be decided at the ballot box, for we cannot be assured that the vote will be fairly won. [emphasis mine]
In other words, the voters should not have any say. Only those already in power can decide, and the decision can only be one that favors the Democrats, because the election of anyone else is clearly illegitimate and must be nullified.
If the Democrats haven't scared you by anything they have done in the past four years (such as their effort to repeal at least three of the ten amendments in the Bill of Rights), this statement by Schiff, spoken in the context of an effort to remove a legally elected president and thus cancel the choice of the voters, should terrify you. These people are fascist thugs, and if they ever gain full unopposed power they will do whatever they can to never relinquish it, including canceling elections and our entire constitutional government.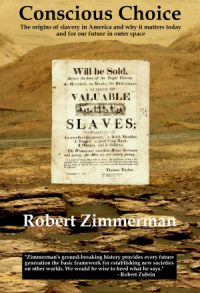 Now available in hardback and paperback as well as ebook!
From the press release: In this ground-breaking new history of early America, historian Robert Zimmerman not only exposes the lie behind The New York Times 1619 Project that falsely claims slavery is central to the history of the United States, he also provides profound lessons about the nature of human societies, lessons important for Americans today as well as for all future settlers on Mars and elsewhere in space.
Conscious Choice: The origins of slavery in America and why it matters today and for our future in outer space
, is a riveting page-turning story that documents how slavery slowly became pervasive in the southern British colonies of North America, colonies founded by a people and culture that not only did not allow slavery but in every way were hostile to the practice.
Conscious Choice
does more however. In telling the tragic history of the Virginia colony and the rise of slavery there, Zimmerman lays out the proper path for creating healthy societies in places like the Moon and Mars.
"Zimmerman's ground-breaking history provides every future generation the basic framework for establishing new societies on other worlds. We would be wise to heed what he says." —Robert Zubrin, founder of founder of the Mars Society.
All editions are available at Amazon, Barnes & Noble, and all book vendors, with the ebook priced at $5.99 before discount. The ebook can also be purchased direct from my ebook publisher, ebookit, in which case you don't support the big tech companies and I get a bigger cut much sooner.
Autographed printed copies are also available at discount directly from me (hardback $24.95; paperback $14.95; Shipping cost for either: $5.00). Just email me at zimmerman @ nasw dot org.