Last week CNN anchor Don Lemon, who like everyone else at CNN for years has repeatedly signaled his blind partisan support for the Democratic Party, revealed something even more fundamental about Democrats and their supporters in the political world. The clip below shows Lemon discussing the rioting going on in cities across the U.S., and what Joe Biden should do to address this violence. Lemon is clearly acting as a Democratic Party front man, not a news reporter, as he thinks of ways to help that party win elections.
After proposing Biden give a speech on the subject, Lemon says this, "The rioting has got to stop. … It's showing up in the polls. It's showing up in the focus groups. It is the only thing right now that is sticking."
In other words, the riots and looting were great, as long as they helped the Democrats in the polls. According to Lemon, who is a very typical Democratic apparatchik, only if rioting should hurt Democrats in the polls should Democrats oppose them.
This fact is far more important than Lemon's obvious partisan bias. In this one clip he demonstrates, with the nodding approval of his fellow CNN anchor Chris Cuomo, that the political leadership of the Democratic Party and their lapdogs in the press care only about polls and winning, and will tolerate anything — riots, lynchings, looting, murder, oppression — if it will get them re-elected and in power.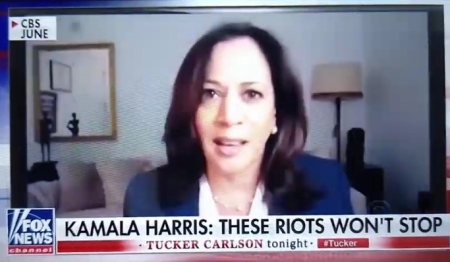 This ugly and tolerant view of the recent violence and looting has been typical of Democrats. Prior to recent polling Democratic politicians not only enthused about the riots — calling them justified "protests" and downplaying the violence — some Democrats actually made believe the looting and violence wasn't happening, were a "myth," to quote Congressman Jerry Nadler (R-New York).
But the rioting and violence were happening, in increasingly ugly and vicious ways, destroying the livelihoods of ordinary people who had done nothing wrong, except maybe own a business in a place where these protesters happened to congregate. As soon as the polling and focus groups revealed that the public knew this, and was horrified by it and the Democrat's nonchalance to it, the Democrats did an about-face. Suddenly looting and riots are bad!
What is really important about this revelation is that it is nothing new. Except for a short period in the mid-twentieth century, and even then only in northern cities, the Democratic Party has always been the party of lynching, of slavery, of oppression, of riots, of looting. In the 1860s, they wanted to continue to enslave blacks, and the election of Lincoln threatened that power. Thus, because they didn't like the result of his election and would not accept it, they started a Civil War.
For more than a century following the Civil War that same party, dominant in the South, worked to continue the oppression of blacks, preventing them from voting, imposing segregation, while routinely subverting the law to kill any blacks uppity enough to challenge their rule. Then, in the 1960s they returned to riots and protests and violence as a means for getting their way, while bribing a whole generation of blacks with government hand-outs in order to make them loyal Democratic voters, even as that same party caused the destruction of the inner cities where they ruled. And it was in those same cities that blacks had migrated in post-World-War-II era, in a desperate attempt to escape Democratic southern rule. Now they were under that rule again, with the same odious results.
Today the Democrats have finally returned to their pre-Civil War policy of refusing to accept the legal results of elections, and are making it clear that should Trump win in November, no matter how big his victory, they will take whatever action necessary to nullify that victory, even to the point of creating fake mail-in votes to change the actual results.
And if that voter fraud isn't sufficient it also appears that in Democratic strongholds like California, Oregon, Washington, and New York, there will be a forceful effort to secede from this country, to defy federal rule because that rule no longer meets with their approval.
Americans of all stripes, from all states, must rise up in November to oppose this Democrat Party's effort to corrupt and destroy our nation. People must vote in large numbers, in person, for Republicans and for Trump. The victory must be a landslide of epic proportions, including even victories against Democratic rule in those Democratic strongholds, a victory so large that no matter of fraud will be capable of overturning it. Only then might these power-hungry corrupt Democrats realize that the country rejects them, that Americans believe in freedom and peaceful elections and the rule of law, not riots, looting, and stolen elections.
If Americans don't do this, however, and thus give these corrupt, power-hungry Democrats an opening to void a legal election, sewing chaos and violence in their wake, then the coming years will be far more terrible than many can imagine. You can get a hint, however, by looking at the hellhole of Venezuela, or even at the collapsed bankruptcy in Democratically-ruled cities like New York, Detroit, and Chicago.
Do we really want this failure to come to the entire United States?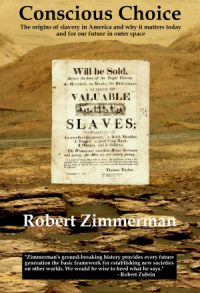 Now available in hardback and paperback as well as ebook!
From the press release: In this ground-breaking new history of early America, historian Robert Zimmerman not only exposes the lie behind The New York Times 1619 Project that falsely claims slavery is central to the history of the United States, he also provides profound lessons about the nature of human societies, lessons important for Americans today as well as for all future settlers on Mars and elsewhere in space.
Conscious Choice: The origins of slavery in America and why it matters today and for our future in outer space
, is a riveting page-turning story that documents how slavery slowly became pervasive in the southern British colonies of North America, colonies founded by a people and culture that not only did not allow slavery but in every way were hostile to the practice.
Conscious Choice
does more however. In telling the tragic history of the Virginia colony and the rise of slavery there, Zimmerman lays out the proper path for creating healthy societies in places like the Moon and Mars.
"Zimmerman's ground-breaking history provides every future generation the basic framework for establishing new societies on other worlds. We would be wise to heed what he says." —Robert Zubrin, founder of founder of the Mars Society.
All editions are available at Amazon, Barnes & Noble, and all book vendors, with the ebook priced at $5.99 before discount. The ebook can also be purchased direct from my ebook publisher, ebookit, in which case you don't support the big tech companies and I get a bigger cut much sooner.
Autographed printed copies are also available at discount directly from me (hardback $24.95; paperback $14.95; Shipping cost for either: $5.00). Just email me at zimmerman @ nasw dot org.