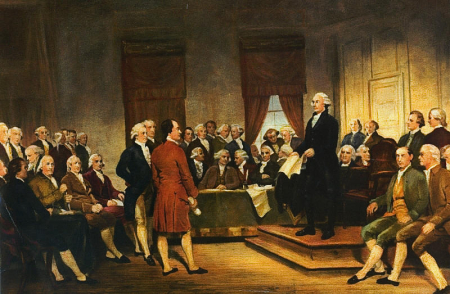 The signing of the Constitution in 1787.
The amount of evidence that there was clear election fraud in the states of Pennsylvania, Michigan, Georgia, and Wisconsin continues to build.
For example, in Pennsylvania a review of absentee ballots found that 100,000 had suspicious postmarks, with 23,000 apparently postmarked one day but then marked by the election authorities as having arrived the day before, an impossibility. Tens of thousands of other absentee ballots had similar problems.
In Michigan numerous residents and poll workers have signed affidavits describing blatant violations of election law and suspicious behavior. In addition, one contractor witnessed poll workers rescanning the same votes repeatedly, essentially double counting those votes.
In Wisconsin thousands of absentee votes were submitted in a manner that required no voter identification.
In Georgia there is evidence that the software used to count the ballots is corrupted, or was corrupted, ending up switching many votes from Trump to Biden in what they innocently claim was merely a "glitch." Worse, this "glitch" in election software has now been found to be exist in other states as well.
The list above is only a small sampling of the numerous stories in the past week of suspicious and well documented incidents of voter fraud. The problems in these states appears widespread and systemic. The election results are thus suspect.
According to the Constitution, the real arbiters of the election are the state legislatures. They are the ones who certify the results and then choose the electors to vote those results in the Electoral College. If those state legislatures have doubts about the legitimacy of the popular vote, they have the right to demand a full review and recount of the ballots, or if this is not possible to their satisfaction to choose to not choose electors at all, essentially deciding not to certify the election results for any candidate.
Nor was this power given to the state legislatures by accident. In fact, it was purposely included in the Constitution by the Founding Fathers, as a check against election abuse.
The Republicans control the legislatures of all four states above. It is thus in the power of these legislatures to choose to not certify any winners for president in their states, simply because they do not trust the results because of the evidence of fraud. If they do this, neither Biden nor Trump will get the needed 270 electoral votes necessary to become president.
If that happens, the Constitution is clear. The decision moves to the House of Representatives in Congress. According to the 12th amendment,
In choosing the president, the votes will be taken by states, the representation from each state having one vote; a quorum for this purpose shall consist of a member or members from two-thirds of the states, and a majority of all the states shall be necessary to a choice.
In other words, each state's delegation of House representatives will vote as group, and result of that vote will determine the choice of their state for president.
Furthermore, it will be the newly elected House that makes this decision. In that case the balance strongly favors Trump.
It's not the current Congress that matters but the incoming one, which takes office January 3, more than two weeks before the president does.

And the Democrats have just lost three delegations, and may lose a fourth. This means the actual Republican-Democrat split will be 26-20 or 27-20 with, respectively, four or three tied.

This is significant "because in some universe it is conceivable that a 26-24 delegation with a couple of liberal RINO R delegation flips could possibly go Biden," American Thinker also relates. "Since it will actually be either 26-20 or 27-20, there is no way Biden could ever win the House voting by delegations under the 12th Amendment, because he actually has a 6 or 7 delegation deficit, NOT merely a 2 delegation deficit."

But would the election actually get to Congress? Valentine thinks so. "State legislatures in six or seven or more states, run by Republicans, have a choice," he explains: "certify an election that was clearly fraudulent, certify a different slate of electors who will vote against the popular, but fraudulent vote, or just fail to certify."

"My bet is several may choose option 3," he concludes. If just a couple of key states go this route, the ball is in Congress's court.
Will the state legislatures in Pennsylvania, Wisconsin, Georgia, and Michigan have the courage to recognize the unreliable vote results in their states, and refuse to certify them without rigid robust recounts that remove all illegitimate and illegal votes?
Well, the Republican speaker in the Pennsylvania house has already made it clear that without a full audit of the election there will be no certification of the results. And without that certification, no candidate gets Pennsylvania's 20 electoral votes.
There are indications that one or more of the other four states will do the same. As another author argues properly,
The Republican legislatures [should] follow his lead and say no certification without the following:

a full audit, by hand of every vote
any court or election official mandate not approved by the Legislature does not count — take out those votes
voting machines: cough up the source code, the audit logs for our forensic teams
Nor is this demand an attempt to steal the vote, as I am sure some partisan Democrats will claim. If Biden won these states legitimately, a full audit and recount will prove that, and will also remove the clouds of suspicion presently hanging over the election results in these states. To resist such audits only increases the suspicion that the Democrats did fake the result by fraudulent means, and now wish to hide this fact. The only way they can convince everyone that Biden won legally is to eagerly embrace such audits and recounts, and prove they are innocent of that accusation.
And if the results of these recounts give the presidency to Joe Biden, no matter. We will then know without doubt he won it fairly.
If however the Democrats resist a comprehensive review of the vote in these states, then it will be right and proper for the final decision to go to the House of Representatives. And it also then be the right thing for the Republicans there to give the presidency to Trump. The Democrats will have proven themselves to be cheats who did not win this presidential election legally.
Let me underline this point: It is the responsibility of these state legislatures — elected by the people — to make sure the vote has been counted honestly, and to demonstrate that fact to all voters, from both parties. To allow a cloud to remain over this result cannot be tolerated. It will fuel levels of distrust and anger that can only lead to violence and the collapse of our society.
It is my hope that the Democrats will agree, and will help make possible detailed and honest recounts in these five states. If they don't, if they block full audits or act to sabotage that effort in any way, then the state legislatures must refuse to certify the results, thus letting the House decide who should be president.
And if Trump wins in that case, the Democrats will have only themselves to blame.
Readers!
I must unfortunately ask you for your financial support because I do not depend on ads and rely entirely on the generosity of readers to keep Behind the Black running. You can either make a one time donation for whatever amount you wish, or you sign up for a monthly subscription ranging from $2 to $15 through Paypal or $3 to $50 through Patreon.
Your support will allow me to continue covering science and culture as I have for the past twenty years, independent and free from any outside influence.
Your support is even more essential to me because I not only keep this site free from advertisements, I do not use the corrupt social media companies like Google, Twitter, and Facebook to promote my work. I depend wholly on the direct support of my readers.
You can provide that support to Behind The Black with a contribution via Patreon or PayPal. To use Patreon, go to my website there and pick one of five monthly subscription amounts, or by making a one-time donation. For PayPal click one of the following buttons:

If Patreon or Paypal don't work for you, you can support Behind The Black directly by sending your donation by check, payable to Robert Zimmerman, to


Behind The Black
c/o Robert Zimmerman
P.O.Box 1262
Cortaro, AZ 85652


Or you can donate by using Zelle through your bank. You will need to give my name and email address (found at the bottom of the "About" page). The best part of this electronic option is that no fees will be deducted! What you donate will be what I receive.