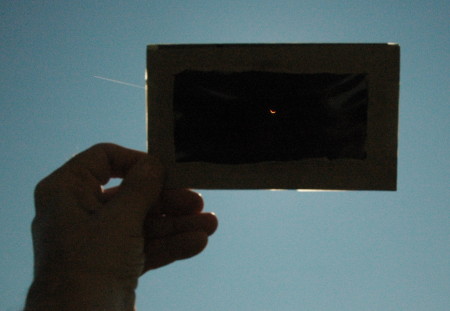 Just arrived at Glacier, where the internet access is bad, and there is no cell service. Thus, this might be my last post for the week. I will try to post in the evening, but this is a vacation, so it will not be my first priority. If I could do it in my room that would okay, but I have to go down to the lobby of the Lake McDonald Lodge.
Anyway the image to the right was taken by me by holding my hand filter out at arm's length, blocking the sun, and snapping a picture with my camera. It came out far better than I expected, as you can actually see the sun in the filter, partly blocked.
Totality was amazing. I was amazed by two things. First, how quiet it became. There were about hundred people scattered about the hotel lawn, with dogs and kids playing around. The hotel manager's husband set up speakers for music and to make announcements, but when totality arrived he played nothing. People stopped talking. A hush fell over everything. Moreover, I think we somehow imagine a subconscious roar from the full sun. Covered as it was, with its soft corona gleaming gently around it, it suddenly seemed still.
Secondly, the amazing unlikeliness of the Moon being at just the right distance and size to periodically cause this event seemed almost miraculous. Watching it happen drove this point home to me. And since eclipses themselves have been a critical event in the intellectual development of humanity, helping to drive learning and our understanding of the universe, it truly makes me wonder at the majesty of it. I do not believe in any particular religion or their rituals (though I consider the Bible, the Old Testament especially, to be a very good manual for creating a good life and society), but I do not deny the existence of a higher power. Something made this place, and set it up in this wonderous way. Today's eclipse only served to demonstrate this fact to me again.
Posting will be light for the rest of the week. If I get a chance I will add some more pictures to this post tomorrow.

Updated with two images. The first shows the mobs of panic-stricken Americans, trapped in Idaho Falls with no food or water because — as predicted by many mainstream media sources — so many people arrived there that it was impossible to keep them from dying. If you look close, you can see many already blind because they had stared at the Sun nonchalantly when the eclipse started.
The second picture is a magnificent shot taken by Diane by hand during totality, using her simple snapshot digital camera. She captured the corona, as well as the quiet essence of the moment.
————————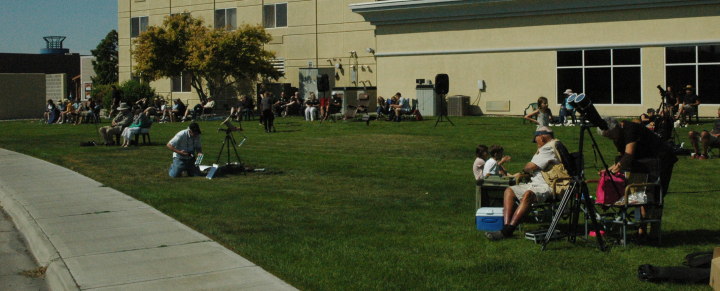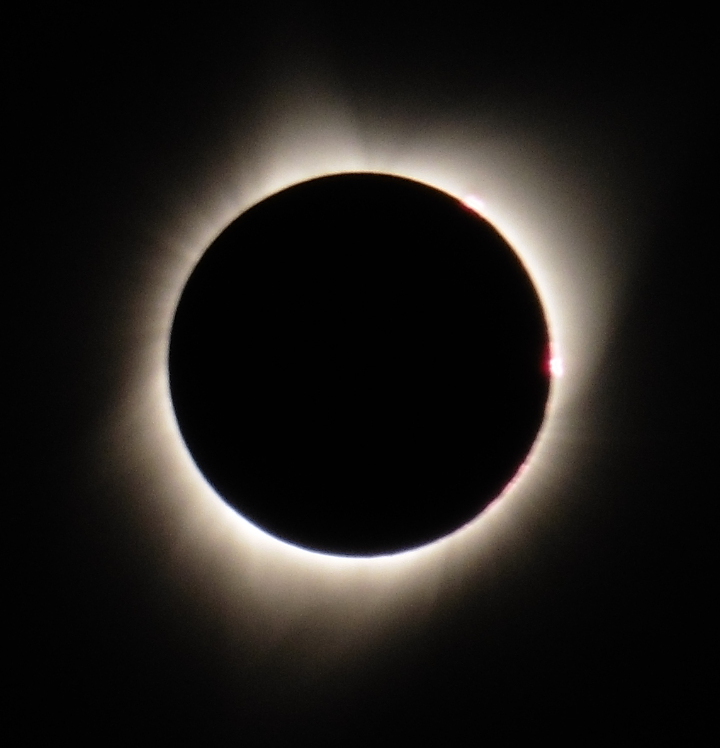 Readers!
I must unfortunately ask you for your financial support because I do not depend on ads and rely entirely on the generosity of readers to keep Behind the Black running. You can either make a one time donation for whatever amount you wish, or you sign up for a monthly subscription ranging from $2 to $15 through Paypal or $3 to $50 through Patreon.
Your support will allow me to continue covering science and culture as I have for the past twenty years, independent and free from any outside influence.
Your support is even more essential to me because I not only keep this site free from advertisements, I do not use the corrupt social media companies like Google, Twitter, and Facebook to promote my work. I depend wholly on the direct support of my readers.
You can provide that support to Behind The Black with a contribution via Patreon or PayPal. To use Patreon, go to my website there and pick one of five monthly subscription amounts, or by making a one-time donation. For PayPal click one of the following buttons:

If Patreon or Paypal don't work for you, you can support Behind The Black directly by sending your donation by check, payable to Robert Zimmerman, to


Behind The Black
c/o Robert Zimmerman
P.O.Box 1262
Cortaro, AZ 85652


Or you can donate by using Zelle through your bank. You will need to give my name and email address (found at the bottom of the "About" page). The best part of this electronic option is that no fees will be deducted! What you donate will be what I receive.