At a press conference just completed at the American Geophysical Union meeting in San Francisco, geologist Don Swanson of the U.S. Geological Hawaiian Volcano Observatory revealed that the Kilauea volcano on the Big Island of Hawaii has been in an explosive mode about sixty percent of the time in the past 2500 years. "Kilauea is not the gentle volcano that most people assume," noted Swanson.

Today the volcano is in what they call a lava mode — where the volcano releases its lava in a relatively calm manner — a mode that scientists had previously thought was the volcano's normal state. The new data suggests that this is not so, that an explosive mode actually dominates, can last for centuries, and helps explain why Hawaiian legend describe their volcano god as an angry and violent god. These explosive periods would include many frequent violent events.
The last two explosive modes stretched from approximately 200 BC to 1000 AD, and then from 1500 to 1800 AD. The last known explosive event occurred in November 1790, in which several hundred people were killed. The scientists were also able to identify several other even more powerful explosive events during these time periods. "Some of these events could have occurred without warning," added Swanson.
It is thought that the switch to the explosive mode occurs after the lava mode has worked to build up the volcano for a period of time. One theory posits that the explosions themselves are generated in connection with water, turned into steam by the heat of the volcano and trapped in the volcano by material plugging up the caldara. Eventually the pressure builds enough to blow out the plug.
The scientists at present do not know when the volcano might switch modes. They suspect that it will be a while before the next switch, as they think the volcano needs a lot more time to build itself back up. They are also very unsure if this conclusion is correct.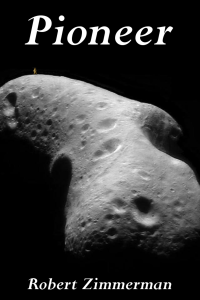 From the press release: From the moment he is handed a possibility of making the first alien contact, Saunders Maxwell decides he will do it, even if doing so takes him through hell and back.
Unfortunately, that is exactly where that journey takes him. The vision that Zimmerman paints of vibrant human colonies on the Moon, Mars, the asteroids, and beyond, indomitably fighting the harsh lifeless environment of space to build new societies, captures perfectly the emerging space race we see today. He also captures in Pioneer the heart of the human spirit, willing to push forward no matter the odds, no matter the cost. It is that spirit that will make the exploration of the heavens possible, forever, into the never-ending future. Available everywhere for $3.99 (before discount) at
amazon
,
Barnes & Noble
, all ebook vendors, or direct from the ebook publisher,
ebookit
. And if you buy it from
ebookit
you don't support the big tech companies and I get a bigger cut much sooner.