Yesterday's magnificent successful launch of SpaceX's Falcon Heavy rocket elicited numerous news stories from the general press, most of which were reasonably accurate if very superficial in their coverage. As a space guy who focuses on this stuff, I find that much of the reporting in the mainstream press reads as if the author has just discovered the subject, and is scrambling to come up to speed quickly.
This CNN article is typical. The journalist gets most of her facts right, but her lack of context because she hasn't been following the subject closely causes her to not understand the reasons why the Falcon Heavy will fly less than the Falcon 9.
Falcon Heavy is not expected to fly nearly as often as its smaller counterpart, which has completed more than 20 missions since last February. Falcon Heavy only has five missions on its manifest so far.
The basic facts in this quote are entirely true, but it somehow implies that the Falcon Heavy is simply not that much in demand, which isn't true. The reason Falcon Heavy has approximately one quarter of the missions of the Falcon 9 is because it is still new and it hasn't yet garnered the customers. Also, as a slightly more expensive rocket than the Falcon 9 ($90 million per launch vs $60 million) fewer customers are going to buy it.
Still, the Falcon Heavy has more than five missions upcoming, with contracts for at least seven launches, by my count, and having this many contracts this quickly is remarkable, considering the rocket's newness. It is more than the Russians are getting for their Proton rocket, around since the 1960s. And it is almost as many contracts as both Arianespace and ULA are each getting on a yearly basis.
Falcon Heavy is clearly becoming a big financial success, and will in the next few years I think routinely fly three to four times per year. There is a lot of demand for it, which will only grow with time.
This flaw in getting the background right by the CNN reporter is not really a big deal, but it does illustrate why it is better for ordinary citizens to get their news not from generalists in the mainstream press but from specialists in each field (such as myself), who understand the details more closely and can get the context right.
However, every once in awhile the mainstream press publishes a story that is so egregious and badly written that I think it necessary to give it a public pan, if only to make others aware of that this kind of bad journalism is not unusual. I also admit that it can be quite entertaining to highlight this pitifully bad journalism.
Yesterday one of Houston's local television stations, KPRC-TV, published its own quick report on the Falcon Heavy launch. And boy, was that report a facepalm.

Instead of reporting the launch itself, the reporter decided to focus entirely on the reaction of a former space shuttle astronaut to SpaceX's success: Retired astronaut weighs in on successful SpaceX launch.
The problem is that the quotes they use from the astronaut are generally incoherent, or edited together so badly as to say almost nothing. I read this short article numerous times, and the best I can guess is that the astronaut, Clayton Anderson, seems to be saying that it is important for the U.S. to regain the capability of launching its own astronauts into space, but what does that have to do with the Falcon Heavy launch, which was commercial and unmanned? I am certain Anderson made that connection, but the story completely failed to include it in the quotes, which makes his comments incomprehensible.
Anderson is then quoted as follows:
"The more you do that and the more you repeat that function, the better off you're gonna be," Anderson said. "And the quicker you're gonna get to this multiple launch, frequency of launch and the things we need to keep it going."
Huh? I think he is referring to the reusability of SpaceX's rockets, but if so the article does not make this clear. Instead, the article and Anderson both imply that NASA must lead, and teach these upstart private companies how to do this right.
To this absurd premise I found myself giggling uncontrollably. NASA teach SpaceX how to do something? Hah!
Finally, the article paraphrases an Anderson quote that is so wrong it embarrasses them both terribly:
Anderson said although NASA's budget has been stripped drastically in recent years, in his view, space exploration is an investment by taxpayers that produces returns for citizens across the entire planet.
Really? In 2005 NASA's budget was $16.2 billion. Since then the agency's budget has been steadily increased, so that in 2019 its budget was $19.2 billion, with the strong likelihood it will top $20 billion in 2020. Hardly getting "stripped drastically" if you ask me. For Anderson to say this and for this news organization to not question it is quite disgraceful. It indicates either an appalling ignorance of some very basic facts, or a dishonesty and willingness to lie for political reasons that is even worse.
Rather than report on SpaceX's success, both Anderson and the reporter seem instead focused on twisting this success of private enterprise into a reason to give NASA more money.
Ugh. When I read this I didn't know whether to be angry or disgusted. Either way, this is the worst sort of journalism, allowing a government worker (which in this context this astronaut is) to lobby for more tax dollars, with no questioning at all.
I realize that this example of bad journalism is really somewhat trivial, and that I might be making a mountain out of a molehill. At the same time, I think my readers should see my impression of space reporting by the general press. It might help you see this reporting in a more objective light.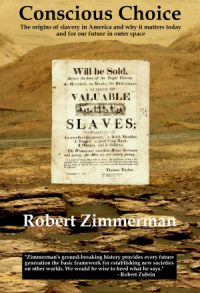 Now available in hardback and paperback as well as ebook!
From the press release: In this ground-breaking new history of early America, historian Robert Zimmerman not only exposes the lie behind The New York Times 1619 Project that falsely claims slavery is central to the history of the United States, he also provides profound lessons about the nature of human societies, lessons important for Americans today as well as for all future settlers on Mars and elsewhere in space.
Conscious Choice: The origins of slavery in America and why it matters today and for our future in outer space
, is a riveting page-turning story that documents how slavery slowly became pervasive in the southern British colonies of North America, colonies founded by a people and culture that not only did not allow slavery but in every way were hostile to the practice.
Conscious Choice
does more however. In telling the tragic history of the Virginia colony and the rise of slavery there, Zimmerman lays out the proper path for creating healthy societies in places like the Moon and Mars.
"Zimmerman's ground-breaking history provides every future generation the basic framework for establishing new societies on other worlds. We would be wise to heed what he says." —Robert Zubrin, founder of founder of the Mars Society.
All editions are available at Amazon, Barnes & Noble, and all book vendors, with the ebook priced at $5.99 before discount. The ebook can also be purchased direct from my ebook publisher, ebookit, in which case you don't support the big tech companies and I get a bigger cut much sooner.
Autographed printed copies are also available at discount directly from me (hardback $24.95; paperback $14.95). Just email me at zimmerman @ nasw dot org.