It is now clear that a large number of state governments have decided to morph what had originally been called a very temporary lock down and request to social distance into a permanent state of martial law, with their governors retaining the right to rule by edict for as long as they personally deem.
As most states begin to move forward with measures to reopen their economies following strict lockdowns aimed at slowing the spread of the coronavirus, some governors and big-city mayors are now saying the restrictions will not fully be lifted until a vaccine or treatment for the disease is available — a timeline that could take a year or more.

The leaders' comments indicate Americans could be living with orders restricting personal and economic activity for much longer than many anticipate.
And who are these new dictators? Here is the list from the linked article above:
Democrat Governor Phil Murphy of New Jersey
Democrat Governor Gretchen Whitmer of Michigan
Democrat Governor J.B. Pritzker of Illinois
Democrat Mayor Eric Garcetti of Los Angeles
Republican Mayor David Holt of Oklahoma City
Nor are these the only ones. Other governors have imposed similarly impossible conditions for lifting their versions of martial law and house arrest, from demanding universal testing and tracking of all infected patients to the end of all cases of COVID-19. Some have developed reopening plans so stretched out with no time limits and impossibly complex rules that they essentially will never end.
In every single one of these cases, expect the rules to change, once it appears that their stated conditions for lifting their dictatorships might finally arrive. At that time it will suddenly be for other reasons their totalitarian rule must continue, for our safety of course. That is their standard operating procedure, to lie repeatedly for their own benefit.
Now, look at the lists above. Does anyone but me notice the pattern? What party seems in love with power, with control, with fear? What party doesn't seem to care that its policies are wiping out the economy and whole industries, while destroying the lives of millions? What party consistently seems willing to expand and abuse its power, not for the sake of the citizenry but for its own aggrandizement?
Of course! It's Donald Trump and those evil Republicans! Can't you see that, from the data above? It is as clear as day!
Seriously, the regions and rulers that are routinely imposing stringent rules and restrictions on ordinary innocent citizens, all in the name of "helping us", are almost all in either Democratic strongholds (California, Oregon, Washington, New York, New Jersey, and Massachusetts), or places where large Democratically-controlled urban cities dominate a more politically mixed population (Illinois, Michigan, Pennsylvania).
These are the new fascists, the new brown-shirts, the new political thugs. They are no different than past fascists, brown-shirts, and political thugs. And they are in power because a large percentage of the populations in these states either happily approve their policies of squashing down and destroying those who disagree with them, or are too ignorant and lazy to oppose those policies.
And make no mistake. These fascist jack-booted thugs are also working hard to expand their police state policies into all the other states in the union. If the citizens and politicians in the rest of the country don't begin to oppose this spread, these dictatorships will also spread to all regions and all states.
We are facing a real and new civil war. And I fear we don't have the courage to fight it.
Correction note: I initially listed Massachusetts governor Charlie Baker as a Democrat. My mistake, though it is an easy mistake to make since every Republican elected in Massachusetts for the past three decades has been indistinguishable from most Democrats.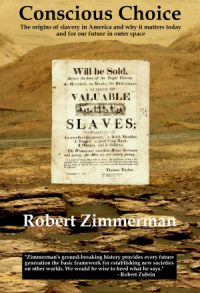 Now available in hardback and paperback as well as ebook!
From the press release: In this ground-breaking new history of early America, historian Robert Zimmerman not only exposes the lie behind The New York Times 1619 Project that falsely claims slavery is central to the history of the United States, he also provides profound lessons about the nature of human societies, lessons important for Americans today as well as for all future settlers on Mars and elsewhere in space.
Conscious Choice: The origins of slavery in America and why it matters today and for our future in outer space
, is a riveting page-turning story that documents how slavery slowly became pervasive in the southern British colonies of North America, colonies founded by a people and culture that not only did not allow slavery but in every way were hostile to the practice.
Conscious Choice
does more however. In telling the tragic history of the Virginia colony and the rise of slavery there, Zimmerman lays out the proper path for creating healthy societies in places like the Moon and Mars.
"Zimmerman's ground-breaking history provides every future generation the basic framework for establishing new societies on other worlds. We would be wise to heed what he says." —Robert Zubrin, founder of founder of the Mars Society.
All editions are available at Amazon, Barnes & Noble, and all book vendors, with the ebook priced at $5.99 before discount. The ebook can also be purchased direct from my ebook publisher, ebookit, in which case you don't support the big tech companies and I get a bigger cut much sooner.
Autographed printed copies are also available at discount directly from me (hardback $24.95; paperback $14.95; Shipping cost for either: $5.00). Just email me at zimmerman @ nasw dot org.