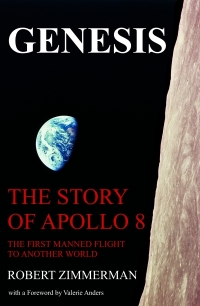 On Christmas Eve 1968 three Americans became the first humans to visit another world. What they did to celebrate was unexpected and profound, and will be remembered throughout all human history. Genesis: the Story of Apollo 8, Robert Zimmerman's classic history of humanity's first journey to another world, tells that story, and it is now available as both an ebook and an audiobook, both with a foreword by Valerie Anders and a new introduction by Robert Zimmerman.
The ebook is available everywhere for $5.99 (before discount) at
amazon
, or direct from my ebook publisher,
ebookit
.
The audiobook is also available at all these vendors, and is also
free with a 30-day trial membership to Audible.
"Not simply about one mission, [Genesis] is also the history of America's quest for the moon... Zimmerman has done a masterful job of tying disparate events together into a solid account of one of America's greatest human triumphs." --San Antonio Express-News
In linking to my sunspot update this week, there has been a lot of speculation at the climate website WattsUpWithThat that the next solar cycle has begun.
Our resident solar physicist, Dr. Leif Svalgaard commented and provided a link to something reported by his colleagues, something that likely would not have been possible without the fantastic solar observations of NASA's Solar Dynamic Observeratory (SDO). He said: "Cycle 25 has already begun. It looks to me that SC25 will be a bit stronger than SC24, so probably no Grand Minimum this time." It seems a small sunspot has been observed, that has the opposite polarity of cycle 24 sunspots. [emphasis in original]
The speculation at WattsUpWithThat, which suggested that this sunspot was the first such sunspot this cycle, was not quite accurate however. This sunspot with an opposite polarity, which decayed so quickly that it did not rate getting a sunspot number, was not the first. This week the Solar-Terrestrial Centre of Excellence, a Belgian organization focused on space-solar science, published this very good article discussing not only this sunspot but two others, one of which occurred more than a year ago.

[This week's sunspot] would have been only the third numbered sunspot region of the new solar cycle, and the first SC25 group at high latitude with the correct magnetic orientation. Indeed, the previous SC25 groups were observed in December 2016 at a rather moderate -23° (NOAA 2620), and in January this year there was NOAA 2694 at a high latitude (-32°) but with the "wrong" (SC24) magnetic orientation. More on this odd configuration in this STCE Newsitem. In all three cases, it concerned tiny sunspot groups lasting only a day or so. [emphasis mine]
What is interesting to me, as indicated by the highlighted text above, is the weak and short-lived nature of all three of these sunspots.
The grand minimum of the 1600s, dubbed the Maunder Minimum in honor of the scientist who first identified it, was a century where almost no sunspots were visible. There was no apparent solar cycle. Solar scientists today however believe that sunspots during that grand minimum continued to form, but were generally too weak to be noticeable for the astronomers at the time.
The weak nature of these three next-cycle sunspots intrigues me, as it is exactly the kind of sunspots solar scientists believe occurred during that last Grand Minimum. Sunspots would form, but would not be visible in the visible wavelengths, or if visible, would be so weak and short-lived that astronomers in the 1600s wouldn't spot them. Today, however, such weak sunspots are easily identifiable, because of our better instrumentation.
Though it is not so easy to observe these tiny sunspot regions in white light, they can quite easily be identified in a magnetogram of the solar disk. A magnetogram shows the locations on the Sun with a strong magnetic field, white being a location where the magnetic field is coming out of the Sun, and black where the magnetic field is returning to it. Well-known features are that sunspot regions are bipolar (i.e. they usually consist of a "black" and a "white" portion), that sunspot regions in the northern hemisphere have opposite polarities than those in the southern hemisphere, and that sunspot regions of a new solar cycle have magnetic polarities opposite to those of the old solar cycle.
In the 1600s scientists were completely unaware of the Sun's magnetic field, or its polarity.
While the resident solar scientist at WattsUpWithThat believes the next cycle will be stronger than the weak cycle that is now ending, I am not so sure. Some solar scientists, as I documented here and here, are proposing exactly the opposite, that the next cycle will be significantly weaker, and might even become another grand minimum. (This type of stark disagreement within the solar science community is not unusual. In 2007, when they were trying to put forth a consensus prediction for the upcoming solar cycle, the community found it was strongly divided, with one half of the community calling for a weak cycle, and the other half predicting a strong cycle.)
The weak nature of the three next-cycle sunspots above makes me wonder if the scientists predicting that the next cycle will be weak, or even the beginning of a grand minimum, might be right. The sample is certainly too small to come to firm conclusions, but that all three sunspots resembled the kind of weak sunspots solar scientists believe occurred during the Maunder Minimum is to me very intriguing.
Only time will answer this question. And fortunately, we will not have to wait long. As the Sun appears to be quickly heading to solar minimum, the next solar cycle is therefore fast approaching.
Readers!
My July fund-raiser for Behind the Black is now over. The support from my readers was unprecedented, making this July campaign the best ever, twice over. What a marvelous way to celebrate the website's tenth anniversary!

Thank you! The number of donations in July, and continuing now at the beginning of August, is too many for me to thank you all personally. Please forgive me by accepting my thank you here, in public, on the website.

If you did not donate or subscribe in July and still wish to, note that the tip jar remains available year round.
Regular readers can support Behind The Black with a contribution via paypal:
If Paypal doesn't work for you, you can support Behind The Black directly by sending your donation by check, payable to Robert Zimmerman, to

Behind The Black
c/o Robert Zimmerman
P.O.Box 1262
Cortaro, AZ 85652