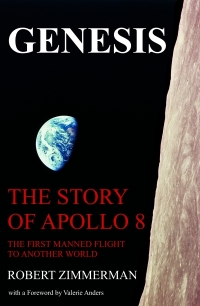 On Christmas Eve 1968 three Americans became the first humans to visit another world. What they did to celebrate was unexpected and profound, and will be remembered throughout all human history. Genesis: the Story of Apollo 8, Robert Zimmerman's classic history of humanity's first journey to another world, tells that story, and it is now available as both an ebook and an audiobook, both with a foreword by Valerie Anders and a new introduction by Robert Zimmerman.
The ebook is available everywhere for $5.99 (before discount) at
amazon
, or direct from my ebook publisher,
ebookit
.
The audiobook is also available at all these vendors, and is also
free with a 30-day trial membership to Audible.
"Not simply about one mission, [Genesis] is also the history of America's quest for the moon... Zimmerman has done a masterful job of tying disparate events together into a solid account of one of America's greatest human triumphs." --San Antonio Express-News
You might have noticed a plethora of stories in the last couple of days, reporting claims by NASA and NOAA that 2013 was one of the hottest years ever on record.
The National Oceanic and Atmospheric Administration on Tuesday released its global temperature figures for 2013. The average world temperature was 58.12 degrees (14.52 Celsius) tying with 2003 for the fourth warmest since 1880. NASA, which calculates records in a different manner, said Tuesday that 2013 was the seventh warmest on record, with an average temperature of 58.3 degrees (14.6 Celsius).
How can this be, if there has been a pause in global warming for the past 17 years, as has been admitted by the UN's IPCC and climate scientists everywhere?
The answer, in my opinion: outright fraud.

To understand why I say this, spend some time perusing the website of Steve Goddard, Real Science. For the past few years Goddard has carefully documented the fraudulent manipulation of data that has been going on at NASA and NOAA in order to make it look like the climate temperature has been increasing. The way they do it is to lower the numbers from earlier in the 20th century so that the readings they get now seem hotter. To get an idea of what has been done, see these links, which are only a small sampling of the work Goddard has done:
Let me repeat that this is just a small sampling. Goddard repeatedly shows that in their adjustments and so-called corrections to the climate record, the scientists at these government agencies consistently cool the past. If these corrections were honest, you would see a mix of changes up and down. That they only lower the temperatures in the past indicates to me that the scientists are manipulating the data to get the results they want.
I freely admit that some adjustments to the past records might be justified. The number and type of adjustments that has occurred, however, is not. Either they are insanely blind to their own bias, or they are perpetrating an outright fraud. I'll let you decide.
Readers!
My July fund-raiser for Behind the Black is now over. The support from my readers was unprecedented, making this July campaign the best ever, twice over. What a marvelous way to celebrate the website's tenth anniversary!

Thank you! The number of donations in July, and continuing now at the beginning of August, is too many for me to thank you all personally. Please forgive me by accepting my thank you here, in public, on the website.

If you did not donate or subscribe in July and still wish to, note that the tip jar remains available year round.
Regular readers can support Behind The Black with a contribution via paypal:
If Paypal doesn't work for you, you can support Behind The Black directly by sending your donation by check, payable to Robert Zimmerman, to

Behind The Black
c/o Robert Zimmerman
P.O.Box 1262
Cortaro, AZ 85652