Based on two stories yesterday, it appears that the future alliances between nations in space are now beginning to sort themselves out.
First there was the signing ceremony announcement of Columbia becoming the nineteenth nation to sign the Artemis Accords with the U.S. and the third Latin American country to do so.
The Artemis Accords were created by the Trump administration as an international treaty to bypass the restrictions on private property imposed by the Outer Space Treaty. By signing bilateral agreements with as many nations as possible, the U.S. thus creates a strong alliance able to protect those rights in space.
The full list of signatories so far: Australia, Bahrain, Brazil, Canada, Columbia, Israel, Italy, Japan, Luxembourg, Mexico, New Zealand, Poland, Romania, Singapore, South Korea, the United Kingdom, the United Arab Emirates, the Ukraine, and the United States.
In the second story, France and India — both of whom have so far resisted signing the Artemis Accords — announced their own bilateral agreement intended to strengthen their partnership across many fronts, from security to economic development to the Ukraine war. The agreement also included this paragraph on the subject of space:

Building on a great tradition of over 60 years of technical and scientific space cooperation, and in order to address the contemporary challenges that have arisen in space, in particular maintaining a secure access to space for all, India and France have agreed on setting up a bilateral strategic dialogue on space issues. It will bring together experts from space and defence agencies, administration and specialised ecosystem to discuss security and economic challenges in outer space, the norms and principles applicable to space as well as unveil new areas of cooperation. The two sides agreed to hold the first dialogue this year at the earliest.
Both countries have until recently had strong partnerships in space with Russia, and had wanted to continue those partnerships. Since Russia (and China) oppose the Artemis Accords, this put both France and India in a quandary. If they signed the accords in order to participate in the American Artemis project, future cooperation with Russia would end.
The Ukraine War has simplified this situation for both countries, since both have now broken off their partnerships with Russia because of its actions in that war. However, if either now signed the Artemis Accords it would block any possibility for any future space cooperation deal with Russia. This separate deal allows France and India to keep all their options open, and serves to strengthen both.
All told, these announcements gives us a hint at the future national factions in space:
First we have the American alliance, comprised of countries that have signed the accords and will partner in NASA's Artemis project.
Second we have China and Russia, who have announced their own project to explore and colonize the Moon and beyond. This alliance will be led by China, which has a vibrant space program and is trying to encourage other nations to join it.
Third we have a new set of non-aligned nations, led apparently by France and India, who will work together on their own space projects while leaving their options open.
All this could of course change. India is still have discussions with the U.S. about Artemis, as is France. Moreover, their agreement now does not preclude either from joining Artemis later.
Of the other countries with significant holdings in space, Germany remains the biggest unknown. It has lost its close partnership with Russia because of the Ukraine War. It is also now trying to encourage private enterprise in space. One would think the Artemis Accords would be a good fit, but so far that government has made no moves to sign.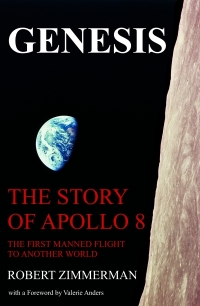 On Christmas Eve 1968 three Americans became the first humans to visit another world. What they did to celebrate was unexpected and profound, and will be remembered throughout all human history. Genesis: the Story of Apollo 8, Robert Zimmerman's classic history of humanity's first journey to another world, tells that story, and it is now available as both an ebook and an audiobook, both with a foreword by Valerie Anders and a new introduction by Robert Zimmerman.
The ebook is available everywhere for $5.99 (before discount) at
amazon
, or direct from my ebook publisher,
ebookit
. If you buy it from
ebookit
you don't support the big tech companies and the author gets a bigger cut much sooner.
The audiobook is also available at all these vendors, and is also
free with a 30-day trial membership to Audible.
"Not simply about one mission, [Genesis] is also the history of America's quest for the moon... Zimmerman has done a masterful job of tying disparate events together into a solid account of one of America's greatest human triumphs."--San Antonio Express-News