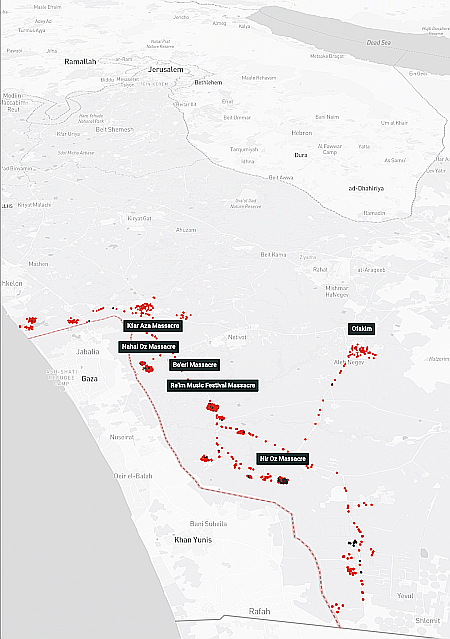 It shouldn't be necessary to have to spend any time proving the bigoted, Jew-hatred of Hamas, considering the horrible murder of about 1,400 Israeli men, women, children, and babies on October 7, 2023, with many burned alive, decapitated, tortured, and raped. Their actions that day were right out a Nazi handbook, and any sane decent human being should be able to easily see it.
And yet, it sadly is necessary, because that barbaric behavior is now being justified and excused by too many very ignorant people, not just in Gaza and the West Bank but worldwide, even in the most famous colleges in the U.S.
The map to the right is a good first data point. Hamas officials have gone on television and arrogantly claimed "We did not have any intention or decision to kill any civilians." This lie is proven unambiguously by the map. The red dots indicated the locations of bodies. The black dots those who have been kidnapped. The locations of both illustrate how well planned this Hamas operation was, and its outright intention to kill civilians. These are not military facilities, but Jewish settlements where civilians live. Hamas mapped those locations, and targeted them precisely, including the Re'im music festival, which was a specific event and contained nothing but civilians.
This map, titled "Mapping the Massacres", is available online, and provides close-ups of the murder maps for each massacre. If go to the link and click on the "Walkthrough" button on the bottom right, it will not only zoom in step-by-step to each massacre, it then provides detailed descriptions of what happened at each location. For example:

Near the kibbutz of Re'im, 5 km (3.1 miles) from the Gaza border, the "SuperNova" outdoor music festival was held in celebration of the Jewish holiday Sukkot.

In a targeted massacre, Hamas terrorists blocked all roads exiting the festival, forcing attendees to scatter across the eastern fields. Festival-goers who attempted to flee by car encountered terrorists on the open road who fired at them from point-blank range. Those seeking refuge in nearby bomb shelters met terrorists who lobbed grenades inside the packed reinforced concrete blocks, as documented in videos and corroborated by survivor accounts.

Those who scattered into the fields scrambled under cactus scrub and bushes, covered themselves with sand, or pretended to be dead. They were relentlessly hunted for hours, shot at with live gunfire and rocket-propelled grenade launchers, and watched helplessly as people were killed or dragged away by armed captors.
The attack killed over 270 while injuring hundreds more, with dozens taken hostage. None were soldiers. All were there simply to celebrate a Jewish holiday with music and entertainment. Instead, they were brutally put to death by Hamas storm troopers, whose goal was not to simply defeat Israel, but to ethnically cleanse it entirely of its Jewish inhabitants.
Thus, to believe the lie of that Hamas spokesman above based on what actually happened at this festival alone you would have to lie to yourself so thoroughly it requires you to make yourself insane.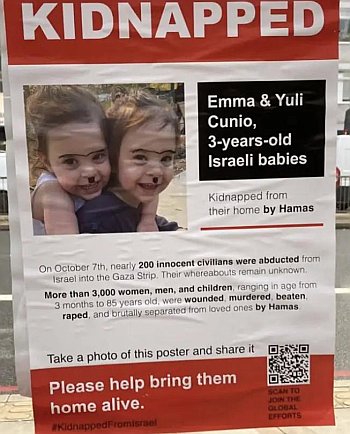 The Nazi desecration of babies held hostage
Sadly, many have done so, as illustrated by the dozens of individuals who have been caught ripping down the signs showing the faces of the innocent women, children, and babies whom Hamas now holds hostage. These new-born Nazis can't tolerate anyone seeing the evil that Hamas as done, because they wish to justify it and won't be able to if these facts were made obvious. They thus run around ripping down these signs. In London some actually drew Hilter mustaches on the faces of the babies on some signs.
What makes this insane blindness even worse is that Hamas openly admits it wants to kill all Jews. The same Hamas official quoted above, Ghazi Hamad of the Hamas Political Bureau, has in another interview not only repeated his lie about not targeting civilians, but in his very next breath said that the slaughter on October 7th "is just the first time, and there will be a second, a third, a fourth." When asked if his position called for the anniliation of Israel, he immediately answered "Yes, of course," adding "No one should blame us for the things we do, on October 7, October 10, October million, everything we do is justified."
The Jews must die, not just in Israel but everywhere. In a Brooklyn playground a man threatened a 9-year-old boy with a knife, screaming "I will kill you, Jew," and "Heil Hitler!" Others watching screamed "Allah Akbar!" at the other children there.
In Russia a mob stormed an airport looking for Jews to kill.
Meanwhile, the New York Times has rehired a reporter who repeatedly praised Hitler on social media, Homeland Security has a Hamas sympathizer (who celebrated the mass murder on October 7th) employed as the person to screen refugees from the Middle East, and at major universities like Harvard, Cornell, Berkeley it has become downright dangerous for Jewish students to walk in public. At Harvard the editor of its Law Review was part of a mob that accosted several Jewish students, threatening them and refusing to allow them to escape. At Cooper Union Jewish students were locked in the library when a mob outside threatened them with violence.
And at Cornell Nazi-like obscenities against Jews and Israel were chalked everywhere on sidewalks, and one student (fortunately now in custody) went on social media threatening to "slit Jewish throats" and "behead Jewish babies.
These stories are sadly endless. I documented many others last week. In fact, my entire list of blacklist columns since 2020 documents the rise of this totalitarian murderous cult. Previously the goal was to destroy anyone who disagreed with the leftist agenda, from imprisoning ordinary Americans for exercising their first amendment rights to demanding that teachers should be allowed to secretly sexually groom little children while doctors proceed to mutilate and castrate them.
Now this madness has evolved and simplified. It has become for the moment "Kill the Jews", but don't think it will not later spread to "Kill the Republicans!" "Kill the Christians!" and later "Kill the perverts!" The torches and pitchforks are out, and these lynch mobs are eager to use them.
The Nazis and the KKK are back, they are now proud and loud, their goals have never changed, and they now live not only in Gaza and the West Bank across the entire globe.
And they hold great power and intend to use it.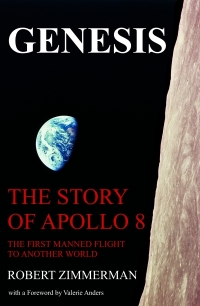 On Christmas Eve 1968 three Americans became the first humans to visit another world. What they did to celebrate was unexpected and profound, and will be remembered throughout all human history. Genesis: the Story of Apollo 8, Robert Zimmerman's classic history of humanity's first journey to another world, tells that story, and it is now available as both an ebook and an audiobook, both with a foreword by Valerie Anders and a new introduction by Robert Zimmerman.
The ebook is available everywhere for $5.99 (before discount) at
amazon
, or direct from my ebook publisher,
ebookit
. If you buy it from
ebookit
you don't support the big tech companies and the author gets a bigger cut much sooner.
The audiobook is also available at all these vendors, and is also
free with a 30-day trial membership to Audible.
"Not simply about one mission, [Genesis] is also the history of America's quest for the moon... Zimmerman has done a masterful job of tying disparate events together into a solid account of one of America's greatest human triumphs."--San Antonio Express-News