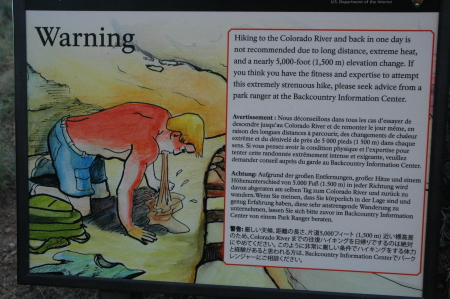 When I posted here on Behind the Black that Diane and I were on our way to the Grand Canyon for our annual hike to the bottom, one of my readers, Keith Douglas, commented that he and his family would be there about the same time. In trying unsuccessfully to meet up, at one point Keith mentioned that his two kids, aged 24 and 23, were proposing they hike into the canyon. Keith emailed me to ask, "From what I read, hiking into the canyon and out is not recommended for a one day activity. What about halfway and back up? Can that be done in an afternoon? It seems pretty hot." I responded,
Though one can hike down and up in one day, this is not recommended for most. Usually you need to be in very good condition and young. It also helps if you are a long distance runner. Hiking down to Indian Gardens [about two thirds of the way down] can be done as a day trip, but if you don't hike a lot it will be an intense and long experience. Also, having the right pack and gear is essential! People who go carrying a one liter bottle of water and no hat are guaranteed to suffer.
I didn't tell them they couldn't do it, or that they shouldn't, or that it wasn't possible. I simply outlined some of the basics for doing it, and let them decide what to do.
Keith answered, with humor, "Thanks for helping me talk my kids out of a hike down." He later added, "I read a hiking guide on the nps website. It seems to be designed to discourage canyon hiking rather than prepare novice hikers."
In one sentence Keith encapsulated the problem with almost all of the advice the Park Service gives about the Grand Canyon.

It is why no one trusts what they write, since they only really say "Don't do it!" Though the Park Service warning sign above, posted on the most south rim trails, is entirely accurate and correct, it doesn't provide any good information on how to really hike the trail properly, only stern warnings on the disaster that awaits you if you try. I can also add, from personal experience in discussing hiking with Park Rangers, that if you are a novice and you should take the sign's advice and ask for guidance at the Backcountry Information Center, you will find that they will mostly tell you that hiking into the Canyon is a bad idea. "Don't do it! You'll die!" (an actual quote one time from a park ranger to me ).
The Park Service is wrong, however. It is a bad idea for novices to hike into the canyon, if they are unprepared. If you prepare them properly, however, there is absolutely no reason novices shouldn't do it. In fact, if they want to, and are willing to make the effort to prepare properly (which by the way is not that difficult or challenging), than the best thing to do is to provide them the right information. Not only will they have fewer problems, most will have a much more enjoyable experience, and will want to come back and try again.
And if you tell people what they really need to hike safely (as I explained to Keith and his kids), and they aren't able to meet that criteria, they will almost always then decide, on their own, not to go (as did Keith and his kids). The result will be fewer unprepared people on the trails, not more.
My short email correspondence with Keith, combined with my experience on this trip and others (where I once again helped some first timers enjoy their hike by giving them some basic but essential advice) gave me an inspiration. Initially I was planning on writing up some of these suggestions for hiking in the Grand Canyon for Behind the Black. I realize now it makes more sense to write this up as another hiking guidebook available to the general public, like my first hiking guidebook, Circuit Hikes of Southern Arizona. The goal would be to provide novice tourists good advice about the right way to enter the canyon. Rather than simply discourage them as the Park Service does (which accomplishes nothing), I would give them the information they need to do it right. The result will be that those who can't meet that advice are more likely not to try, much like Keith and his college-aged kids.
What happens now, however, is that large numbers of the unprepared public, lacking any solid advice on how to do it properly, swarm down Bright Angel trail every day. Many go without hats. Many carry no water. Many are dressed poorly for the conditions.
Most get back to the rim with no problems. Many however suffer unnecessarily, when had they known what to do they would have instead had a great time!
Anyway, this weekend's hike for Diane and I was our shortest Grand Canyon trip ever. For the first time, we simply went down one day and came out the next, rather than spend a day or two inside the Canyon. Even so, we hiked out in seven hours, one of our fastest times. (For most hikers this is probably about average, with the young and fit often doing it in about five and the less prepared taking from nine to twelve hours.)
We have another trip already scheduled for next April. I can't wait to get back.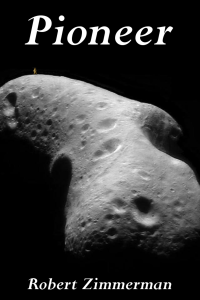 From the press release: From the moment he is handed a possibility of making the first alien contact, Saunders Maxwell decides he will do it, even if doing so takes him through hell and back.
Unfortunately, that is exactly where that journey takes him.
The vision that Zimmerman paints of vibrant human colonies on the Moon, Mars, the asteroids, and beyond, indomitably fighting the harsh lifeless environment of space to build new societies, captures perfectly the emerging space race we see today.
He also captures in Pioneer the heart of the human spirit, willing to push forward no matter the odds, no matter the cost. It is that spirit that will make the exploration of the heavens possible, forever, into the never-ending future.
Available everywhere for $3.99 (before discount) at
amazon
,
Barnes & Noble
, all ebook vendors, or direct from the ebook publisher,
ebookit
. And if you buy it from
ebookit
you don't support the big tech companies and I get a bigger cut much sooner.