Yesterday the private commercial launch company SpaceX broke ground on its own private spaceport near Brownsville, Texas.
"This feels great. It feels like the future," [SpaceX founder Elon] Musk said at the ground-breaking. … He intends to have the first launch in late 2016, with an initial 12 launches a year. Ultimately, "thousands of launches," he projected. Furthermore, "when we start doing commercial crew activities, I would expect us to launch a crew from here," he said.
The significance of this construction is not trivial. This will be the first spaceport built by a private company that will be used to launch its privately-built commercial rockets, and will do it for profit. Other spaceports have been established in the last decade for the purpose of private space tourism, but none have seen anything fly, and all those spaceports were some form of quasi-government operation.
SpaceX's Brownsville spaceport, rumored to be dubbed Mars Crossing, is not a government-run operation, however. It will be wholly owned and operated by the company, and is being built to allow them to launch commercial satellites unconstrained by the rules that make launches from the government controlled spaceports at the Kennedy Space Center as well as Vandenberg Air Force Base in California difficult and complicated.
This ground-breaking also comes on the heels of last week's announcement that SpaceX and Boeing have been chosen by NASA to build spacecraft to ferry human astronauts to and from the International Space Station.
It also comes at the same time the Russian government has reorganized its entire aerospace industry to place it under government control, committed billions for the accelerated construction of a new spaceport on Russian territory, and launched the first test flight of its own new rocket, Angara, designed to compete for commercial market share while also reenergizing the entire Russian space effort.
Nor is that all.

India, which tomorrow hopes to place its first unmanned scientific spacecraft in orbit around Mars, also have flown their own home-built rocket, and have plans to test fly their own manned capsule in the near future. China meanwhile is moving forward with its manned space station program organized in conjunction with their long range unmanned program to scout out landing sites on the Moon. Europe in turn has an aggressive unmanned planetary program, while it continues to aggressively work to maintain its lead in the commercial launch market.
Have I listed everything going on worldwide in space? Hardly. There is also the suborbital space tourism market, with companies like Virgin Galactic, XCOR, and Swiss Space Systems all competing to put the first tourists into space. Then there is the launch market competition, revitalized by the arrival of SpaceX and its low-cost Falcon 9 rocket which has forced a shake-up every other launch company, bringing about lower prices and new research and development.
All these different efforts demonstrate that we are very clearly at the dawning of a new space race, but a space race that will be far different than that first race to the Moon between the United States and the Soviet Union in the 1960s. This time, the goal is all of space, not just the Moon, and it involves many more players, both private and public, with many different goals and approaches.
First there is what I call the new colonial movement, space programs initiated by governments to make sure their country will have a share in the future exploration and exploitation of the resources and wealth that the solar systems harbors. Efforts by Russia, India, China, Europe, and NASA's Space Launch System fall into this category. Each is emulating the methods and approaches used by the U.S. and the U.S.S.R. in the 1960s to accomplish the first manned spaceflights, the first unmanned missions to the planets, and the first manned spaceflights to the Moon.
Built by government agencies, these space programs are exactly that, top-down programs designed by government leaders, elected or not, with specific realpolitik goals intended to compete with each other for national prestige and power while they strive to establish their claims to the unoccupied territories in space.
Second you have private space, being pushed by companies like SpaceX, ULA, Arianespace, Boeing, Virgin Galactic, and XCOR. Some, like the latter two, are focused on suborbital tourism, use no tax dollars, and are wholly private operations. Others, like the first four, are private companies making money in the commercial market while also either selling their goods to the government or depending on government subsidies to stay afloat.
In either case the issue of profit is paramount. While the government programs have no profit motive, need not worry if their programs are expensive, and can marshal the entire resources of their nation if necessary to achieve their ends, the private companies have to make a profit or they will go out of business. And to make a profit they have to sell their wares. And to sell their wares, they have to build those wares as efficiently as possible with the ability to do more for less.
Among the private companies the space race breaks down into several smaller races, such as the suborbital tourism business and the competition to gain market share in the commercial satellite launch market, both already mentioned.
The specific competition that intrigues me most however is that between Boeing and SpaceX to build privately built spaceships to ferry astronauts to and from ISS. What makes this particular private race interesting is that it places a new upstart, SpaceX, against an old big space company, Boeing.
For decades Boeing's space divisions have essentially lived off the government dole. Rather than innovate and compete aggressively for market share, they have instead been content to build whatever NASA asked them to build (ISS, the shuttle, etc) at a relatively high cost, since these NASA government programs didn't really care much about doing things cheaply.
Meanwhile, Boeing pretty much abandoned the commercial launch market. Rather than compete using its Delta family of rockets, the company allowed Arianespace and the Russians to take over that market while Boeing made its money launching government payloads, either military or NASA, both of whom once again didn't really care how much a rocket launch cost. Boeing could charge a lot and still make money, even if the company remained weighed down with a lot of unnecessary fat.
SpaceX in turn practically came out of nowhere beginning in the mid-2000s, building a new rocket, the Falcon 9, which cost half as much as anyone else's to launch. That success has allowed them to grab almost a billion dollars in launch business from Arianespace and the Russians. It has allowed them to enter the manned space industry with their Dragon capsule. And it has forced NASA to take them seriously when it came time to pick a private company to build a manned capsule. NASA couldn't simply choose Boeing, one of the old boys. The agency had to include SpaceX, if only because SpaceX is very clearly going to have its manned capsule ready before Boeing or anyone else.
Both of these companies now have a contract with NASA to build manned spaceships. Boeing is to get $4.2 billion to build its CST-100 capsule, while SpaceX will get $2.6 billion to make its Dragon cargo freighter man-rated.
Because Dragon capsules have already flown multiple times, including five times to ISS, SpaceX has a considerable lead in this race. The company plans to do two launch abort flight tests, one in December and the second early next year, to prove the system is man-rated. If all goes well they will launch their first manned test flight before 2017.
Boeing has a lot more work to do, which is one reason their contract is for more money. They also have to deal with their older, corporate culture that makes it more difficult for the company to move quickly and innovate. They can overcome these issues, but they do have to deal with them.
Regardless, I expect Boeing to deliver, but I do expect them to do it later than SpaceX. Do not be surprised if they have many delays (as did SpaceX and Orbital Sciences when these companies were first developing their Dragon and Cygnus cargo freighters). What I hope will happen however is that this competition with SpaceX will help to revitalize Boeing, force the company to trim its fat and become more efficient. Instead of depending on open-ended government contracts that don't demand much cleverness, Boeing will have to build this capsule at the budget it has been given. If it succeeds, it will come out of this competition much more lean and mean, capable of developing much better aerospace products at far less cost.
In the end, this competition can thus provide the United States with more than two independent private spaceship operations, capable of putting Americans in space. The competition will also revitalize the entire industry, making it possible for American ingenuity to once again dominate the world as it takes us to the stars.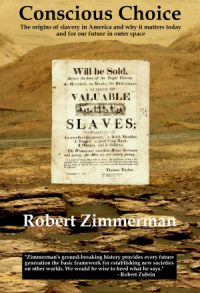 Now available in hardback and paperback as well as ebook!
From the press release: In this ground-breaking new history of early America, historian Robert Zimmerman not only exposes the lie behind The New York Times 1619 Project that falsely claims slavery is central to the history of the United States, he also provides profound lessons about the nature of human societies, lessons important for Americans today as well as for all future settlers on Mars and elsewhere in space.
Conscious Choice: The origins of slavery in America and why it matters today and for our future in outer space
, is a riveting page-turning story that documents how slavery slowly became pervasive in the southern British colonies of North America, colonies founded by a people and culture that not only did not allow slavery but in every way were hostile to the practice.
Conscious Choice
does more however. In telling the tragic history of the Virginia colony and the rise of slavery there, Zimmerman lays out the proper path for creating healthy societies in places like the Moon and Mars.
"Zimmerman's ground-breaking history provides every future generation the basic framework for establishing new societies on other worlds. We would be wise to heed what he says." —Robert Zubrin, founder of founder of the Mars Society.
All editions are available at Amazon, Barnes & Noble, and all book vendors, with the ebook priced at $5.99 before discount. The ebook can also be purchased direct from my ebook publisher, ebookit, in which case you don't support the big tech companies and I get a bigger cut much sooner.
Autographed printed copies are also available at discount directly from me (hardback $24.95; paperback $14.95; Shipping cost for either: $5.00). Just email me at zimmerman @ nasw dot org.