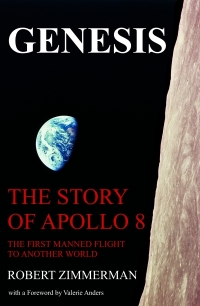 On Christmas Eve 1968 three Americans became the first humans to visit another world. What they did to celebrate was unexpected and profound, and will be remembered throughout all human history. Genesis: the Story of Apollo 8, Robert Zimmerman's classic history of humanity's first journey to another world, tells that story, and it is now available as both an ebook and an audiobook, both with a foreword by Valerie Anders and a new introduction by Robert Zimmerman.
The ebook is available everywhere for $5.99 (before discount) at
amazon
, or direct from my ebook publisher,
ebookit
.
The audiobook is also available at all these vendors, and is also
free with a 30-day trial membership to Audible.
"Not simply about one mission, [Genesis] is also the history of America's quest for the moon... Zimmerman has done a masterful job of tying disparate events together into a solid account of one of America's greatest human triumphs." --San Antonio Express-News
The following stories are all the result of statements made by Vladimir Popovkin, the head of Roscosmos, the Russian Federal space agency, during a radio interview yesterday.
This is the same guy that only a few weeks ago was throwing accusations at the U.S. for the failure of Phobos-Grunt.
What should we make of these statements? First, everything Popovkin says is aimed at fund-raising. Whatever his background, he is a political appointee whose job is to generate interest and funding for Russia's space program. Everything he says in public must be weighed against this reality. That he first tried to shift the blame to the U.S. for Phobos-Grunt's loss was an effort to absolve his program from any blame and thus reduce the possibility that the Russian government might cut his funding. Now that his agency has gotten approval of its insurance payment for the failure, however, he is free to say otherwise.
Second, these announcements give us a clear indication of where the Russia space effort is heading, and that effort looks both thoughtful and intelligent.

For example, while Popovkin's statement that a Russian manned landing on the Moon could happen by 2020 is a bit of hype, it is not absurd by any means. Moreover, it fits well with other news, such as yesterday's announcement by Space Adventures that they will do a circumlunar tourist mission by 2017, using the same Russian Soyuz capsule first developed in the 1960s for this purpose and used by the Russians for the past fifty years to put people in orbit. Russia also has two lunar unmanned missions planned for launch by 2015. These facts suggest that they are not only aiming for the Moon in the near term, they have the capability to get there.
In the longer term, Popovkin's public support for an extended Russian expedition on ISS, modeled after the seventeen month long ground-based Mars500 expedition, means that the Russians are increasingly becoming tired of NASA's foot-dragging. For years they have proposed long expeditions on ISS only to have these projects shot down by the American space agency, something that I have never understood. If humans are ever going to travel beyond Earth orbit to the other planets this research is essential. The medical and engineering challenges of such a mission need to be tested, and the place to do it is in Earth orbit.
For Popovkin to throw his support behind such a mission suggests that Russia has decided to go it alone. This is a very good thing.
Overall, these proposals suggest that the Russians are beginning to put together a reasonable short and long term program for manned space exploration. First, they will aim at the Moon, learning how to get humans there safely. At the same time, they intend to begin the serious research for longer interplanetary missions, using ISS as their testbed.
Whether any of this program will actually happen is of course unknown. Many things can change in a short time. Moreover, the Russians have made pronouncements like this in the past, only to have the projects fizzle.
Nonetheless, I would not take Popovkin's statements lightly. The Russians want to explore the solar system, and eventually they are going to do it. The only real question is whether they do it sooner or later.
Readers!
My July fund-raiser for Behind the Black is now over. The support from my readers was unprecedented, making this July campaign the best ever, twice over. What a marvelous way to celebrate the website's tenth anniversary!

Thank you! The number of donations in July, and continuing now at the beginning of August, is too many for me to thank you all personally. Please forgive me by accepting my thank you here, in public, on the website.

If you did not donate or subscribe in July and still wish to, note that the tip jar remains available year round.
Regular readers can support Behind The Black with a contribution via paypal:
If Paypal doesn't work for you, you can support Behind The Black directly by sending your donation by check, payable to Robert Zimmerman, to

Behind The Black
c/o Robert Zimmerman
P.O.Box 1262
Cortaro, AZ 85652