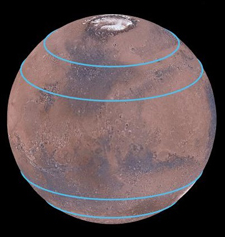 Scientists, using computer models and radar data obtained in orbit, have detected large belts of glaciers in Mars' upper middle latitudes, buried beneath a layer of dust.
Several satellites orbit Mars and on satellite images, researchers have been able to observe the shape of glaciers just below the surface. For a long time scientists did not know if the ice was made of frozen water (H2O) or of carbon dioxide (CO2) or whether it was mud.

Using radar measurements from the NASA satellite, Mars Reconnaissance Orbiter, researchers have been able to determine that is water ice. But how thick was the ice and do they resemble glaciers on Earth? A group of researchers at the Niels Bohr Institute have now calculated this using radar observations combined with ice flow modelling.
The press release has one typo that is important. The belts appear to be located between 30-50 degrees latitude, not 300-500 (the degree sign became a 0 by mistake).
It is important to recognize the uncertainty of this discovery. Orbital images have seen features that suggest glaciers. The evidence that it is water-ice and that the water-ice is still largely present comes from the computer models. Computer models are notorious for seeing things that end up not being there.
Nonetheless, this result is important. It is further strong evidence that Mars still contains a lot of water locked in its immediate subsurface, where future colonists can mine it and use it to survive and build their homes.
Readers!
In order to remain completely independent and honest in my writing, I accept no sponsorships from big space companies or any political organizations. Nor do I depend on ads.
Instead, I rely entirely on the generosity of readers to keep Behind the Black running. You can either make a one time donation for whatever amount you wish, or you sign up for a monthly subscription ranging from $2 to $15 through Paypal, or $3 to $50 through Patreon, or any amount through Zelle.
The best method to donate or subscribe is by using Zelle through your internet bank account, since it charges no fees to you or I. You will need to give my name and email address (found at the bottom of the "About" page). What you donate is what I get.
To use Patreon, go to my website there and pick one of five monthly subscription amounts, or by making a one-time donation.

For PayPal click one of the following buttons:

If these electronic payment methods don't work for you, you can support Behind The Black directly by sending your donation by check, payable to Robert Zimmerman, to


Behind The Black
c/o Robert Zimmerman
P.O.Box 1262
Cortaro, AZ 85652