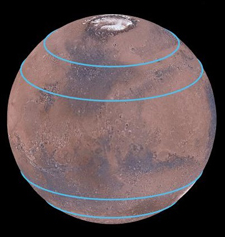 Scientists, using computer models and radar data obtained in orbit, have detected large belts of glaciers in Mars' upper middle latitudes, buried beneath a layer of dust.
Several satellites orbit Mars and on satellite images, researchers have been able to observe the shape of glaciers just below the surface. For a long time scientists did not know if the ice was made of frozen water (H2O) or of carbon dioxide (CO2) or whether it was mud.

Using radar measurements from the NASA satellite, Mars Reconnaissance Orbiter, researchers have been able to determine that is water ice. But how thick was the ice and do they resemble glaciers on Earth? A group of researchers at the Niels Bohr Institute have now calculated this using radar observations combined with ice flow modelling.
The press release has one typo that is important. The belts appear to be located between 30-50 degrees latitude, not 300-500 (the degree sign became a 0 by mistake).
It is important to recognize the uncertainty of this discovery. Orbital images have seen features that suggest glaciers. The evidence that it is water-ice and that the water-ice is still largely present comes from the computer models. Computer models are notorious for seeing things that end up not being there.
Nonetheless, this result is important. It is further strong evidence that Mars still contains a lot of water locked in its immediate subsurface, where future colonists can mine it and use it to survive and build their homes.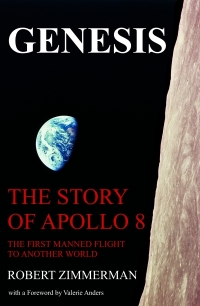 On Christmas Eve 1968 three Americans became the first humans to visit another world. What they did to celebrate was unexpected and profound, and will be remembered throughout all human history. Genesis: the Story of Apollo 8, Robert Zimmerman's classic history of humanity's first journey to another world, tells that story, and it is now available as both an ebook and an audiobook, both with a foreword by Valerie Anders and a new introduction by Robert Zimmerman.
The ebook is available everywhere for $5.99 (before discount) at
amazon
, or direct from my ebook publisher,
ebookit
. If you buy it from
ebookit
you don't support the big tech companies and the author gets a bigger cut much sooner.
The audiobook is also available at all these vendors, and is also
free with a 30-day trial membership to Audible.
"Not simply about one mission, [Genesis] is also the history of America's quest for the moon... Zimmerman has done a masterful job of tying disparate events together into a solid account of one of America's greatest human triumphs."--San Antonio Express-News