Readers!
For many reasons,
mostly political but partly ethical
, I do not use Google, Facebook, Twitter. They practice corrupt business policies, while targeting conservative websites for censoring, facts repeatedly
confirmed
by news stories and by my sense that Facebook has taken action to prevent my readers from recommending Behind the Black to their friends.
Thus, I must have your direct support to keep this webpage alive. Not only does the money pay the bills, it gives me the freedom to speak honestly about science and culture,
instead of being forced to write it as others demand.
Please consider donating by giving either a one-time contribution or a regular subscription, as outlined in the tip jar below.
Regular readers can support Behind The Black with a contribution via paypal:
If Paypal doesn't work for you, you can support Behind The Black directly by sending your donation by check, payable to Robert Zimmerman, to

Behind The Black
c/o Robert Zimmerman
P.O.Box 1262
Cortaro, AZ 85652

You can also support me by buying one of my books, as noted in the boxes interspersed throughout the webpage. And if you buy the books through the ebookit links, I get a larger cut and I get it sooner.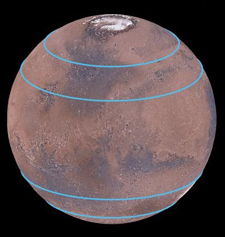 Scientists, using computer models and radar data obtained in orbit, have detected large belts of glaciers in Mars' upper middle latitudes, buried beneath a layer of dust.
Several satellites orbit Mars and on satellite images, researchers have been able to observe the shape of glaciers just below the surface. For a long time scientists did not know if the ice was made of frozen water (H2O) or of carbon dioxide (CO2) or whether it was mud.

Using radar measurements from the NASA satellite, Mars Reconnaissance Orbiter, researchers have been able to determine that is water ice. But how thick was the ice and do they resemble glaciers on Earth? A group of researchers at the Niels Bohr Institute have now calculated this using radar observations combined with ice flow modelling.
The press release has one typo that is important. The belts appear to be located between 30-50 degrees latitude, not 300-500 (the degree sign became a 0 by mistake).
It is important to recognize the uncertainty of this discovery. Orbital images have seen features that suggest glaciers. The evidence that it is water-ice and that the water-ice is still largely present comes from the computer models. Computer models are notorious for seeing things that end up not being there.
Nonetheless, this result is important. It is further strong evidence that Mars still contains a lot of water locked in its immediate subsurface, where future colonists can mine it and use it to survive and build their homes.