Please consider donating to Behind the Black, by giving either a one-time contribution or a regular subscription, as outlined in the tip jar below. Your support will allow me to continue covering science and culture as I have for the past twenty years, independent and free from any outside influence.
Regular readers can support Behind The Black with a contribution via paypal:
If Paypal doesn't work for you, you can support Behind The Black directly by sending your donation by check, payable to Robert Zimmerman, to

Behind The Black
c/o Robert Zimmerman
P.O.Box 1262
Cortaro, AZ 85652

The chart of the day, from John Merlune at Investor's Business Daily: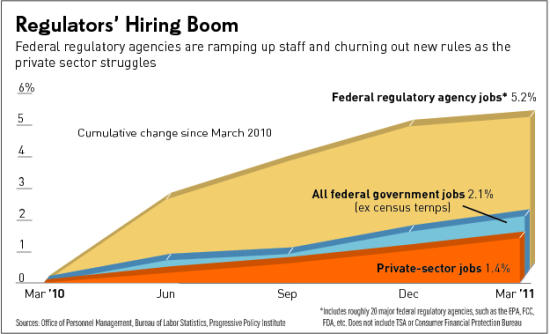 Merlune's article outlines in frightening detail how there has been a job boom in only one place during the Obama administration, the government regulatory industry.
Regulatory agencies have seen their combined budgets grow a healthy 16% since 2008, topping $54 billion, according to the annual "Regulator's Budget," compiled by George Washington University and Washington University in St. Louis. That's at a time when the overall economy grew a paltry 5%.

Meanwhile, employment at these agencies has climbed 13% since Obama took office to more than 281,000, while private-sector jobs shrank by 5.6%.