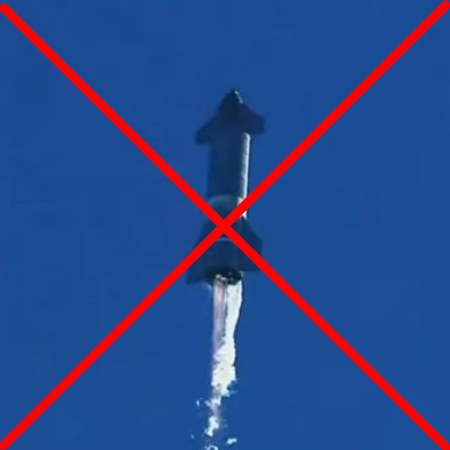 Banning Starship: The new goal of our leftist masters.
Two stories today mark what appears to be a growing political campaign focused on squelching by any means possible the continued unparalleled success of the company SpaceX. And the simultaneous publication of both stories on the same day also suggests that this campaign is deliberately timed to force the FAA to shut down SpaceX at Boca Chica.
First we have a story at Space.com aimed at SpaceX's Starlink constellation, making it the big villain in the growing threat of satellite collisions.
SpaceX's Starlink satellites alone are involved in about 1,600 close encounters between two spacecraft every week, that's about 50 % of all such incidents, according to Hugh Lewis, the head of the Astronautics Research Group at the University of Southampton, U.K. These encounters include situations when two spacecraft pass within a distance of 0.6 miles (1 kilometer) from each other.

Lewis, Europe's leading expert on space debris, makes regular estimates of the situation in orbit based on data from the Socrates (Satellite Orbital Conjunction Reports Assessing Threatening Encounters in Space ) database. This tool, managed by Celestrack, provides information about satellite orbits and models their trajectories into the future to assess collision risk.
Though his data appears accurate and the growing risk of collisions is real, it appears from the story that Lewis, one of only two experts interviewed, has a strong hostility to SpaceX. He doesn't like the fact that SpaceX is so successful in such a short time, and appears to want something done to control it.
The article also nonchalantly sloughs off one very significant fact: Very few satellite collisions have actually occurred. While the risk is certainly going to increase, that increase is not going to be fueled just by SpaceX. At least four large constellations are presently in the works, all comparable to Starlink in some manner. To focus on SpaceX in particular makes this article appear like a hatchet job.
Then we have a news story from CBS and its very partisan and leftist news show, Sixty Minutes+, providing a loud soapbox for the very small number of anti-development environmentalists fighting to block SpaceX's operations in Boca Chica, Texas.

These environmentalists claim that building a rocket facility like Starbase right next to a wildlife preserve will do great harm to that wildlife. Their campaign, aided eagerly by CBS and other leftist news sources as well as a local Democrat DA, is aimed at the FAA, which is right now completing a new environmental assessment of SpaceX's Boca Chica permit. The goal is to get the FAA to deny that permit, effectively shutting down SpaceX's entire Starship development program.
What these environmentalists as well as the incompetent reporters that tout their agenda never mention is the fact that the spaceport at the Kennedy Space Center in Florida actually created a very successful wildlife refuge. Not only did it halt development in a region that certainly would have gotten built up had the launch facility not existed, its existence for almost three-quarters of a century has clearly proven that rocket launches do no harm to wildlife. That such news stories and these nature activists never mention this important detail should discredit them entirely.
Unfortunately, that's not how politics works in today's America. The goal is not to determine the best policy, but to exert power and control. It increasingly appears the swamp of petty dictators in government circles who love telling everyone else what to do have decided that SpaceX must be stopped, by any means necessary.
Whether they succeed or not will likely depend on the response of the general public. Its track record for the past half century is to either buy into these campaigns, or to simply pay no attention as the power-hungry move in and take over.
We are about to find out if the public will respond differently should the FAA act to block SpaceX. And that decision must happen in only a few short weeks, as the FAA must release the new environment assessment and issue its permit before SpaceX can attempt that first orbital flight test of Starship, something that Elon Musk says is just about ready to happen.
That decision, and the public's response to it should it go against SpaceX, will tell us a great deal about the future of America.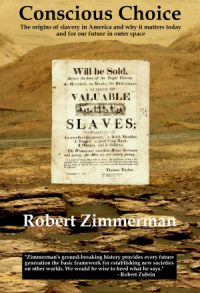 Now available in hardback and paperback as well as ebook!
From the press release: In this ground-breaking new history of early America, historian Robert Zimmerman not only exposes the lie behind The New York Times 1619 Project that falsely claims slavery is central to the history of the United States, he also provides profound lessons about the nature of human societies, lessons important for Americans today as well as for all future settlers on Mars and elsewhere in space.
Conscious Choice: The origins of slavery in America and why it matters today and for our future in outer space
, is a riveting page-turning story that documents how slavery slowly became pervasive in the southern British colonies of North America, colonies founded by a people and culture that not only did not allow slavery but in every way were hostile to the practice.
Conscious Choice
does more however. In telling the tragic history of the Virginia colony and the rise of slavery there, Zimmerman lays out the proper path for creating healthy societies in places like the Moon and Mars.
"Zimmerman's ground-breaking history provides every future generation the basic framework for establishing new societies on other worlds. We would be wise to heed what he says." —Robert Zubrin, founder of founder of the Mars Society.
All editions are available at Amazon, Barnes & Noble, and all book vendors, with the ebook priced at $5.99 before discount. The ebook can also be purchased direct from my ebook publisher, ebookit, in which case you don't support the big tech companies and I get a bigger cut much sooner.
Autographed printed copies are also available at discount directly from me (hardback $24.95; paperback $14.95; Shipping cost for either: $5.00). Just email me at zimmerman @ nasw dot org.