Last week there was a big NASA story about the discovery of eight locations on Mars where the evidence strongly suggests that these spots have cliff faces with exposed layers of water ice.
The press release however did not provide an overview about where those eight locations were. Only two locations were given, one for a scarp in Milankovič Crater in the northern hemisphere, and one in an area called Promethei Terra, located in the remote cratered highlands in the southern high-mid-latitudes.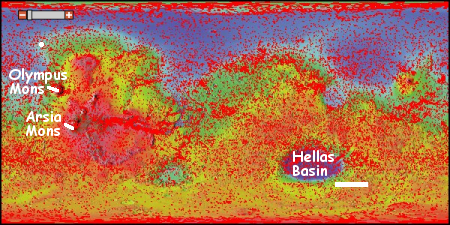 After much digging (and some assistance from John Batchelor) I was finally able to obtain the latitudes and longitudes of all 8 locations. All but the scarp in Milankovič Crater crater (shown by the white dot north of Olympus Mons) are located in the white rectangular box shown to the south and east of Hellas Basin, the area with Mars' lowest elevation. This part of Mars is not well imaged with the high resolution camera on Mars Reconnaissance Orbiter (indicated by the fewer number of red squares in the image), mostly because it appears relatively boring from a distance. Nothing appears to be there for hundreds and hundreds of miles except craters, sand, and sand dunes..
The discovery of these scarps in this area however changes the picture. It suggests that cratered highlands that surround Hellas Basin, including those close to the planet's equator, could contain similar buried layers of ice. More research is necessary to pin down more locations, especially those closer to the equator where conditions might be more hospitable for a colony.
Moreover, educated readers of Behind the Black have previously noted that because of Hellas Basin's low elevation the air pressure there is thicker, and therefore the location has some advantages as a potential colony location. These ice scarps raise the value of Hellas Basin considerably, as they suggest that such layers could easily be exposed as you descend into Hellas Basin. If such layers are exposed on the northern flanks of the basin, they would be at latitudes of around 25 to 30 degrees south, a much more friendly latitude for settlement.
Readers!
I must unfortunately ask you for your financial support because I do not depend on ads and rely entirely on the generosity of readers to keep Behind the Black running. You can either make a one time donation for whatever amount you wish, or you sign up for a monthly subscription ranging from $2 to $15 through Paypal or $3 to $50 through Patreon.
Your support will allow me to continue covering science and culture as I have for the past twenty years, independent and free from any outside influence.
Your support is even more essential to me because I not only keep this site free from advertisements, I do not use the corrupt social media companies like Google, Twitter, and Facebook to promote my work. I depend wholly on the direct support of my readers.
You can provide that support to Behind The Black with a contribution via Patreon or PayPal. To use Patreon, go to my website there and pick one of five monthly subscription amounts, or by making a one-time donation. For PayPal click one of the following buttons:

If Patreon or Paypal don't work for you, you can support Behind The Black directly by sending your donation by check, payable to Robert Zimmerman, to


Behind The Black
c/o Robert Zimmerman
P.O.Box 1262
Cortaro, AZ 85652


Or you can donate by using Zelle through your bank. You will need to give my name and email address (found at the bottom of the "About" page). The best part of this electronic option is that no fees will be deducted! What you donate will be what I receive.