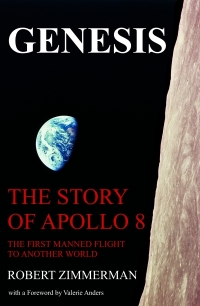 On Christmas Eve 1968 three Americans became the first humans to visit another world. What they did to celebrate was unexpected and profound, and will be remembered throughout all human history. Genesis: the Story of Apollo 8, Robert Zimmerman's classic history of humanity's first journey to another world, tells that story, and it is now available as both an ebook and an audiobook, both with a foreword by Valerie Anders and a new introduction by Robert Zimmerman.
The ebook is available everywhere for $5.99 (before discount) at
amazon
, or direct from my ebook publisher,
ebookit
.
The audiobook is also available at all these vendors, and is also
free with a 30-day trial membership to Audible.
"Not simply about one mission, [Genesis] is also the history of America's quest for the moon... Zimmerman has done a masterful job of tying disparate events together into a solid account of one of America's greatest human triumphs." --San Antonio Express-News
The competition heats up? The Dnepr rocket launch of 37 satellites yesterday also included the launch of the first private Russian satellite.
TabletSat-Aurura owned by the company SPUTNIX weighs 26.2 kg and is made to operate for one year. It is intended for remote Earth sensing in the interests of a private company. The satellite was made using Russian technologies and a minimum of foreign components. Its cost is about one million US dollars.

Igor Komarov, the head of the United Rocket and Space Corporation, said "the launch of Aurora, the first Russian private satellite, is a successful example of public-private partnership in the field of space exploration as private companies clearly cannot fulfill their strategic tasks without the state. ,,, I am confident that cooperation between the state and private aerospace agencies in designing and manufacturing high-tech craft will become an important stimulus for further development of Russian competitive technologies."

SPUTNIX Director-General Andrei Potapov said his company's plans included "creating a cluster of small spacecraft and craft for super high-definition aerial video surveying and imaging with a resolution of down to one meter per pixel". [emphasis mine]
Why do I have doubts about this Russian achievement? The reasons are twofold.

The United Rocket and Space Corporation (URSC) is the government entity recently formed by the merger of the entire Russian space industry into one giant government operation. Beforehand and since the fall of the Soviet Union this industry had instead been comprised of many different companies of various sizes, some entirely private and some quasi-private, with the government owning a majority of the company's stock. That somewhat flexible and competitive circumstance no longer exists in Russia, with URSC now controlling everything.
Komarov is thus stating that this small private company has his permission to operate independently, but only to a limited degree. They must still cooperate and do what the government tells them. I do not expect it to remain independent for long.
Secondly, that it has taken almost a quarter of a century since the fall of the Soviet Union for this first private launch suggests that the Russian culture never really understood the nature of the competitive free market it had accepted after 1991. Because of this they innovated very little during these last 23 years. and lost an opportunity to invigorate their space effort. Now that this industry has been consolidated entirely back into the government, I expect even less innovation in the coming years. They might have a burst of activity as the rulers on top dictate new policies and make new demands, but with time those rulers will be unable to keep up with their private international competitors and will lose the race with the rest of the world.
Readers!
My July fund-raiser for Behind the Black is now over. The support from my readers was unprecedented, making this July campaign the best ever, twice over. What a marvelous way to celebrate the website's tenth anniversary!

Thank you! The number of donations in July, and continuing now at the beginning of August, is too many for me to thank you all personally. Please forgive me by accepting my thank you here, in public, on the website.

If you did not donate or subscribe in July and still wish to, note that the tip jar remains available year round.
Regular readers can support Behind The Black with a contribution via paypal:
If Paypal doesn't work for you, you can support Behind The Black directly by sending your donation by check, payable to Robert Zimmerman, to

Behind The Black
c/o Robert Zimmerman
P.O.Box 1262
Cortaro, AZ 85652