After fifty years of following space, I finally saw a big rocket launch today. Below is one of the pictures I took of Endeavour as it roared into the sky.
The experience was immensely satisfying, to put it mildly. Watching the shuttle rise up on a column of flame and smoke made me feel young again, my heart racing with excitement. Then Endeavour disappeared into the clouds, and we stood waiting for the roar of liftoff to travel the eleven miles to us. The long wait made this experience far different from what one sees on television. Then the rumble arrived, deep and low, but not as loud as I expected. One experienced launch-watcher explained that the low clouds and humidity might have muffled the sound. Bob Rose said that it was what he expected for this location, and that my expectations were based on those who experienced the launch from the press site at three miles. I think Bob is almost certainly right.
Later today I will put up a longer post, describing what it was like to stand among like-minded space nuts who had traveled from far and wide to see a crew of humans leave the Earth's gravity and help trace a warm line of life across barren space.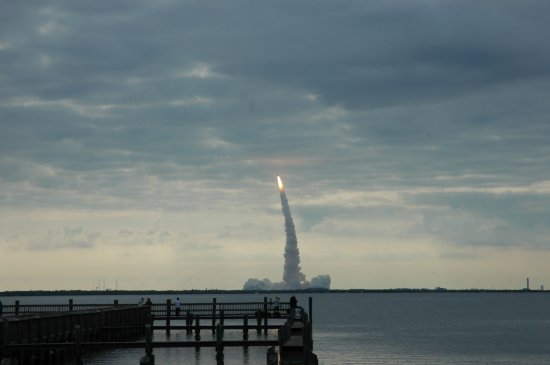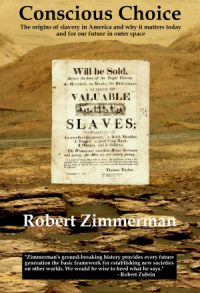 Now available in hardback and paperback as well as ebook!
From the press release: In this ground-breaking new history of early America, historian Robert Zimmerman not only exposes the lie behind The New York Times 1619 Project that falsely claims slavery is central to the history of the United States, he also provides profound lessons about the nature of human societies, lessons important for Americans today as well as for all future settlers on Mars and elsewhere in space.
Conscious Choice: The origins of slavery in America and why it matters today and for our future in outer space
, is a riveting page-turning story that documents how slavery slowly became pervasive in the southern British colonies of North America, colonies founded by a people and culture that not only did not allow slavery but in every way were hostile to the practice.
Conscious Choice
does more however. In telling the tragic history of the Virginia colony and the rise of slavery there, Zimmerman lays out the proper path for creating healthy societies in places like the Moon and Mars.
"Zimmerman's ground-breaking history provides every future generation the basic framework for establishing new societies on other worlds. We would be wise to heed what he says." —Robert Zubrin, founder of founder of the Mars Society.
All editions are available at Amazon, Barnes & Noble, and all book vendors, with the ebook priced at $5.99 before discount. The ebook can also be purchased direct from my ebook publisher, ebookit, in which case you don't support the big tech companies and I get a bigger cut much sooner.
Autographed printed copies are also available at discount directly from me (hardback $24.95; paperback $14.95; Shipping cost for either: $5.00). Just email me at zimmerman @ nasw dot org.