They say that insanity is the process where you keep trying to do the same thing over and over again, even though it fails each time.
The liberal, leftwing response to the tragic and horrific mass killing by an insane Islamic terrorist, who found comfort and support from that religion for his murderous ideas, is thus a good illustration of insanity.
That's just three four examples, but there will be more. [I have added the fourth because it is so expected and must be noted.] The simple fact is that the terrorist in Orlando had gotten his guns legally in a state that has numerous gun control laws specifically designed to prevent such a man from becoming armed. Those laws did nothing to protect innocent people from him.
One decent person armed in that nightclub, however, would have stopped him in his tracks. Unfortunately, according to Florida's same gun control laws, that nightclub was also a gun free zone. Only criminals and terrorists were allowed to be armed, because they are the only ones who don't care what the law says.
As Ted Cruz noted in his statement concerning the Orlando attack. "Our nation is at war." And you can't win a war by disarming yourself.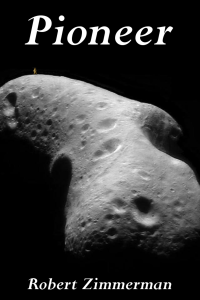 From the press release: From the moment he is handed a possibility of making the first alien contact, Saunders Maxwell decides he will do it, even if doing so takes him through hell and back.
Unfortunately, that is exactly where that journey takes him.
The vision that Zimmerman paints of vibrant human colonies on the Moon, Mars, the asteroids, and beyond, indomitably fighting the harsh lifeless environment of space to build new societies, captures perfectly the emerging space race we see today.
He also captures in Pioneer the heart of the human spirit, willing to push forward no matter the odds, no matter the cost. It is that spirit that will make the exploration of the heavens possible, forever, into the never-ending future.
Available everywhere for $3.99 (before discount) at
amazon
,
Barnes & Noble
, all ebook vendors, or direct from the ebook publisher,
ebookit
. And if you buy it from
ebookit
you don't support the big tech companies and I get a bigger cut much sooner.