Please consider donating to Behind the Black, by giving either a one-time contribution or a regular subscription, as outlined in the tip jar to the right or below. Your support will allow me to continue covering science and culture as I have for the past twenty years, independent and free from any outside influence.
On Monday NOAA posted its monthly update of the solar cycle, showing the sunspot activity for the Sun in July. As I do every month, I am posting it here, below the fold, with annotations to give it context.
For the first time in four months the decline in sunspots ceased, though the sunspot count hardly rose either. Instead the numbers stayed almost the same in July as they were in June. This was during a month that began with lots of sunspots, and yet saw the first blank sun in almost three years. In fact, the Sun's activity in July was a roller coaster, as noted by the Solar Influences Data Analysis Center (SIDC) of the Royal Observatory of Belgium.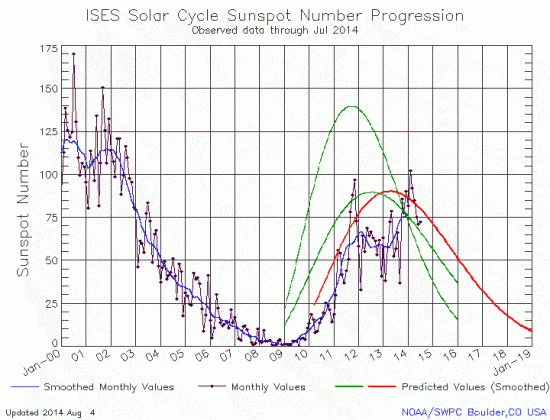 The graph above has been modified to show the predictions of the solar science community. The green curves show the community's two original predictions from April 2007, with half the scientists predicting a very strong maximum and half predicting a weak one. The red curve is their revised May 2009 prediction.
The ramp down to solar minimum is obviously beginning, but no one should be surprised if the Sun shows flashes of strong activity periodically as it slowly ceases sunspot production.
The one thing that is evident when you look at the graph above, however, is how prolonged both the last solar minimum and this ongoing solar maximum have been. Both have been far longer than normal, and taken together will produce a solar cycle much longer than the eleven years that is usually expected. In the past, a prolonged solar cycle has usually been accompanied by weak overall activity, as well as cooler climates on Earth.