Please consider donating to Behind the Black, by giving either a one-time contribution or a regular subscription, as outlined in the tip jar to the right or below. Your support will allow me to continue covering science and culture as I have for the past twenty years, independent and free from any outside influence.
On Monday NOAA released its monthly update of the solar cycle, showing the Sun's sunspot activity in January. As I have done every month since 2010, I am posting it here with annotations to give it context.
What strikes me about this month's continuing and steady decline in sunspots is how much it illustrates the long and steady nature of the ramp down to solar minimum, even for cycles that are very active. If you look at the ramp down during the previous solar cycle on the graph below the fold, it took four full years to reach solar minimum from a comparable sunspot level to what we have today.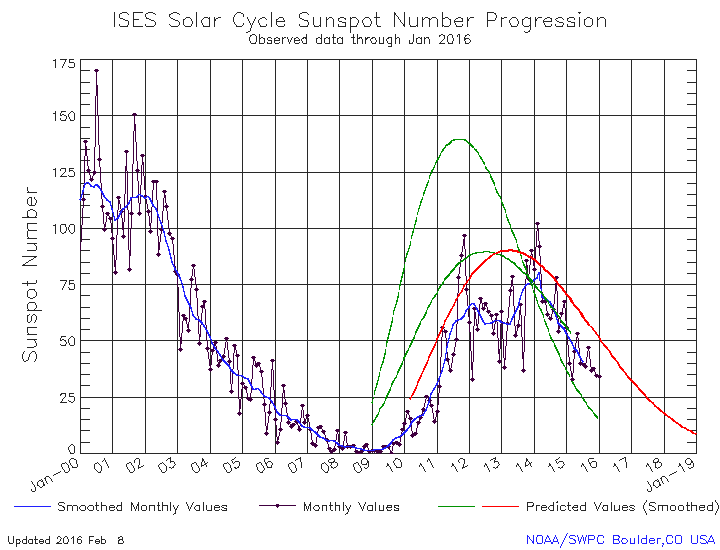 The graph above has been modified to show the predictions of the solar science community. The green curves show the community's two original predictions from April 2007, with half the scientists predicting a very strong maximum and half predicting a weak one. The red curve is their revised May 2009 prediction.
It is presently seven years since that last solar minimum. If it takes four more years to reach our next solar minimum, it will mean that this solar cycle was exactly 11 years long, the average length for all solar cycles since scientists began tracking them in the 1700s. What makes that interesting is that, according to the data, a weak solar maximum (as we have just experienced) usually corresponds to a longer overall cycle. At the moment at least that does not appear to be where we are heading. If the ramp down is comparable to last solar cycle, this cycle will last about the normal length of time, while producing far fewer sunspots than predicted.
What does this mean? Don't ask me. For one thing, the ramp down this time might take much longer than the last ramp down, so the cycle itself might end up much longer. Or it might not. It simply is too early to tell.