Readers!
My annual birthday-month fund-raising drive for Behind the Black
is now on-going. Not only do your donations help pay my bills, they give me the freedom to speak honestly about science and culture,
instead of being forced to write it as others demand.
Please consider donating by giving either a one-time contribution or a regular subscription, as outlined in the tip jar below.
Regular readers can support Behind The Black with a contribution via paypal:
If Paypal doesn't work for you, you can support Behind The Black directly by sending your donation by check, payable to Robert Zimmerman, to

Behind The Black
c/o Robert Zimmerman
P.O.Box 1262
Cortaro, AZ 85652

You can also support me by buying one of my books, as noted in the boxes interspersed throughout the webpage. And if you buy the books through the ebookit links, I get a larger cut and I get it sooner.
Though it has been very clear for the past few months that the sun has finally transitioned from solar minimum and begun its ramp up to solar maximum, that ramp up has also been very slow and wimpy.
On October 9, 2011 the scientists at Physikalisch- Meteorologisches Observatorium Davos (PMOD) posted an updated summary of the satellite data that has been carefully measuring the variation of the sun's total solar irradiance since 1978. The graph below, which can be found here [pdf], brings that data up through the present. (I had posted the previous update about a year ago.)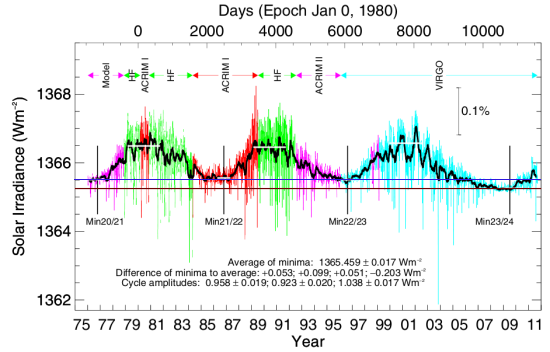 I have added a brown line to illustrate how deep the recently ended solar minimum was, compared to previous minimums. Note also that this most recent minimum would also be far below the minimum prior to 1975. I have also added a blue line to show that the sun has only very recently finally brightened enough to finally exceed the previous minimum. All told, the sun remained dimmer than the previous minimum for over five years!

Though this deep minimum was unprecedented since the beginning of satellite data, we shouldn't misunderstand it. The drop in brightness, as deep and as long as it was, was still a drop of only 0.02 percent, clearly not large enough to have significantly cooled the Earth's climate. Other effects are required to link this drop with the climate changes that scientists have been seeing.
Nonetheless, this graph, combined with the realization that the climate has not been warming for more than a dozen years, leaves scientists with a very tantalizing question: How do the sun and the climate interact, and how important is the sun's behavior on both short and long term climate change?
At present we only have this kind of circumstantial evidence. The exact mechanism to explain that interaction remains a mystery, though there are theories.