A space conference taking place this week in the United Arab Emirates has produced a number of somewhat intriguing stories, some indicating the growing the new colonial movement in space, and some marking the significant changes produced by the Abraham Accords, peace treaties negotiated and signed during the Trump administration between Israel and a number of Arab nations.
For example, Israel's president, Isaac Herzog, was invited to the conference to give a keynote speech, and he did so as part of a tour of several Arab countries, all of whom were Israel's sworn enemies prior to the Abraham Accords.
In his address, Herzog touted Israel's warming ties with Bahrain and the Emirates since the signing of the Abraham Accords in 2020, and predicted a leap forward in space exploration. "I am very happy to be here and take part in this timely debate, under the auspices of my dear friend, President Mohammed bin Zayed. I have just arrived from Bahrain with my wife, Michal, where we conducted the first State Visit of an Israeli president in the Kingdom of Bahrain, and I am extremely grateful to His Majesty the King of Bahrain, Hamad bin Isa Al Khalifa."
It appears that, even though the Biden administration has done little to promote further Abraham Accord agreements, many powerful Arab nations of the Middle East are embracing these deals regardless, and thus the tensions in that war-torn region have been largely reduced as a result. Israel still has enemies there, but it now appears to have, at a minimum, neutral partners willing to peacefully work with it.
The conference has also produced additional space news from other Middle East countries.

First, the space agencies of the United Arab Emirates (UAE) and the Philippines signed a cooperative space agreement.
Under the agreement, the two agencies will strengthen bilateral cooperation in priority space fields, including exploration, scientific and technological research, aerospace, education, and others. The MoU enables exchange of space data to support various fields of common interest such as climate change, disaster management, emergency response, food security and agriculture. The two agencies will participate together in scientific missions aimed at space exploration and access to relevant data, as well as to hold joint conferences, workshops and knowledge-sharing activities on space science and technology applications.
I expect the UAE's deep financial resources from oil will lubricate this partnership significantly.
Second, Saudi Arabia officials announced that it is not only formulating an aggressive space policy to be released next year, it is also negotiating with one or more of the private space stations being built by American companies.
Mohammed bin Saud Al Tamimi, governor of the Communications, Space and Technology Commission, said he sees space commodities as a "huge opportunity". He was speaking remotely on the first day of the Abu Dhabi Space Debate, a major conference that addressed the new geopolitics of space and emerging trends.

Mr Al Tamimi said that the Kingdom would be announcing its national space strategy early next year. "We've heard lots of initiatives from the private sector, not only from a scientific point of view, we also hear about commercialisation of space station," he said. "We hear lots of announcements by multiple companies regarding space tourism and building a hotel as a space station, becoming like a commodity.

"For me, I see there is a huge opportunity. This is the right time in history of space where we can see real commercialisation of space. And also there's more collaboration and active discussions right now between us in Saudi Arabia and other countries when it comes to building a new model for space stations."
Nor is this unexpected. Saudi Arabia already has a deal with the space station company Axiom to fly two astronauts to ISS. And that company has also signed deals with both Turkey and Hungary. When those American stations reach orbit in the next five years or so it appears some of their major customers are going to be third world nations, many of which are in the Middle East and have been driven by competition (started by the UAE) to push their own space efforts.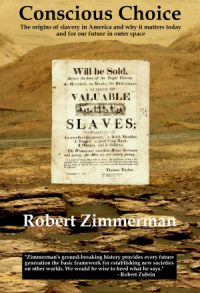 Now available in hardback and paperback as well as ebook!
From the press release: In this ground-breaking new history of early America, historian Robert Zimmerman not only exposes the lie behind The New York Times 1619 Project that falsely claims slavery is central to the history of the United States, he also provides profound lessons about the nature of human societies, lessons important for Americans today as well as for all future settlers on Mars and elsewhere in space.
Conscious Choice: The origins of slavery in America and why it matters today and for our future in outer space
, is a riveting page-turning story that documents how slavery slowly became pervasive in the southern British colonies of North America, colonies founded by a people and culture that not only did not allow slavery but in every way were hostile to the practice.
Conscious Choice
does more however. In telling the tragic history of the Virginia colony and the rise of slavery there, Zimmerman lays out the proper path for creating healthy societies in places like the Moon and Mars.
"Zimmerman's ground-breaking history provides every future generation the basic framework for establishing new societies on other worlds. We would be wise to heed what he says." —Robert Zubrin, founder of founder of the Mars Society.
All editions are available at Amazon, Barnes & Noble, and all book vendors, with the ebook priced at $5.99 before discount. The ebook can also be purchased direct from my ebook publisher, ebookit, in which case you don't support the big tech companies and I get a bigger cut much sooner.
Autographed printed copies are also available at discount directly from me (hardback $24.95; paperback $14.95; Shipping cost for either: $5.00). Just email me at zimmerman @ nasw dot org.