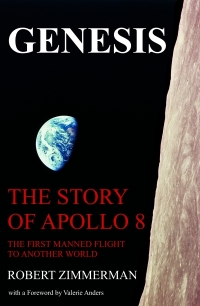 On Christmas Eve 1968 three Americans became the first humans to visit another world. What they did to celebrate was unexpected and profound, and will be remembered throughout all human history. Genesis: the Story of Apollo 8, Robert Zimmerman's classic history of humanity's first journey to another world, tells that story, and it is now available as both an ebook and an audiobook, both with a foreword by Valerie Anders and a new introduction by Robert Zimmerman.
The ebook is available everywhere for $5.99 (before discount) at
amazon
, or direct from my ebook publisher,
ebookit
.
The audiobook is also available at all these vendors, and is also
free with a 30-day trial membership to Audible.
"Not simply about one mission, [Genesis] is also the history of America's quest for the moon... Zimmerman has done a masterful job of tying disparate events together into a solid account of one of America's greatest human triumphs." --San Antonio Express-News
Today one mainstream newspaper finally caught up with the global warming skeptic community and recognized that a recent release of data from the United Kingdom's Met Office shows that since 1996 the temperature of the climate has stalled. For the past sixteen years there has been no global warming, at all.
Three takeaways from this story.

This period of no-warming has now been as long as the previous period of warming. In other words, the stall in warming is getting long enough now to be statistically significant.
The Met Office revealed its biases by how it unveiled this fact. Previously, when their data suggested the climate was warming, they heralded that fact loudly with bold predictions of catastrophes to come. But when their data suggested their predictions were wrong and the climate wasn't warming, they released the data with as little fanfare as possible.
Finally, and most important, this data demonstrates clearly that all the computer models used by climate scientists to predict the future climate are patently wrong. They don't understand what is happening, even if some of them refuse to admit it.
The last point is the most important. The early IPCC reports in the 1990s went into great detail about the many uncertainties that exist in the field. They didn't know what the influence of pollution would be on future climate. They didn't know what the influence of clouds would be on future climate. They didn't know what the influence of the atmosphere's water vapor would be on future climate. They didn't know what the influence of variations of the Sun's brightness would be on future climate.
And they didn't know what the effect of the increase in carbon dioxide in the atmosphere would be on future climate. Compared to the amount of water vapor in the atmosphere, which is probably the atmosphere's most significant global warming component, carbon dioxide is merely a trace gas. Making this trace gas important enough to cause global warming remains a difficult and overly complex theory, and a theory that has not yet been proven.
Those early IPCC reports were very honest about these uncertainties. Later IPCC reports however have dismissed these uncertainties, even though subsequent research has done practically nothing to eliminate them. Instead, the last two IPCC reports have trumpeted the climate models as if these models were the same as actual data. The models, based on theory, said that the increase in carbon dioxide was going to cause the climate to warm, and that was that. Turn off those heaters. Shut down those coal factories. Stop making cars. Learn to freeze in the winter and sweat in the summer. We can't have technology any more because it is going to kill us!
The fact is that these models were garbage. They are useful for trying to understand how the atmosphere functioned, but as predictors they were less than worthless. None of them have ever been able to predict anything, and to rely on them to make policies that will squelch human freedom and creativity is beyond foolish.
Skeptics have been pointing out this obvious fact now for the better part of two decades. We now have proof that they were right.
Readers!
My July fund-raiser for Behind the Black is now over. The support from my readers was unprecedented, making this July campaign the best ever, twice over. What a marvelous way to celebrate the website's tenth anniversary!

Thank you! The number of donations in July, and continuing now at the beginning of August, is too many for me to thank you all personally. Please forgive me by accepting my thank you here, in public, on the website.

If you did not donate or subscribe in July and still wish to, note that the tip jar remains available year round.
Regular readers can support Behind The Black with a contribution via paypal:
If Paypal doesn't work for you, you can support Behind The Black directly by sending your donation by check, payable to Robert Zimmerman, to

Behind The Black
c/o Robert Zimmerman
P.O.Box 1262
Cortaro, AZ 85652